This feature is part of a monthly series profiling scientists and technicians who provide exemplary contributions to the mission of NOAA's Office of Response and Restoration (OR&R). In our latest "Minds Behind OR&R," we feature oceanographer Dylan Righi.
It's not every day that you meet someone who models the transport of dead floating whales. But that—among many other things—is part of the job for OR&R scientist Dylan Righi. 
When oil or chemicals are accidentally spilled into coastal waters or navigable rivers, NOAA is often consulted about where those pollutants may go and how they might cause harm. Providing some of that important information is Dylan Righi, an oceanographer who is part of OR&R's scientific "home team" in Seattle. He provides trajectory and fate predictions, typically for incidents with spilled oil or potential oil releases, but sometimes for vessels, toppled containers, or log booms that are adrift; dead whales; missing aircraft; and occasionally, dead bodies. With a bachelor's degree in physics, a master's degree in physical oceanography, and nearly 18 years of experience in NOAA offices, Dylan provides strong support to the team. 
When Dylan explains to someone what he does for a living, he is sometimes asked, "But what do you do between spills?" He explains that although large spills capture our attention, there are actually many smaller spills (like the ones from recreational boats) that occur with much greater frequency, and which occupy some of his time. Equally important, though, Dylan's time is committed to creating tools that improve the work he does—and which eventually become free resources available to responders and planners within the U.S. and internationally.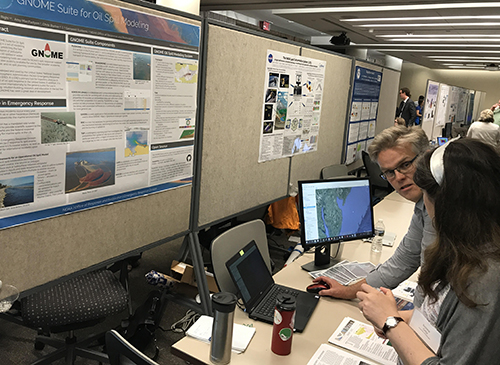 Currently, Dylan is refining OR&R's Trajectory Analysis Planner, or TAP, that allows spill planners to predict the probability that any oil spill will reach a specific segment of shoreline. A component of OR&R's suite of oil spill response tools, TAP analyzes statistics from potential spill trajectories generated by GNOME, (our oil spill trajectory model) that predict how an oil spill will spread and move within a local area. In TAP, GNOME trajectories are run thousands of times to provide a statistically significant overview of possible trajectories from likely sources in the region. The TAP probability must take into account the bathymetry (water depth) and shoreline configuration of a particular body of water; currents and winds; and shoreline characteristics that determine beaching and refloating of oil. 
Versions of TAP are created for specific regions. Dylan's team has produced the first online version of TAP (beta) for Southern California. Dylan is currently writing documentation for this TAP version to assist spill planners who want to use it in their work. 
There's a lot to love about working with OR&R, but some of Dylan's favorite parts are teaching, responding to a great variety of incidents, and traveling to some interesting places to do that.
Teaching OR&R's Science of Oil Spills (SOS) class to new and experienced spill responders and planners is really rewarding because he gets to meet the people who are using the tools and products that he helps create. SOS classes are typically held four times a year, in Seattle and other locations around the country, so Dylan has traveled from the Florida Keys to Alaska to teach SOS training topics. In addition, he has taught for many years at NOAA's annual Science Camp for middle school students, held in Seattle.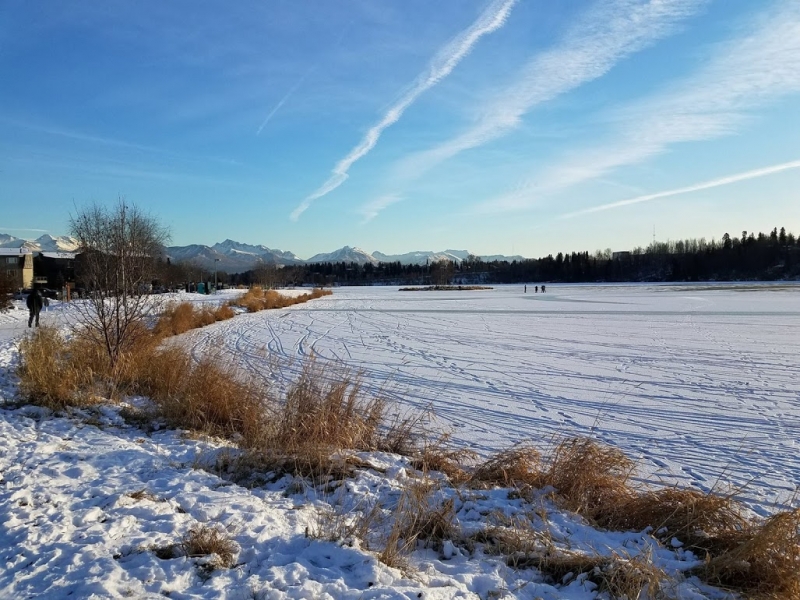 In November 2017, Dylan arrived in Anchorage, Alaska to help teach an SOS class but—as can happen on flights—his duffel bag containing all his winter gear didn't arrive with him. His first task there was to visit the class location on the shore of Cook Inlet to help prep with the other instructors. Outfitted in some borrowed gear from a colleague's thrift donation bag, Dylan kept his preparations quick and efficient in the freezing temperatures! Thankfully, his bag arrived that night and he was properly equipped for the even colder temperatures for the actual class.
Serving as a 24/7 emergency responder means having your phone and computer always available. Despite this, Dylan finds that it's truly rewarding to support OR&R's scientific support coordinators (SSCs) around the country. Some of the recent interesting responses he has supported have been the explosion and subsequent fire on-board the USS Bonhomme Richard, an 843-foot US Navy amphibious assault ship moored in San Diego, California, and the RORO (roll-on/roll-off vehicle transport vessel) Golden Ray that capsized and caught fire off Brunswick, Georgia. Each incident Dylan supports involves a different collection of issues. He explains, "Often, there isn't a clean, easy answer when oil is spilling. We have to weigh a lot of issues and be able to provide useful information within short time periods to support response actions. That can be challenging, and frustrating at times." 
As part of his work, Dylan also gets to enjoy some interesting travel experiences. In May 2019, he and a fellow OR&R oceanographer traveled to Panama City, Panama to meet with spill responders at the Sección de Respuesta a Emergencias (Emergency Response Section), ACP (Panama Canal Authority) to help the Canal Authority re-develop their maps and spill models for possible oil spills. The Canal Authority had built two new mega-locks, and with improved bathymetry data available, were working to update their models.
"It was a really cool and interesting trip. I learned a lot about how they manage the water for the canals and the waterway/lakes between them. There are numerous complications inherent in running a lock system!" 
Dylan extended his trip to visit the small, very low San Blas Islands on the northern (Caribbean) side, which are part of a region owned and managed by the indigenous people that live there. It was beautiful, but also eye opening, thinking about what climate change and sea-level change is going to mean for the islands and the people there. 
In his off time, Dylan thoroughly enjoys the outdoors in the Pacific Northwest, camping, playing soccer and ultimate Frisbee, riding his bike, and kayaking. Kayaking the Skagit River delta is a favorite trip!