Every month, OR&R's Emergency Response Division provides scientific expertise and services to the U.S. Coast Guard on everything from running oil spill trajectories to modeling where a spill may spread, to identifying possible effects on wildlife and fisheries, and estimates on how long oil may stay in the environment. We also get requests to track and model other floating objects.
So far this year, OR&R has provided support to 54 incidents. In April 2023, OR&R provided response support to 19 incidents, including seven new incidents in five different states.
The seven new incidents were all actual or potential oil spills. One incident, a fishing vessel in Tacoma, WA, was an oil pollution case, but also posed a chemical hazard.
Staff prepared 164 new incident reports and documents, including four fate and trajectory analyses. Cumulatively, these incidents posed an approximate risk of more than 62,000 gallons of oil⁠ and 20,000 pounds of freon (chlorodifluoromethane). 
(Note: All spill volumes are approximate and based on initial information that may be updated after further investigation.)
Here are some of April's notable incidents:
On April 8, 2023, U.S. Coast Guard (USCG) Sector Puget Sound notified the NOAA scientific support coordinator (SSC) for the Pacific Northwest that the fishing vessel Kodiak Enterprise was on fire on the Hylebos Waterway in Tacoma, Washington. The USCG requested information about resources at risk and oil trajectories and air dispersion modeling.
There was a maximum potential of 200,000 gallons of diesel with an estimated 50,000 gallons on board the vessel. There was also approximately 19,000 pounds of freon (chlorodifluoromethane) stored in a single tank on board the vessel.
As prevention, booming strategies were deployed around the vessel to protect the Hylebos waterway and creek, and additional booms and equipment were staged, should there be a release. The waterway was closed.
Community air monitoring involved both roving and stationary stations. On April 9, the Unified Command issued a "Shelter in Place" order for neighborhoods in the vicinity impacted by the smoke from the fire. The order was lifted on April 10 as the fire intensity subsided with firefighting efforts and reduced available flammable material.
The fire was not extinguished until April 15, and the Hylebos Waterway re-opened. The remaining diesel aboard the vessel was successfully removed, with no fuel spilled or sheening, on April 15. The Unified Command was stood down on April 21.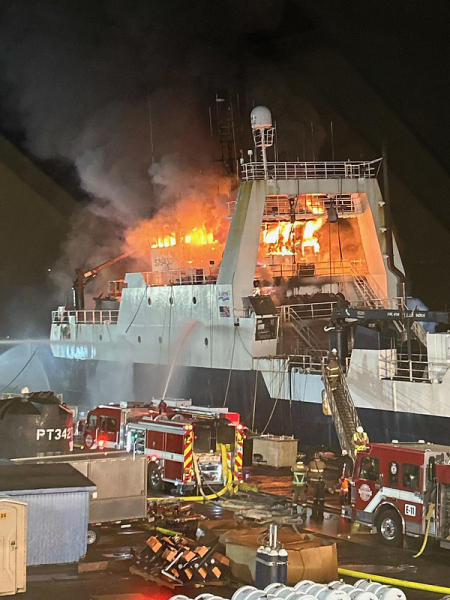 On April 26, 2023, an estimated 30 barrels (1,260 gallons) of crude oil was discharged into a marsh area on the Gulf Intracoastal Waterway near Mile Marker 260 from a 22-inch transmission pipeline. U.S. Coast Guard (USCG) Marine Safety Unit (MSU) Port Arthur contacted the NOAA scientific support coordinator (SSC) to request input on cleanup methods. A Unified Command comprising the Coast Guard, Louisiana Oil Spill Coordinator's Office, Louisiana Department of Environmental Quality, and Shell Pipeline Company LP responded to the discharge. Containment boom was positioned along oiled shoreline areas and sorbent boom was strategically placed around the areas that continued to show a sheen. By April 28, the pipeline had been shut in. No oiled wildlife was reported or recovered. 
On April 7, 2023, a 25-100 barrel discharge of crude oil was reported from the West Cameron Well #2 flowline into a marsh area. The 10-inch flowline ruptured in two places. The line had been shut in and was no longer discharging. On April 10, 2023, U.S. Coast Guard (USCG) Marine Safety Unit (MSU) Lake Charles contacted the NOAA scientific support coordinator for advice on a proposed in-situ burn (ISB). The ISB plan and safety plan were developed, and received concurrence from Regional Response Team 6. A fire ignited due to unknown reasons prior to the planned burn and was managed and monitored by Cameron Parish Fire Department. 
From the site surveys for wildlife, two dead oiled birds were recovered, and one live, moderately oiled bird was observed. A number of other birds were observed near the impacted area. Scare cannon and hazing tape were deployed to deter birds.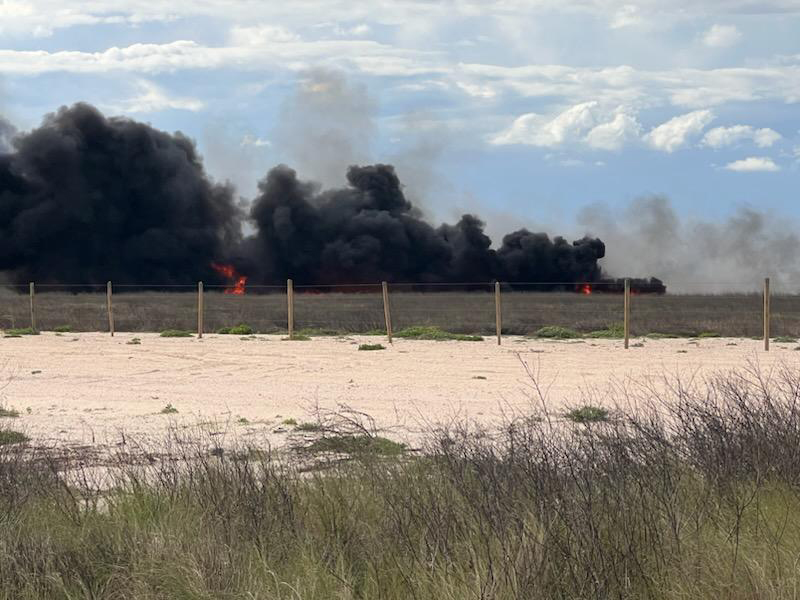 Here is the complete list of April's incidents. Click on the links to find out more: