This feature is part of a monthly series profiling scientists and technicians who provide exemplary contributions to the mission of NOAA's Office of Response and Restoration (OR&R). This month's featured scientist is Catherine Berg, a scientific support coordinator in OR&R's Emergency Response Division.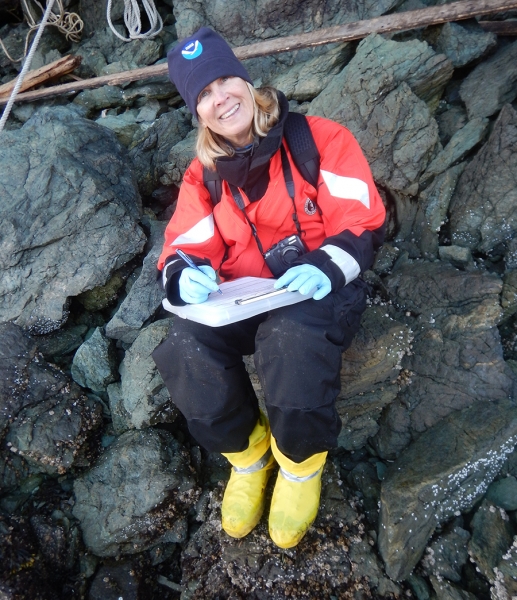 Catherine Berg is a wildlife biologist who joined OR&R's Emergency Response Division in 2013. As the Scientific Support Coordinator (SSC) for Alaska, she serves as NOAA's principal technical adviser to the federal on-scene coordinator during spill responses.
Prior to joining OR&R, Catherine worked for the U.S. Fish and Wildlife Service in Alaska for 30 years, serving much of that time in the Environmental Contaminants Division, focusing on wildlife response,  natural resource damage assessment, and oil spill response issues.
Catherine's first oil spill was the 1989 Exxon Valdez oil spill in Prince William Sound, where she primarily worked with oiled and dead animals being brought from the field to the rehab unit or the wildlife morgue. It was an impactful start to her career. Since that time, she has been part of the Alaska spill response and planning community, becoming a well-known point of contact for the protection and recovery of oiled wildlife in Alaska and other environments.
Getting from A to B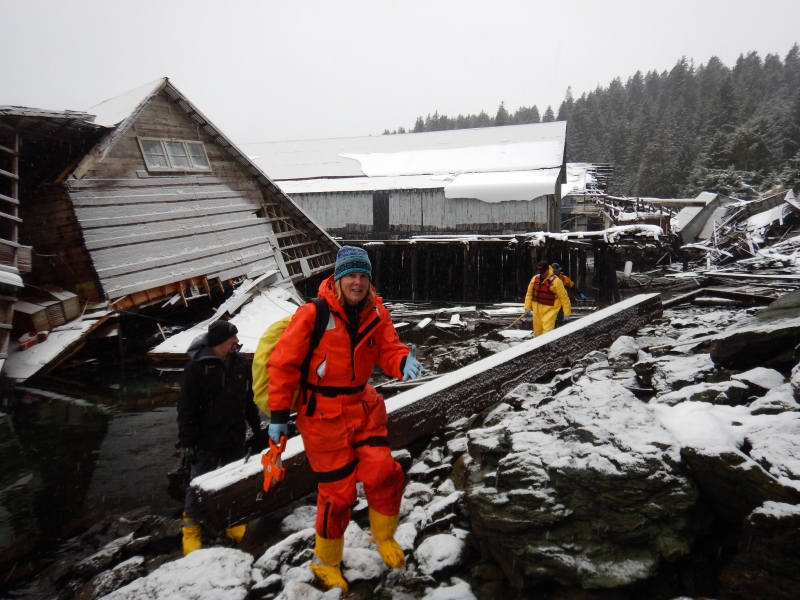 Working as an SSC in Alaska has its differences from the lower 48. Besides having to deal with a harsher climate and different dangers in response work in Alaska, Catherine points out that a major difference is the daunting logistical challenges. In Alaska, responders are rarely able to drive to a spill. Because of the remoteness of this region, she almost always travels by aircraft or boat, and sometimes both. For example, in February 2018, a spill of crude oil into Shuyak Strait resulted when a rubber fuel bladder fell from a pier structure in bad weather. To get to this spill, Catherine first took a commercial flight from Anchorage to Kodiak, then a float plane to the spill site about 50 miles north, then lived and worked from a vessel while she was deployed.
Rich Rewards
Luckily, there are numerous rewards to her work in Alaska. She particularly enjoys the collaboration that is required when numerous agencies (local, state, federal, tribal units, and industry) work to agree—based on the available science—how best to respond to different spill situations. As a group, they must consider the ecological risk, as well as the economic aspects, of various response options based on varying spill conditions and locations.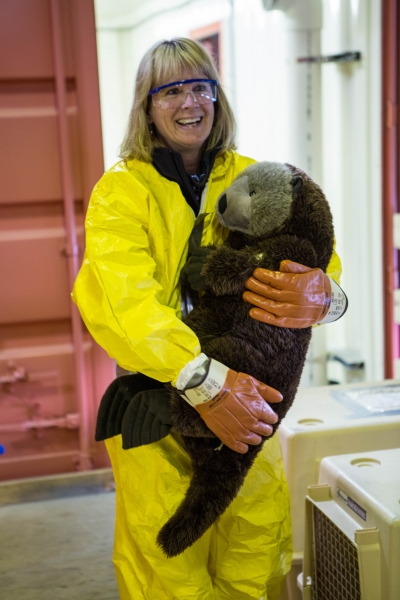 Among these efforts was a Response Technology Adoption Workshop with Alaska's Oil Spill Recovery Institute in 2015, in which the group focused on the process involved in getting new spill technologies from concept to market. This involved developing a framework to understand whether a new spill response technology was ready to be applied to actual spills, and to determine whether that technology has the potential to reach commercialization.
Also rewarding are the opportunities to travel and participate in spill exercises/drills and trainings in Alaska, across the U.S., and in foreign countries. She regularly participates in joint exercises with Canada and equipment deployment exercises. In 2017, she joined the original veterinary team from the Exxon Valdez oil spill to test the functionality of a modular sea otter rehabilitation facility—including set up, testing, and repair of the 20 shipping containers making up the facility, and demonstration of techniques for receiving, evaluating, weighing, sedating, cleaning, drying, and attending to oiled sea otters—using mock otters.
Similarly, in 2017, Catherine participated in the simulation of an oil pipeline leak in the Beaufort Sea. Part of the exercise tested whether the group could rescue a (simulated) oil-injured polar bear—tranquilizing it, pulling it from the water, cleaning it, and caging it before it "woke up."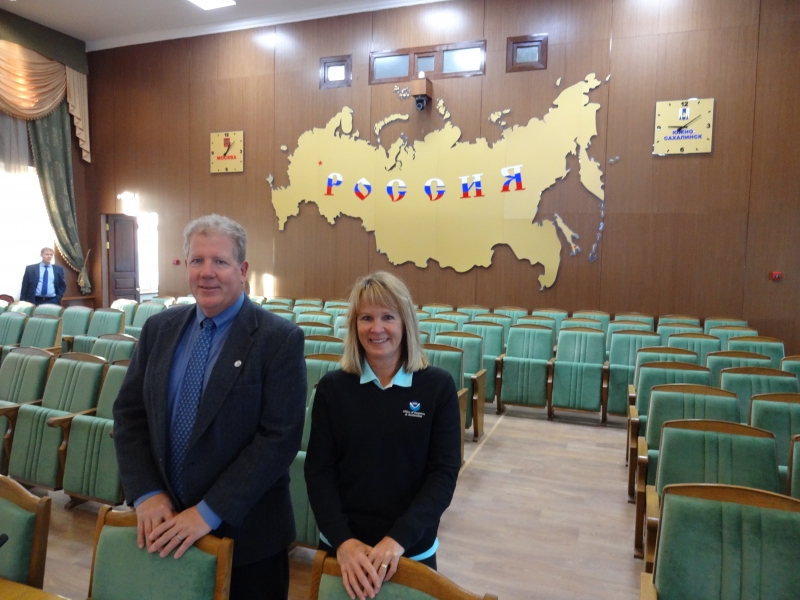 In 2018, Catherine joined several colleagues from the U.S. Coast Guard and the State of Alaska, traveling to Yuzhno-Sakhalinsk, Russia to participate in a U.S.-Russian Federation seminar and tabletop spill exercise with a number of Russian agencies, industry, and nongovernmental organizations.
Research opportunities are also among the rewards of Catherine's work as an SSC. In 2015, along with OR&R colleague Sarah Allan, Catherine joined a National Park Service-led effort supporting oil spill response planning in the state's Northwest Arctic region. Catherine described it as an excellent opportunity for gauging how the region's coastal characteristics would influence the transport and fate of spilled oil, for improving how responders would survey oiled Arctic shorelines, and for gathering critical baseline data for this environment.
In 2017, she participated as an observer in the use of trained oil detection canines to locate buried stranded oil. Concerns regarding oil spills in the Arctic have identified the need to locate oil under ice, so understanding the benefits and limitations of using dogs to detect subsurface oil could prove useful under unique circumstances.
The Lower 48, and Beyond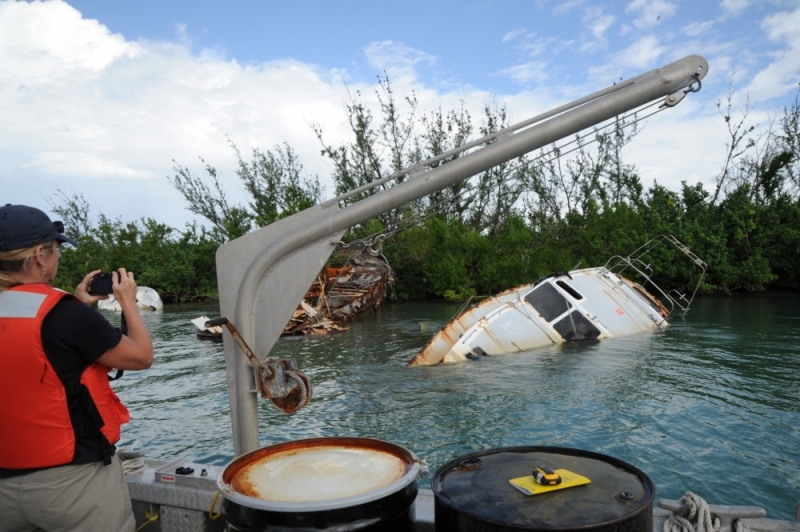 In addition to participating in exercises and conducting research, Catherine has played important response roles around the country.
In May 2015, she was sent to California to help with a spill of crude oil that resulted when a pipeline ruptured near Refugio State Beach near Santa Barbara. Later that year, she headed to the Great Lakes, where the Barge Argo was rediscovered and found to be leaking as it lay 40 feet under the surface of Lake Erie.
In 2017, she responded to Hurricane Harvey in southern Texas, then later that year, supported the response to Hurricane Maria in Puerto Rico.
Lessons for Others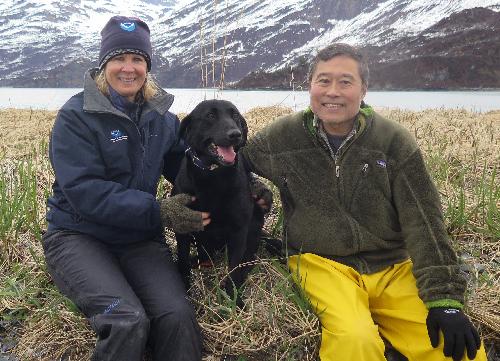 Catherine trains spill responders from the far reaches of Alaska, up and down the west coast, and out to the Great Lakes on NOAA's role in spill response, specific methods for surveying oil-affected shoreline, and in the science of oil spill response.  As a veteran wildlife biologist in OR&R, she has taught: how wildlife issues are handled within the response Command Center; the roles, responsibilities, and deliverables of the Wildlife Branch; and the qualities of a good wildlife protection plan.
Award-Winning Work
Further demonstrating the far-reaching impacts of Catherine's work in OR&R, in 2017, she was among a small team of NOAA scientists who won a Department of Commerce Silver Medal for the removal of a 62-ton grounded vessel from a critical coral reef and fishing area in the National Marine Sanctuary of American Samoa.
We're proud of your great work, and are glad to have you aboard, Catherine!