One of the greatest marine accidents of the 20th century involved an ocean liner hitting an iceberg. The Titanic, a passenger ship bound for New York City, sank in the Atlantic Ocean after colliding with an iceberg on April 15, 2012. Now more than a century has passed since that historic incident, and the dangers of sea ice are still present in maritime travels.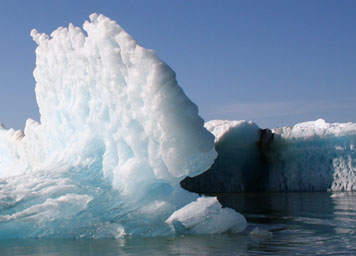 Can you imagine what it must have been like for the crew trying and failing to turn the massive, 883 foot-long ship just before hitting the iceberg?
It can take sometimes as many as 5 miles to turn and stop a large vessel. But did you know that another great maritime accident of the 20th century came from a ship changing course to avoid ice?
On March 24, 1989, the tanker Exxon Valdez left its namesake port in Alaska, loaded with 53 million gallons of North Slope crude oil bound for Long Beach, Calif. Most people know that hours later the Exxon Valdez grounded at Bligh Reef, spilling some 10.8 million gallons of crude oil into Prince William Sound.
Just before midnight, Captain Joe Hazelwood called the Coast Guard Vessel Traffic Center on the radio and said he was changing course and diverting from the designated traffic lanes. But the Exxon Valdez wasn't just taking a short cut across the Sound. The Captain intentionally turned the ship to "wind my way through the ice."
The Columbia Glacier is about 30 miles from the port town of Valdez, Alaska, and some of the ice that breaks off the glacier floats out into the shipping lanes.
The traffic center acknowledged and confirmed the Exxon Valdez's new course. A few minutes later the Exxon Valdez made another course change, but this one was was not reported to the Valdez traffic center. Twenty minutes later the Exxon Valdez ran aground. A lengthy analysis of the events leading up to the grounding can be found at the Exxon Valdez Trustee Council website.
Because of the hazard ice poses to shipping, NOAA's Office of Response and Restoration prepared a booklet guide to sea ice [PDF] to make it easier for captains and pilots to report and share information about ice conditions at sea.
Sea ice comes in a lot of forms and sizes and has some colorful names like "brash," "growler," "cake," and "bergy bits." The one that the Titanic hit likely would be classified as a "large berg," which can range in size from 401 to 670 feet.
You can find out more information about the Titanic and NOAA's role in discovering, studying, and protecting the site of this historic shipwreck, now a tragic symbol of the dangers of ice at sea.