Within the Office of Response and Restoration, the Emergency Response Division provides scientific expertise and services to the U.S. Coast Guard on everything from running oil spill trajectories that model where the spill may spread, to identifying possible effects on wildlife and fisheries and estimates on how long the oil may stay in the environment. 
At the end of each year, we reflect on the response events and activities we supported. In 2022, we provided scientific support to the Coast Guard and other federal responders for a wide range of scenarios — remotely when possible, and on-scene when needed. 
Our first call of 2022 came on Jan. 9. The Coast Guard Sector New York notified the NOAA scientific support coordinator that a 45-foot sport fishing vessel, the Time Out, broke loose from its mooring and grounded on Sandy Hook National Seashore in New Jersey. The last incident of the year was a crude oil spill at the Ingleside Terminal in Corpus Christi, Texas on Dec. 27. We provided oil trajectory products and identified resources at risk to support the response. 
During 2022, we provided scientific support for 148 new incidents, and continued support to several events that happened in previous years. Responses in 2022 included 122 oil spills, nine chemical spills, and 18 other incidents — such as severe storms, marine debris, and whale carcass drift requests. In total, staff prepared over 2,200 new incident reports and documents. 
It's difficult to determine the total amount of oil and chemicals spilled. Many incidents have approximate volumes or, in the case of mystery spills, may have no estimate. Cumulatively, for incidents with good volume estimates, these incidents posed a risk of more than five million gallons of oil. We also supported responses to over 80 million gallons of contaminated ballast water, 77,000 metric tons of petroleum coke, and 760,000 gallons of various chemicals. These estimates do not include oil and chemical spills during the 2022 hurricane season. Hurricane Ian, for example, caused over 7,500 sunken and stranded vessels and other potential pollution sources. (Note: All spill volumes are approximate and based on initial information that may be updated after further investigation.)
While 2022 was not quite a record for us, it was certainly a busy year, especially with the continuing restrictions of COVID-19. Most of our responses are in the U.S., but we also provided support for a number of international incidents, including in Canada, Cuba, Peru, and Aruba.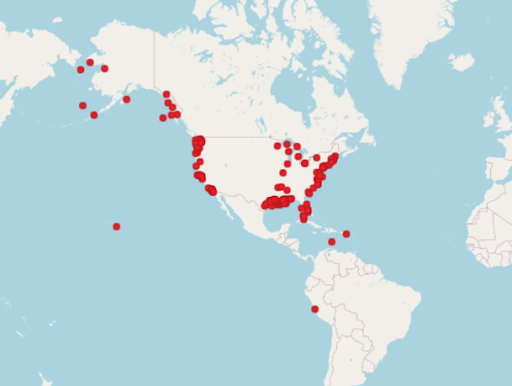 In our end-of-the-year tally, we break down our responses by the type of event, whether oil spills, chemical spills, or "other," but here is a more detailed breakdown.
In 2022, we responded to incidents in 24 states, four international locations, and one territory. These incidents included:
20 fishing vessels.
18 production platforms and wellhead leaks.
12 mystery spills (some were later identified).
12 tugboat/barge accidents.
12 yachts and other pleasure craft.
12 facility incidents.
11 pipeline spills.
Eight vessel fires.
Seven tank farm accidents.
Five container ship and freighter accidents.
Five derelict vessels.
Four international incidents.
Four whales, stranded or drifting.
Three tanker accidents.
Three plane crashes.
Two historic vessels.
Two ballast water incidents.
Two algae bloom incidents.
Two hurricanes and severe storms (each with multiple spills).
Two vegetable oil spills.
One tank truck accident.
One Navy spill.
One U.S. Coast Guard spill.
One unexploded ordnance (e.g., military weapons or ammunition).
Looking ahead to 2023, we continue to plan and prepare for accidents, natural biological incidents, severe weather occurrences, and other disasters.