This feature is part of a monthly series profiling scientists and technicians who provide exemplary contributions to the mission of NOAA's Office of Response and Restoration (OR&R). This month's featured scientist is Charles Grisafi, OR&R Marine Debris Program regional coordinator for Florida and the Caribbean.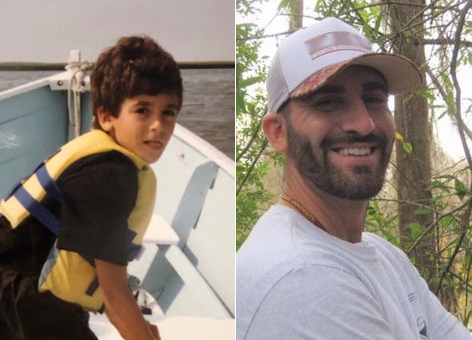 The power and mystery of the ocean draws some to develop an enduring sense of responsibility to protect it. Growing up in Fort Lauderdale, Florida, Charles Grisafi has had a lifelong connection to and love for the ocean. This special relationship has led him to pursue a career dedicated to conserving and safeguarding marine resources.
Charles has fulfilled his goal of working for NOAA in his position as the Florida and Caribbean regional coordinator as a Freestone Environmental Services contractor for OR&R's Marine Debris Program. Doing this important work in a region that includes his home state of Florida is especially meaningful to him. He has long had a specific interest in the impacts of lost and discarded fishing gear on marine resources and solutions to the issue. As part of the marine debris team, he is able to directly contribute to efforts that address issues like this, and many more.
In his role he works with partners in Florida, Puerto Rico, and the U.S. Virgin Islands on marine debris projects, assessing regional needs, supporting prevention and removal efforts, developing and implementing emergency response plans, and coordinating stakeholder outreach. Charles also works with partners to coordinate the implementation of the Florida Marine Debris Reduction Guidance Plan's five goals.
Hurricane Response
Over the last two years, the Florida and Caribbean region has been severely impacted by hurricanes Irma, Maria, and Michael. As a result, a major area of focus for Charles has been coordinating marine debris response efforts. This included deploying to the Florida Emergency Operations Center to support the Hurricane Irma debris task force, serving as the statewide natural resources adviser coordinator for the United States Coast Guard Hurricane Irma Emergency Support Function (ESF) 10 mission, and he is now serving as a member of the Hurricane Michael ESF-10 response team. Charles also worked with state agency partners to develop large-scale projects to assess, remove, and dispose of hurricane-related marine debris in the region. Disaster relief funding from the Marine Debris Program, provided through the Bipartisan Budget Act of 2018, will support post-storm surveys, mapping of marine debris accumulation hot spots, and the removal and disposal of vessels, derelict fishing gear and traps, damaged piers, pilings, and other infrastructure debris in Florida.
Response work can be challenging, but Charles appreciates the opportunity to aid in efforts that address the destruction and devastation caused by hurricanes and the impacts its had on people's lives.
"I am glad I can play a very small part in helping my fellow citizens recover. In the future, it's important that I continue to assist partners in the region to be fully prepared to respond to severe marine debris events," Charles said.
Developing Solutions Now and into the Future
Charles believes that working with stakeholders from diverse backgrounds in government, industry, and academia to create and implement solutions in their region, is one of the most rewarding aspects of his job.
"It's a great feeling to watch a project develop from an idea on a napkin to a large-scale initiative working to remove or prevent marine debris," he shared.
One of his future hopes for Florida and the Caribbean includes a region-wide effort to reduce the amount of lost and discarded fishing gear through working with the commercial fishing industry and recreational fishers to create solutions. He also looks forward to seeing completed marine debris action plans for each state and territory in the region, with stakeholders actively working together to implement them.