It's almost the end of the year and time to reflect on events. What a year, from the pandemic and teleworking, to political events and protests and social change, to wildfires and a record hurricane season. The "normal" emergency response activities that NOAA's Office of Response and Restoration deals with on a regular basis still took place, but under the unrelenting pressure of a challenging year for all. 
Every year, OR&R's Emergency Response Division responds to a range of marine pollution incidents—from oil and chemical spills, to whale strandings and grounded vessels. Just as in previous years, the division provided scientific support to the U.S. Coast Guard in a wide range of scenarios — remotely when possible, and on scene when needed.
The calendar year started with the sinking and loss of the FV Scandies Rose near Kodiak, Alaska at 5:52 a.m. on New Year's Day, with the loss of five crew members. The year is not quite over, and the most recent incident is a Dec. 28 oceanographic modeling request to help with the search for an overdue vessel from the Bahamas.
So far this year, we have provided scientific support on 189 new incidents, and are still helping with a couple events that happened last year, such as the car carrier Golden Ray that sank in Georgia on Sept. 8, 2019. That record-breaking salvage and wreck removal is still underway and will continue well into 2021. While 2020 was not quite a record for us, it was certainly a busy year, especially with the additional restrictions of COVID-19. Most of our responses are in the U.S., but we also provided support for a record number of international incidents in Brazil, Ecuador, Mauritius, Panama, Russia, Yemen, and Venezuela. (Not counting border incidents with Canada).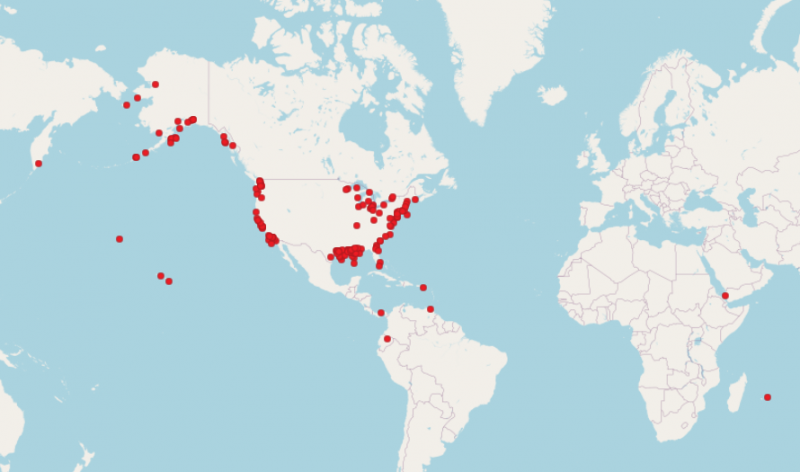 Normally, at the end of the year tally, we break down our reports by the oil spills, chemical spills, and other events, but here is a more detailed breakdown.
We had responses in 25 states and two territories. These included:
29 fishing vessels.
21 mystery spills (some were later ID'd).
20 production platforms and wellhead leaks.
20 yachts and other pleasure craft.
11 pipeline spills.
11 tugboat accidents.
Nine whales stranded or drifting.
Eight derelict vessels.
Eight freighter spills and groundings.
Seven International incidents.
Five hurricanes (each with multiple vessel groundings, oil and hazmat spills, and debris).
Four tank farm accidents.
Three tank truck accidents.
Three search and rescues.
Three marine debris events.
Two marina fires.
Two Navy spills.
Two plane crashes.
Two tanker accidents.
Two historic vessels.
And a rocket crash, ferry accident, flood response, train derailment, USCG Cutter spill, and a potential bridge collapse.
Even though this year and this holiday season wasn't typical for any of us, we still have much to appreciate. I thank all of the emergency responders for the great work that they do. Let's ring in this 2021 with great celebration and hope for a brighter future.
Check out the slideshow below to look back on some of this year's incidents.