As we navigate through peak hurricane season while continuing to deal with the impacts of a catastrophic wildfire season and ongoing public health risks, disaster readiness and response are front and center for many agencies, NOAA included. But preparing for anticipated impacts and responding to immediate needs within the scope of NOAA's mission areas represent only part of NOAA's activity when it comes to disasters. NOAA and the National Ocean Service (NOS) also play a critical role in supporting long term recovery.
The work of disaster recovery does not just begin after a natural hazard or pollution event occurs, however. The activities NOAA engages in daily with partners around the country help to build the foundation for coastal communities and economies to recover after disasters. From the use of observational data and modeling to improve understanding of risks and vulnerabilities, to the application of scientific and technical expertise to evaluate restoration approaches and mitigation strategies best suited to habitat and community needs, NOAA and NOS programs support community planning for future disaster recovery needs in numerous ways.
This daily work to advance community and environmental resilience guides NOAA's engagement in recovery when a disaster occurs. NOS, as part of its mission to provide science-based solutions through collaborative partnerships to address coastal issues, plays a leadership role in representing and implementing the agency's priorities and disaster recovery support capabilities at both the national and community scales.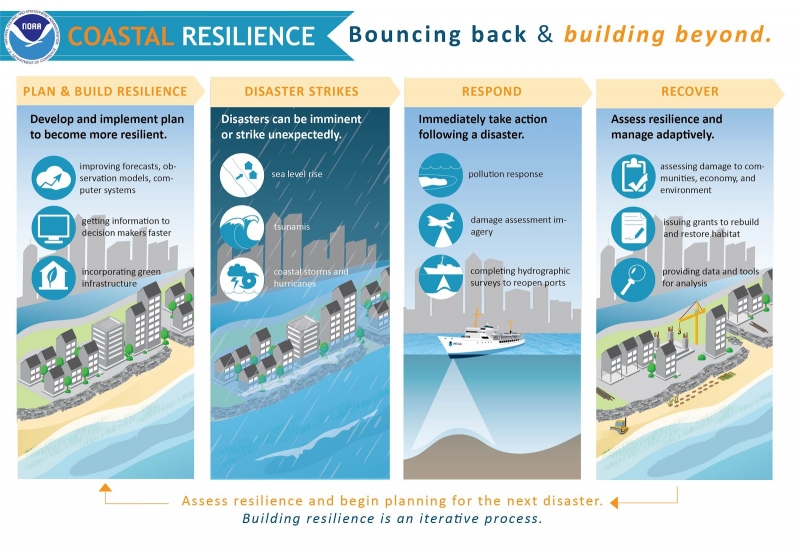 NOS in Disaster Recovery
At a national level, NOS serves as NOAA's representative to the FEMA-led Recovery Support Function Leadership Group (RSFLG). As the coordinating body for federal agencies engaged in disaster recovery support, the RSFLG provides operational guidance and policy recommendations for national recovery efforts. Under the policy leadership of the Office for Coastal Management (OCM) and with operational coordination from the Office of Response and Restoration's Disaster Preparedness Program (DPP), NOAA contributes science-based recommendations to the RSFLG for addressing coastal and marine environmental and economic issues. 
At the community level, NOAA coordinates with disaster field leadership from federal, state and local partners via the Recovery Support Functions (RSFs). Outlined in the National Disaster Recovery Framework, RSFs provide a structure for federal agencies to work together with and support local, State, Territorial and Tribal governments in key functional areas. NOAA's recovery support is currently focused in three of these: Natural and Cultural Resources , Economic, and Community Planning and Capacity Building. 
Supporting Community Recovery Needs
Participation in these RSFs provides a mechanism to connect NOAA resources to specific community needs after a disaster. When RSFs are activated, DPP coordinates across NOS and other NOAA offices to identify information, tools, and expertise that can help inform recovery planning efforts. Depending on the needs of an incident, and in coordination with the affected jurisdiction and the Federal Emergency Management Agency (FEMA), NOAA's RSF engagement may result in the agency being Mission Assigned by FEMA to provide specific capabilities to support the disaster recovery operation. NOAA draws on scientific, technical, and extension expertise from across the agency to carry out these Mission Assignments. In instances where a disaster has been declared under both the Stafford Act and the Magnuson-Stevens and/or Interjurisdictional Fisheries Acts, DPP also coordinates with NOAA Fisheries to facilitate information sharing across Stafford Act-funded assistance programs and any available Fishery Disaster Assistance programs.
Ongoing recovery activity in the Caribbean from Hurricanes Irma and Maria in 2017 is a recent example of NOAA's support for long term recovery. In Puerto Rico, NOAA continues to work in collaboration with the Department of Interior under the Natural and Cultural Resources RSF to support the Commonwealth by providing technical assistance to coral reef restoration planning efforts. 
This follows several damage assessment missions NOAA undertook early in the recovery process to investigate hurricane impacts to coral reefs, seagrass, wetlands, and water quality. The coral mission also involved emergency triage to salvage and reattach more than 10,000 broken corals that were still viable. NOAA is also coordinating with the Economic Development Administration to support ocean economy-focused recovery activities in both Puerto Rico and the U.S. Virgin Islands. These efforts in the Caribbean represent the work of several NOS and NOAA Fisheries entities, including OCM, the National Centers for Coastal Ocean Science, the Coral Reef Conservation Program, and the NOAA Restoration Center.
Planning for the Future
While NOAA continues to work with communities and partners to respond to disaster recovery needs today, the agency is also working to plan and prepare for the recovery needs of tomorrow. This means continuing to advance science and technology to predict future conditions, improve strategies to mitigate adverse impacts and restore injured resources, expand partnerships and collaboration, and enhance internal operational capabilities to support disaster recovery. With risk reduction as an NOS priority, the offices and programs of NOS continue to lead the way in charting this course.