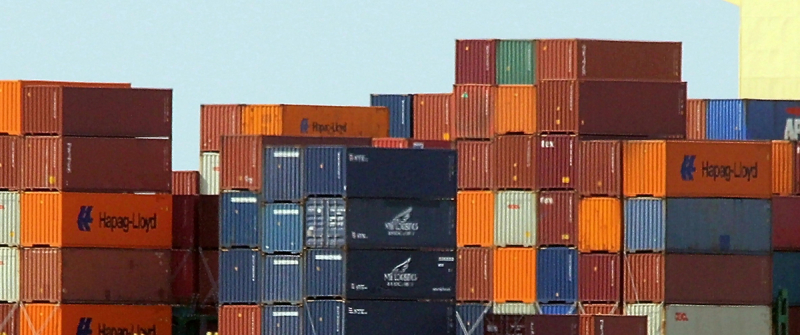 Container ships are a major tool in international commerce but usually don't get much public attention.  When people think of spills and pollution, they often think of oil tankers. But container ships, with a variety of cargos and large amounts of fuel, are also a threat.
These ships, loaded with standard 20 and 40 foot long intermodal boxes that can be quickly loaded, unloaded, and switched from trucks to rail to ships, carry most of the commercial and domestic goods we use on a daily basis.  And these ships have recently garnered a lot of unwanted attention. Last winter the One Apus lost more than 1800 containers in a Pacific ocean storm, the Ever Given ran aground and blocked the Suez Canal for nearly a week, and most recently the MV X-Press Pearl caught fire off Colombo, Sri Lanka.
On May 20, 2021, The X-Press Pearl caught fire and after 12 days sank off the coast of Sri Lanka.  All of the containers were lost or damaged. The sinking has raised lots of concerns over the ship's fuel and the hazardous materials on board, as well as low-density polyethylene (LDPE) pellets. These pellets, also known as pre-production plastic pellets, are the raw material for manufacturing plastic bottles and other containers.  Some of the pre-production plastic pellets containers ruptured and coated nearby beaches with the tiny pellets.
Container ships are loaded with stacks of uniformly sized containers, both above and below decks. The largest container ships are some of the largest ships in the world, over 1300 feet in length, and loaded with over 20,000 TEU (twenty-foot equivalent units).  Most are simple steel boxes but some are specialized to carry refrigerated and frozen foods as well as liquids and compressed gases, including hazardous materials. Fully bunkered, some carry more than 4 million gallons of fuel.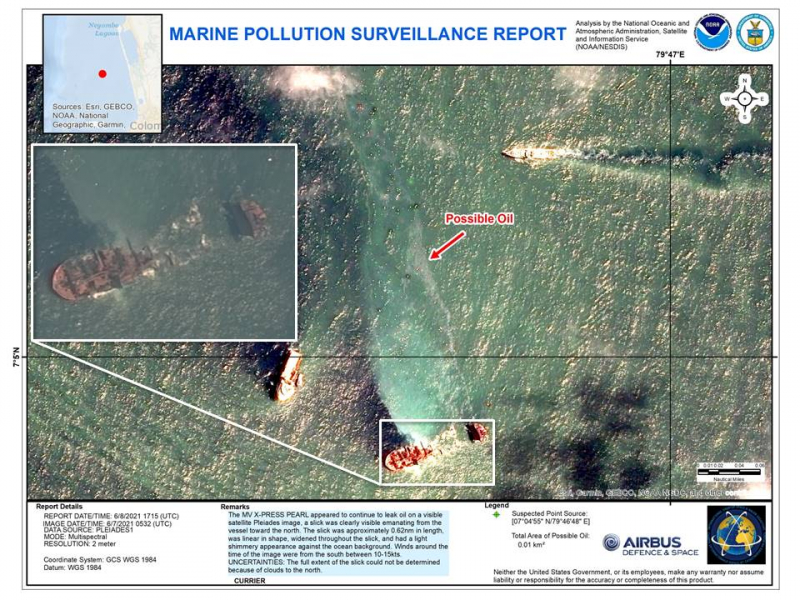 These massive ships can only call on the world's largest and deepest ports. Fortunately, from a pollution perspective, the X-Press Pearl was not one of these massive container ships. At 610-feet and 2700 TEU, and loaded with 1486 containers and about 350 metric tons (105,000 gallons) of fuel at the time of the fire, the X-Press Pearl would be considered a small container ship. Unlike larger container ships, the X-Press Pearl had its own cargo cranes, meaning that it could load and unload its own containers at smaller ports that lacked cranes.
So what is NOAA doing to help with the X-Press Pearl? Most of our work is on domestic accidents but we frequently get requests from other countries to provide scientific advice and support. These requests are handled by the U.S. State Department and the National Response Team's  international assistance committee. In most cases, including the X-Press Pearl, the assistance is provided remotely and none of our team expects to travel to Sri Lanka. 
A big part of our efforts has been to provide and help interpret NOAA NESDIS satellite imagery. 
We have been on the lookout for any anomalies that could indicate the ship is leaking oil or other chemicals and provided expert technical advice and guidance in response to remote sensing questions from Sri Lanka government agency responders. NOAA's Emergency Response Division has provided guidance on seafood risk from polycyclic aromatic hydrocarbons (PAHs), a hazardous component of fuel oil. We have also helped with guidance on recovery strategies for oil sheen and interpretation of pollutant behavior observed near the sunken vessel. NOAA's Marine Debris Program has offered its expertise in helping address the problem of the pre-production plastic pellets that have spilled from the ship's cargo and are reported to be causing significant impacts to shorelines and wildlife. The National Marine Fisheries Service has offered the help of sea turtle and marine mammal experts in response to a request for assistance from a research team with the Sri Lanka Ministry of the Environment, as they have been encountering several deaths of sea turtles and dolphins in the area of impact of the sunken ship. Removal of the wreck will take time and we will continue to provide support as requested.