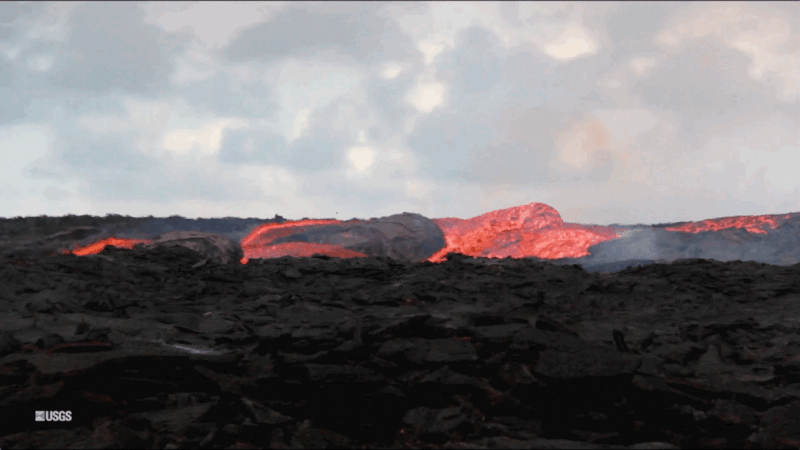 OR&R works with partners all over the U.S. to respond to all kinds of hazardous material (hazmat) emergencies. We're always excited to learn from our partners about how they handle hazmat situations, from oil spills to hurricanes … and even lava flows.
At a conference in late October, OR&R's CAMEO® software team got a detailed look into the hazmat response to the Kilauea volcano eruption on Hawaii's Big Island. The Kilauea eruption lasted for over three months and involved significant numbers of evacuations as the lava flow spread through communities. This incident posed unique challenges on the hazmat front: lava threatened homes and infrastructure, hazardous gases such as sulfur dioxide spewed from giant fissures in the Earth, and household chemicals consumed by the lava posed another threat to humans and animals.
At the conference, Gerald Kosaki, battalion chief of the Hawaii Fire Department, addressed attendees of the National Association of SARA Title III Program Officials (NASTTPO) conference to share the experience of responding to a multi-month hazmat incident. Trouble began on Tuesday, May 1, 2018 with several small earthquakes near the Kilauea Volcano, on the southeast side of the island of Hawaii. Geologists understood there was risk of volcanic activity, but were not sure when or where it may occur. The following day cracks began appearing in the roads and earth. By Thursday, several cracks had grown to massive size, creating large fissures in the Earth and volcanic gas began rising from the fissures. Shortly after, molten-hot magma emerged from the Earth's surface.
Over the next three months, the lava flowed through low-lying areas, eventually consuming several hundred homes and causing the evacuation of over 2,000 people.
Unlike many hazmat incidents, such as a chemical spill from a rail car or manufacturing facility, this incident went on for months. As many as 20 fissures continued to open and spew lava, in some cases over 200 feet into the air. Over the course of the event, major roads were covered by lava — sometimes piling over 40 feet high, communication infrastructure was destroyed, and volcanic ash threatened the respiratory health of island residents. Many worried that the Puna Geothermal Ventures energy plant would be covered by the lava, but it was one of few large-scale facilities in the area that were largely untouched.
Although much of the damage was a direct result of the lava burning and blanketing land, the gases emitted from the eruptions also posed a challenge. Volcanic eruptions can produce numerous hazardous gases, including sulfur dioxide. CAMEO Chemicals, a database of hazardous chemicals, explains that sulfur dioxide is "very toxic by inhalation and may irritate the eyes and mucous membranes." Additionally, "it will react with water or steam to produce toxic and corrosive fumes."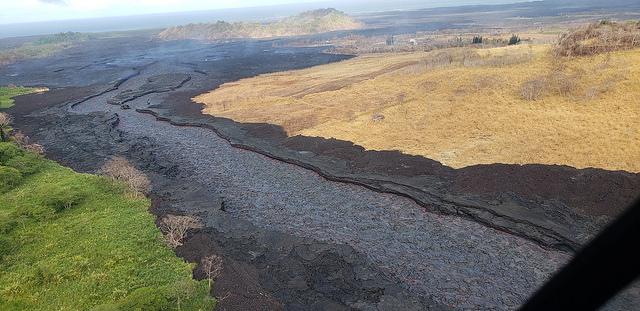 To keep themselves safe, responders needed to wear masks when responding in areas near volcanic activity. But the problem was not isolated to those areas. Because it is a gas, sulfur dioxide can also travel downwind, killing plants and animals in its path. Additionally, it may rise into the atmosphere and return to the Earth as acid rain, slowly corroding and killing the land it falls upon.
OR&R's response team works with partners across NOAA, the Coast Guard, and other federal and local partners to keep communities and the environment safe from hazmat emergencies. Although OR&R did not play a large role in the response to the Kilauea lava flow, we always look for lessons that we can apply to our work. Because of the continuous, long-term nature of this event, Chief Kosaki emphasized the importance of collaboration across agencies and departments to ensure that their responders didn't become exhausted or burnt out. Additionally, he shared the struggles with mental health faced by many community members who were evacuated or lost homes. Although hazmat response is often focused on immediate and physical health concerns, the long-term mental health impacts can sometimes be equally as damaging.
Lessons from Chief Kosaki's presentation were echoed throughout the conference. Later that afternoon, attendees learned how to best engage faith based and community organizations before and during emergency response. Presenters emphasized that in times of crisis, volunteers will reach out to support their community. It is the job of local planners and responders to proactively plan for when and how they can effectively leverage the power of community volunteers.
In addition to attending the conference to stay up to date on issues surrounding hazmat planning and response, the CAMEO team also leveraged the opportunity to assist with CAMEO software trainings and collect feedback on the programs and what new features users would like to see in the future. This feedback helps ensure that CAMEO tools provide the most intuitive and efficient experience for users as they plan for and respond to chemical emergencies. As the team prepares to update and redesign several of its key programs, this data couldn't come at a better time.