Working under NOAA's Office of Response and Restoration, 2019 Hollings scholar Leah Moore spent her summer working on the story map "Building a Resilient Community: NOAA's Hazard Exposure and Risk Exploration (HERE) Tool." (A publicly available link will be published later this summer.)
Originally from Eaton, Ohio, a small agricultural town, Leah was largely influenced by her mother, who was a science teacher. She remembers summers spent at bookstores and museums, and being encouraged to be energetic and curious about science. Family vacations were usually at interesting and beautiful places that fostered conversations about science — such as hiking the Rocky Mountains in Mesa Verde National Park or visiting Hawaii and marveling at the ocean.
"Of course, those classic beach vacations always made me love the ocean and marine science," Leah said. 
When Leah moved to South Carolina, she became interested in natural disasters and human hazards. She responded to Hurricane Florence with FEMA, and said that experience had a strong impact on her career goals and aspirations. 
"I feel really passionate about careers in public service, so seeing FEMA hands-on responding was truly life changing," Leah said.
Leah is currently attending the University of South Carolina where she is double majoring in environmental science and physical geography. When Leah confided in one of her professors that she knew she wanted to end up in a public service job but didn't know how to get there, he advised her to apply to the Ernest F. Hollings Undergraduate Scholarship program — a program through NOAA's Office of Education that provides over 130 students with tuition support and paid summer internships with NOAA across the country. 
The internship requirements for the program are fairly loose, giving students the opportunity to work with any NOAA federal employee in any NOAA office across the U.S. During the fall semester before their internship, students are given access to an internship selection website that has anywhere from 200-300 opportunities for the scholars to choose from. The NOAA mentors post and give information about the location, the office or division within NOAA that they work for, the required coursework or knowledge, and the project topic. The students are then able to reach out with their resumes and try to find an office that fits best with them.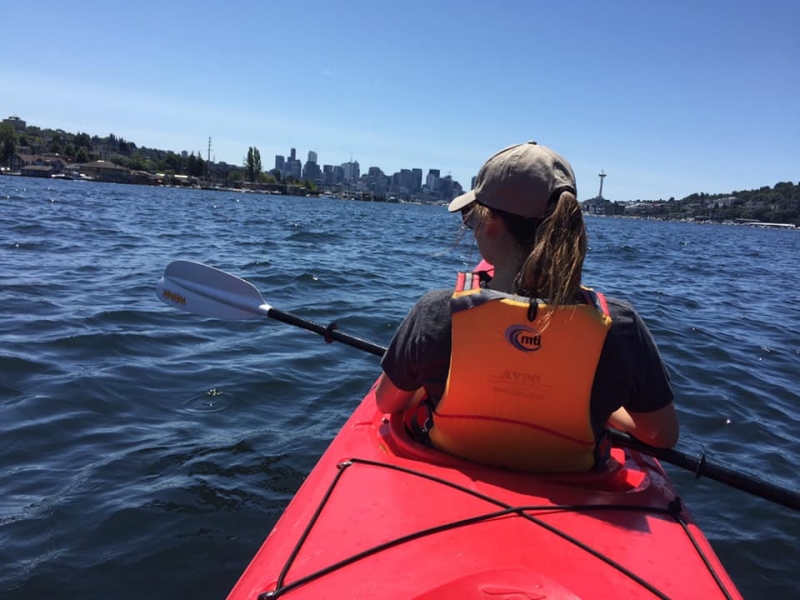 Leah contacted seven different potential sites before landing on the NOAA Western Regional Center in Seattle working under the Office of Response and Restoration. One of the main 'pros' for this location, Leah said, was her mentor — Dr. Amy Merten, West Coast Branch manager for OR&R's Assessment and Restoration Division. 
"None of them fit as well with me as Amy. She was very laid back about what I chose to do for the project and I liked that I had the ability to make it my own, whereas other projects might have been more guided," Leah said. 
After finding a location and a mentor, students spent 10 weeks working on the project they proposed. 
"I could tell right away that Leah was incredibly smart and passionate about delving in deeper to disaster-related impacts on communities. She supported the State of South Carolina in helping people who were severely impacted from Hurricane Florence. She took that experience and built on it with a wider perspective on similar and completely disparate effects from West Coast disasters like earthquakes, tsunamis, massive wildfires," Amy said. "She was also very curious and cognizant of compounding effects from climate change and subsequent man-made disasters (spills and recontamination after a disaster). Coupling these different sources of risk to communities was the genesis of her project."
The final product Leah chose to work on for her internship was a story map in Esri, a geographic information system (GIS) software. Her chosen topic "Building a Resilient Community: NOAA's Hazard Exposure and Risk Exploration (HERE) Tool," used data from the Environmental Response Management Application (ERMA®) — OR&R's online mapping tool that integrates static and real-time data — to create interactive maps that illustration interactions between natural and human hazards and educate the public on the risks in their area. The HERE tool currently covers Alaska, Washington, Oregon, California, and Hawaii, with plans to expand to the rest of the U.S. 
"I came up with the idea for the tool because I started to do a different project and basically realized that I wanted a resource like this one to be available," Leah said. "With climate change effects accelerating, it's crucial that the public understand both natural and human hazard impacts in their area." 
Leah compiled data sets, developed a hazard index, and used ESRI's online mapping tool to produce the HERE tool, which will be publicly available later this summer.
"She did this under a very short timeline of 10 weeks, and spent a lot of her time working with data providers and modelers from NOAA, the University of Washington Sea Grant, and other agencies to ensure she was using the best data, and applying modeling results correctly, and in a way that is consumable to the public," Amy said. "She is a true superstar and I hope she considers NOAA as her career develops after college.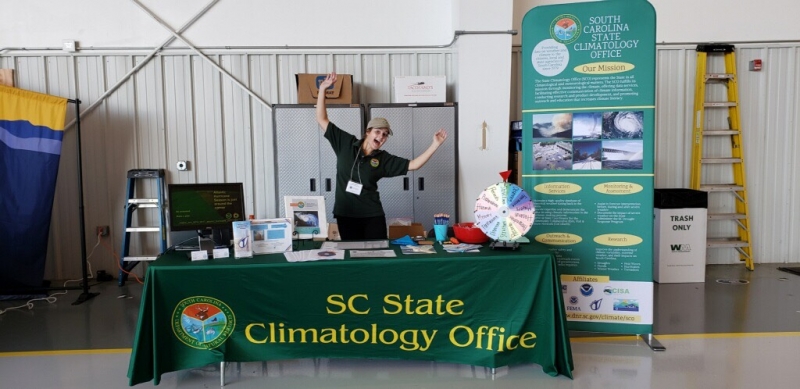 After she graduates, Leah is hoping to go into disaster preparedness and emergency management. She wants to continue school to receive her doctorate in geography or environmental management, though she said she'll likely do a gap year and work on disaster response research for the South Carolina Department of Natural Resources. Leah works there during the school year at the State's Climatology Office. After that, she's not certain where she wants to end up, but she knows she wants to dedicate her career to public service.
"The Hollings opportunity was probably the single most humbling experience of my life," Leah said. "I'm just truly so thankful to have had this opportunity to learn and grow. I enjoyed building relationships and getting to know everyone, and I feel so grateful that I was able to expand my knowledge in such an awesome atmosphere."