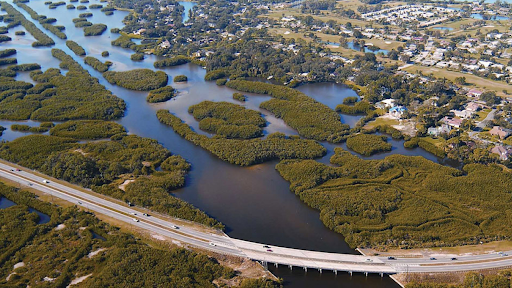 The state of Florida has the most coastline of any in the contiguous United States, from sandy beaches to subtropical islands, estuaries, mangroves, and everything in between. Protecting these critical coastal resources is a major task, and NOAA's Environmental Sensitivity Index product is a crucial tool in the state's belt. 
The ESI maps and data are a compiled resource of biological data (such as birds and oyster beds), shoreline classifications (such as rock walls or tidal wetlands), and human use data (parks, boat docks, and more). The data are primarily organized and classified based on sensitivity to oil and chemical spills, but they can be used for a wide variety of planning, response, and permitting uses. 
Data for the ESI maps comes from scientists across federal, state, and academic institutions, and the ESIs identify local experts that responders should talk to in the event of a spill. Florida is a great example of this, as state scientists have provided a lot of the data that goes into the state's ESI maps, putting their research to good use in these crucial products. 
ESIs are a valuable tool to Florida, as the state is particularly vulnerable to the impacts of climate change that are predicted to only grow in severity, including an increase in hazardous storms and sea level rise. In recent years, Florida has responded to a lapse in federal funding for updates by striking out on their own to update ESI maps and data. This stopgap funding has helped the state keep their products up to date, which is critical in a response environment where a matter of hours can make a big difference in cleaning or protecting fragile natural or human resources. However, the state's funding has been interrupted with lapses as well and they are uncertain if the updates will be able to continue.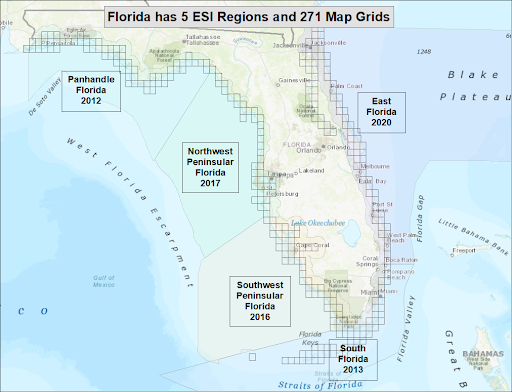 Florida began the latest round of ESI updates in 2012, with input from NOAA. The state has now updated all five ESI regions within the past decade, and is close to completing a refresh for the Panhandle region, which was the first region completed in 2012. They will then turn to refreshing the Southern region in the state, including the Florida Keys, should additional federal funding allow. The state's environmental agencies know how important updated ESI data and maps are for response, planning, and more, and by redoing them every decade or so, Florida is serving as an important leader in the field. Florida follows NOAA's ESI guidelines but is also innovating advancements and efficiencies and coordinating those with NOAA's Office of Response and Restoration.
Let's look at some of the specific uses that make ESIs so valuable to Florida: 
Oil spill response: This was the original purpose of ESIs, and they remain the best option. Florida's Fish and Wildlife Research Institute has an Oil Spill Support Program that uses ESI data as part of their scientific support, planning, response, assessment, and restoration related to oil spills. FWRI helps to coordinate data for the development of the ESI products, and has worked closely with the state's Department of Environmental Protection to support the ongoing work to update ESI data. 

a. Florida has a state statute (FS 376.121) covering liability for damage to natural resources caused by pollutant spills that is similar to the national-level natural resource damage assessment process, or NRDA. Florida's DEP applies an assessment for spills with a known responsible party, and DEP and FWRI use ESI data to calculate the damages under the state formula. 

Emergency Use Consultation App as developed for Hurricane Michael. Image Credit: FL FWRI. 

Hurricane response: After Hurricane Michael (2018), the state tied ESI data layers from the online mapping tool ERMA® (Environmental Response Management Application) into an app developed through ESRI Collector to produce a hurricane response tool for data reporting. This app allows users responding to incidents in the field to turn on layers showing ESI data such as shoreline, special management areas, threatened and endangered species, and other sensitive resources. If an abandoned vessel or other hazard is located in a sensitive area, the app automatically alerts the user and suggests ways to proceed along with experts to consult. Users must acknowledge best management practices to proceed, ensuring that the information contained in ESIs will be implemented effectively. The app also allows users to report debris and other data in real time, which is then shown in ERMA for use by the incident response teams at the command post.

a. This app was further field tested by NOAA in Louisiana after Hurricane Ida (2021), and the private contractors at Research Planning, Inc. have adapted the concept into their new VaDR (Vessel and Debris Response) application. 

Non-response activities: These include permitting, NRDA, Resources at Risk studies, and restoration projects. For example, current ESI data provides baseline data for restoration projects and informs project managers about adjacent shoreline types, threatened and endangered species, and nearby socioeconomic features, helping to ensure the long term success of these projects. ESIs are a one-stop shop for data that informs all of these processes. 

Public use: FWRI receives requests for ESI data from many other public sources, ranging from developers siting new projects to fishing clubs looking for new recreational fishing opportunities.
With such a wide variety of uses, it is easy to see why ESIs are a valuable resource for Florida and other coastal states. They are truly a one-stop shop for many kinds of important data for planners, responders, and the public to refer to, and are a vital tool for protecting our coastlines for generations to come.