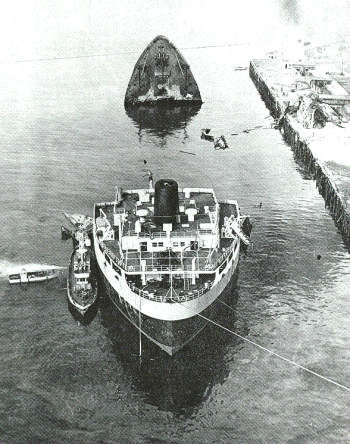 The winter of 1976-77 was a bad time for oil spills in the United States. I was still in middle school, but I remember doing a science report on oil spills. In a short time period there were multiple major oil spills, including these:
The tanker Argo Merchant ran aground on Dec. 15, 1976 and later broke apart off Nantucket Island, Massachusetts, spilling 7.6 million gallons of heavy fuel oil.
The tanker Sansinena exploded in Los Angeles Harbor, California, on Dec. 17, 1976, spilling 1.3 million gallons of heavy oil. Nine crew were killed and 46 people were injured.
Christmas Eve 1976 was not all quiet, when the tanker Oswego Peace spilled 5,000 gallons of bunker fuel into New London Harbor, Connecticut.
The tanker Olympic Games ran aground in the Delaware River, south of Philadelphia Pennsylvania, on Dec. 27, 1976, spilling 145,000 gallons of crude.
The rash of incidents continued into the New Year.
On Jan. 4, 1977, the tanker Universe Leader, loaded with 21 million gallons, ran aground in the Delaware River, New Jersey. It was refloated without a spill.
Also on Jan. 4, 1977, the tanker Grand Zenith, loaded with 8 million gallons of oil, was lost with all hands off the coast of New England. Only a few pieces of debris and an oil slick were found.
On Jan. 10, 1977, the tanker Chester A. Poling broke in half and sank off Gloucester, Massachusetts. It had just discharged its cargo and was only carrying ballast, but still spilled 14,000 gallons of diesel. One crew member was killed.
The large number of tanker accidents and loss of life alarmed the public and Congress. Hearings were quickly held in the District of Columbia in January, 1977. The hearing transcripts provide an insight into shipping and pollution concerns of the time. These concerns included the risk of spills from the still-under-construction Trans-Alaska Pipeline System that would open in a few months. The hearings concluded, but the rash of spills that winter did not.
On Jan. 17, 1977, the tanker Irene's Challenger, loaded with 9.6 million gallons of crude oil, broke apart and sank near Midway Island in North Pacific Ocean. Three crew were lost.
On Feb. 2, 1977, the tank barge Ethel H spilled 480,000 gallons of crude oil into New York Harbor.
On Feb. 26, 1977, the tanker Hawaiian Patriot broke apart and sank off Hawaii, spilling 31 million gallons of crude oil. All but one of the crew were rescued. This little known incident is still considered the largest tanker spill in United States waters.
This winter marks the 40th anniversary of NOAA's spill response program — a program that began, not surprisingly, in the wake of all of these incidents. In December, the Office of Response and Restorations (OR&R) will post a series of stories on NOAA's leading role in oil spill response.