This is the 10th in a monthly series profiling scientists and technicians who provide exemplary contributions to the mission of NOAA's Office of Response and Restoration (OR&R). This month's featured scientist is Lieutenant Michael Doig, a scientific support coordinator (SSC) in OR&R's Emergency Response Division.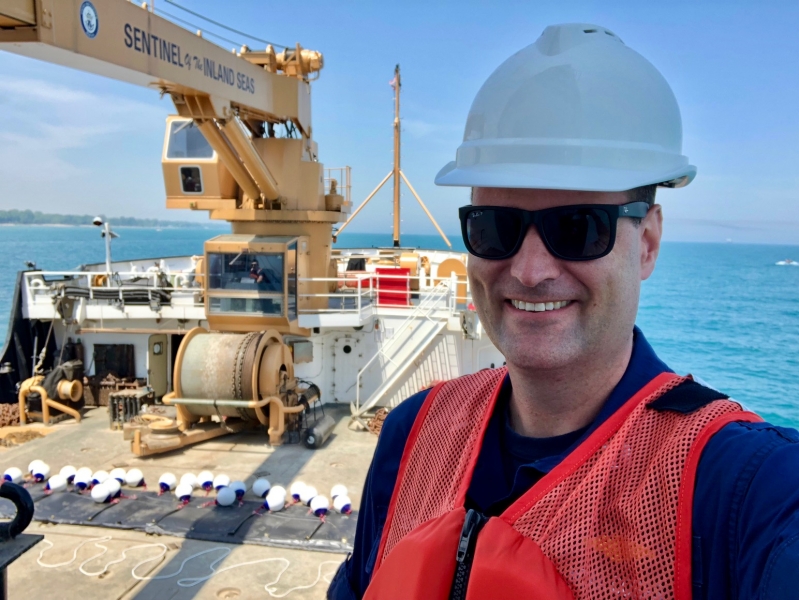 July 25, 2018 — Lieutenant Michael Doig is currently serving as the NOAA scientific support coordinator (SSC) for the Great Lakes, based in Cleveland, Ohio. Like other NOAA SSCs, Doig provides scientific support to the federal on-scene coordinator during responses to oil and hazardous substance releases in the coastal zone.
Being an SSC is both challenging and rewarding, Michael says, adding that what he enjoys most about his job is the opportunity it allows him to work with a close-knit team and to have a positive impact on the environment. He finds it particularly rewarding to interact with community members and utilize his background in education to inform the public on marine pollution.
Michael received his bachelor's degree in zoology from the University of Hawaii at Mānoa (UH), his master's in education from Pace University in New York, and a Master of Public Administration degree from the University of North Carolina at Chapel Hill.
While attending UH, Michael was an after-hours resident in the Waikiki Aquarium, ensuring the safety of the aquarium equipment and sea life. Another of the residents was a NOAA employee who piqued his interest about working for NOAA. For his senior project, he assisted a graduate student on a population study of juvenile hammerhead sharks in Kaneohe Bay, catching, tagging, and releasing the sharks from a small boat. He also hosted a weekly radio show on the university's radio station KTUH.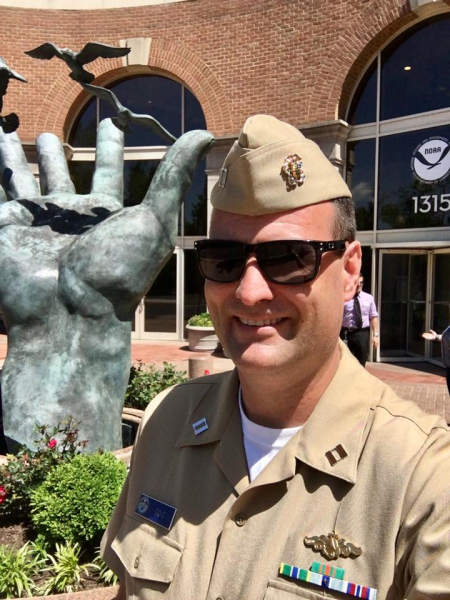 After graduating from UH, Michael was accepted into the New York City Teaching Fellows program. He taught earth and marine science to high school students in Brooklyn, New York, and attended graduate school at night. A dedicated educator, he produced a collection of videos for his website ScienceBoom: Episode 1: Density Demonstration; Episode 2: Water Circulation and Convection; Episode 3: Balloon in a Car; Episode 4: Chemical Weathering; and Episode 5: Barometric Pressure and Temperature.
As a teacher, his online searches for lesson plan ideas frequently brought him to NOAA websites, where he discovered the NOAA Corps. Armed with knowledge of the Corps, he applied, interviewed and was selected for Basic Officer Training Class (BOTC) 117 that graduated in 2010. Naturally, Michael contributed his videography skills to BOTC 117's graduation video.
After BOTC, Michael was assigned to the fleet and sailed aboard NOAA ships Pisces, Nancy Foster, and Gordon Gunter. He has sailed extensively throughout the Gulf of Mexico, Caribbean, and along the Eastern Seaboard supporting fisheries and marine mammal research.  
Michael's wide array of jobs and travel hasn't stopped with his current job. Since coming on board with OR&R, he has travelled the Great Lakes region extensively including: Port Huron, Sturgeon Bay, Traverse City, Buffalo, Mackinaw City, Chicago, and Detroit. Michael enjoys the unpredictability of his job, recalling what someone once told him, that "You never go to the same response twice."
"There is no typical day in the life of an SSC. This job requires a lot of travel, meetings, learning, training, and working with a diverse group of stakeholders. With roughly 12 SSCs for the entire U.S., each one is responsible for a large area," Michael said. "You can have plans to travel to Duluth, Minnesota and suddenly you're on a flight to St. Thomas [U.S. Virgin Islands]. Being an SSC is a challenge, but it's highly rewarding!"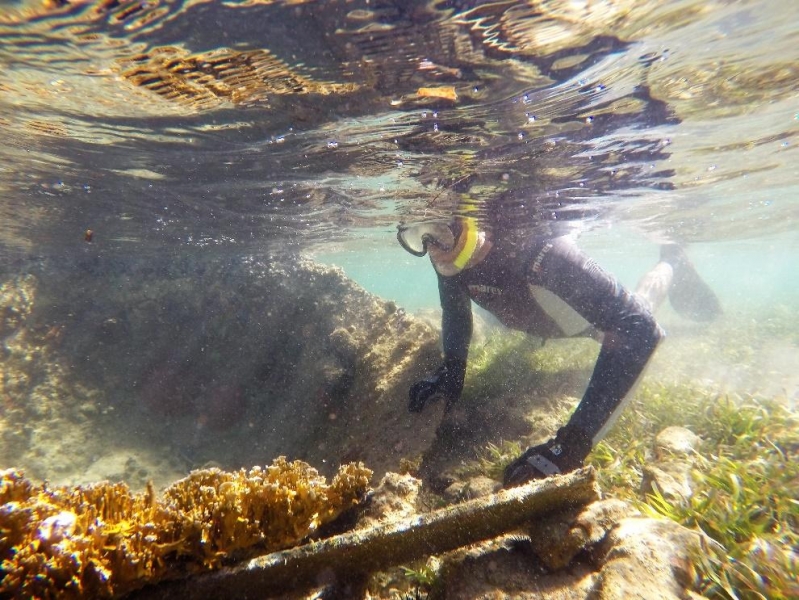 Last year, Michael was part of the Hurricane Maria response in the Caribbean. He spent two months in the U.S. Virgin Islands, supporting the U.S. Coast Guard and advising on the removal of grounded and sunken vessels to minimize environmental impacts. He helped develop best management practices, provided training, and briefed field teams on ways to minimize harm to coral, mangrove, seagrass, and turtle-nesting beaches.
As a NOAA diver, Michael was able to put his skills to use relocating corals in the Virgin Islands. When vessels were identified on sensitive coral reefs, salvage crews needed a pathway to remove the vessels from the reef. He worked with NOAA Coral Reef Restoration Ecologist Sean Griffin to relocate and reattach the corals with cement once the operations were completed.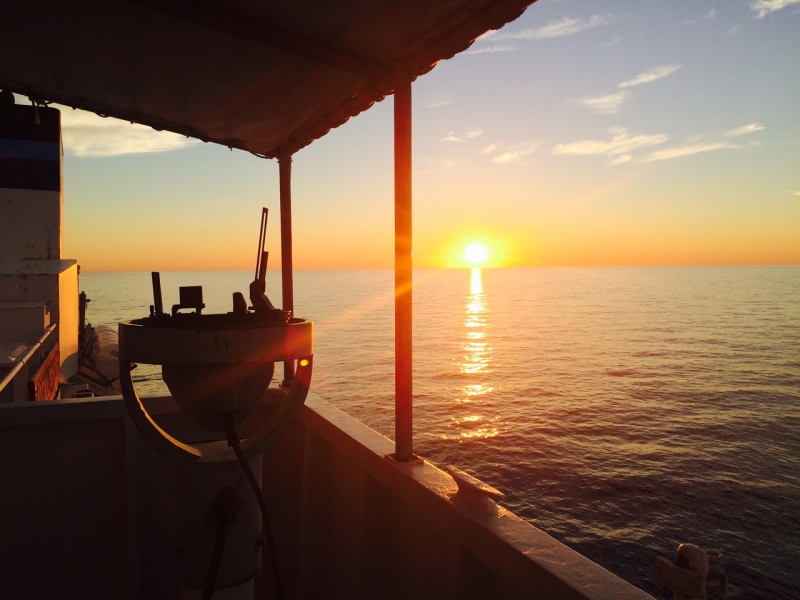 Michael has had a lot of memorable experiences throughout his NOAA career — from trawling in the Gulf of Mexico oil patch and spending Hurricane Sandy at the dock in Newport, Rhode Island, to recording the Bryde's whale call for the first time and helping coral scientists collect data in the Florida Keys. He also has more fond memories of watching beautiful sunrises and sunsets than he could ever recount.
"Being a part of NOAA provides an incredible array of opportunities, adventures, and once in a lifetime memories," Michael said.
Michael says that in the future, he sees his role as a scientific support coordinator becoming more important as the industry continues to grow and change.
"New products, sensitive habitats, and an increasingly aware public make protecting the environment a high priority for the American people. Finding ways to balance industries' needs while at the same time making sure we are prepared and able to respond in the event of a spill is an important part of being an SSC," Doig said. "As a NOAA Corps officer, I am in this assignment for roughly three years before I go back out for my third sea assignment aboard one of the ships in NOAA's fleet. I hope to someday be in command of one of those ships."