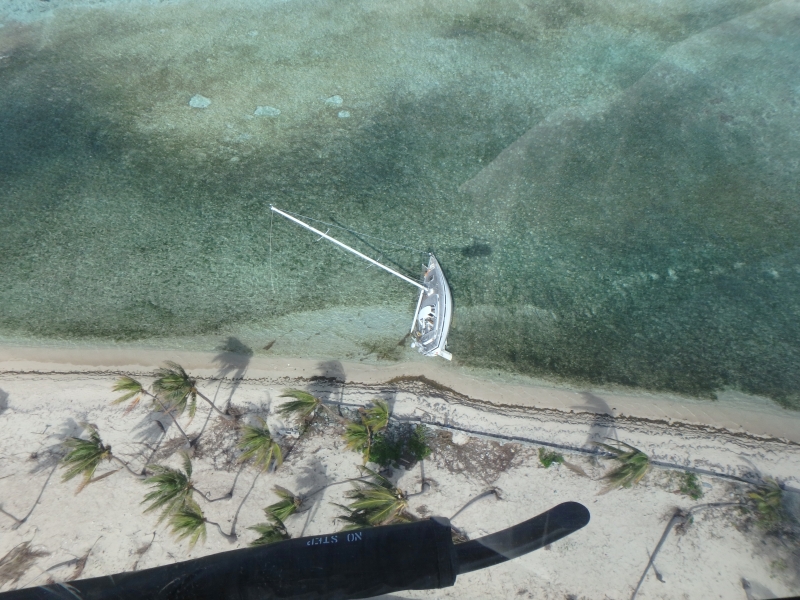 After nearly six months of ongoing efforts to remove vessels and mitigate pollution in Puerto Rico and the U.S. Virgin Islands, the end is in site for the Hurricane Maria Emergency Support Function #10 (ESF-10) team.
Although this last hurricane season had only a fifth the loss of life of past seasons — attributed to improved forecasts and warnings — the physical damage was twice that of previous years.
To protect the wildlife and the environment, and to identify, assess, and mitigate pollution risks, such as vessels, hazardous substances, and other containers displaced by the 2017 hurricanes, the ESF-10 was created and first initiated a command post in Puerto Rico on Sept. 27.
Only several dozen vessels remain out of the 377 total sunken or beached vessels that were initially identified in Puerto Rico. ESF-10 response teams oversaw the removal of 260 vessels, contacted 299 vessel owners, mitigated 37 pollution incidents, and removed 17,800 gallons of oil water.
On Feb. 21, 2018, the last vessel was removed from the U.S. Virgin Islands. Since October, when operations first began in the Virgin Islands, a total of 479 displaced vessels and 3,668 hazardous chemical containers, and 309 batteries have been salvage or recovered. A total of 12,449 gallons of fuel and oil waste was also recovered.
In total, NOAA's Office of Response and Restoration (OR&R) and the Restoration Center personnel under the USVI Environmental Unit relocated approximately 400 coral colonies in association with the response.
NOAA contributed more than 2,000 hours of collective on-scene support during the response. See more about the last vessel removed in the U.S. Virgin Islands here.
IN EARLY OCTOBER when responders first arrived on scene in Puerto Rico, the forests, normally thick with vegetation, were patchy and sparsely vegetated. The hills and mountains were brown and wind had blown the leaves right off the trees, and in some cases, snapped the trees in half.
"There has been a dramatic change in how the landscape looked in Puerto Rico right after the storm to now," said Hal Fravel, head of NOAA's Environmental Unit. "On my latest trip, in the beginning of February, most of the hills and mountains on the interior of the island were green again and when you look in the distance it looks like the forest is back to normal. Upon closer inspection, you can still see the broken trees and damaged vegetation, but most of the trees have leaves again and are trying to recover."
Along the coast, mangroves are recovering, and large swaths of mangrove habitat are still brown, said Fravel, adding that it may be quite some time for the mangroves to return to their pre-hurricane condition.
Preserving mangroves and other habitat is what makes the vessel removal process so important, in addition to mitigating pollution, said Lieutenant (junior grade) Matthew Bissell, OR&R regional response officer.
"I think it is important for people to be aware that vessels left in the environment are not only an eyesore, but can continue to damage the environment for very long periods of time," Bissell said. "For example, an abandoned vessel in mangroves may move around and crush the surrounding vegetation during future storms. These mangroves are the first line of defense in preventing beach erosion, and their preservation is directly related to the preservation of our beaches, and eventually, our coastal towns and homes. The local corals and seagrass communities also play very important roles in the coastal ecosystem. Derelict vessels, if not removed, can also cause prolonged damage to these resources."
The remoteness of these areas made initial mobilization of vessel removal equipment challenging, Bissell said, noting that contracted salvage companies sailed in from Texas. 
The equipment used to remove the vessels also faced obstacles in the way of water levels. Crane barges draw about 3 feet of water — limiting their navigation to areas deeper than about 5 feet of water. As many of the vessels were pushed into shallow ares by the storm, they were inaccessible to cranes, which have a 90-foot radius reach.
But before the vessels could be removed, their ownership had to be relinquished. Working in areas that have recently been devastated by hurricanes made communicating with owners particularly challenging. But while emergency response efforts targeted at mitigating loss of life were still going on, OR&R and the Coast Guard had time to figure out a routine that would determine their workflow for the coming months. The Coast Guard developed a notification process that included stickering the vessels to help with communication efforts.
"Vessel removal and pollution response definitely isn't first priority after a hurricane," said Lieutenant (junior grade) Matthew Bissell, OR&R regional response officer. "Initial response efforts are, obviously, very much a humanitarian effort — something to be aware of when you are in the field focusing on environmental aspects. Knowing that response priorities will eventually, gradually transition from human health and safety to environmental issues, we begin right away planning and preparing for these potential impacts."
Vessel removal operations in Puerto Rico are on track to wrap up early this month, before the mission assignment ends on March 19.
"The collaboration between all federal and Puerto Rico agencies involved in this response has been incredible," said Hal Fravel, head of the NOAA's Environmental Unit. "ESF-10 response has worked directly with the U.S. Coast Guard, U.S. Forest Service, U.S. Army Corps of Engineers, the Environmental Protection Agency, National Marine Fisheries Service, Puerto Rico Department of Natural and Environmental Resources, and Puerto Rico State Historic Preservation Office to ensure that we are protecting resources and conducting operations within the framework of each agency."
To find out more about the ESF-10 Hurricane Maria Puerto Rico Response mission, watch this video.