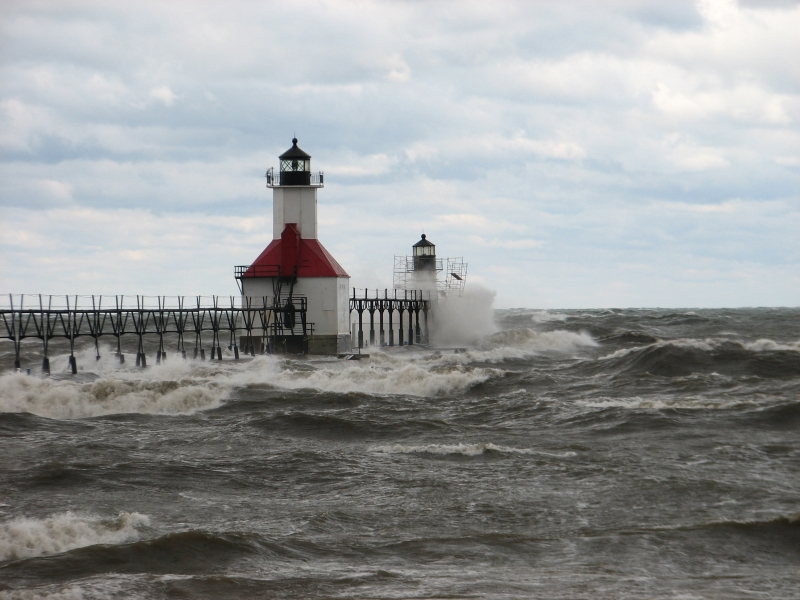 North America's Great Lakes contain 6 quadrillion gallons of freshwater within the five lakes of Superior, Michigan, Huron, Erie, and Ontario. With roughly 20 percent of the world's surface freshwater, the Great Lakes are the world's largest freshwater system, and contain enough water to cover the entire lower 48 states to a depth of almost 10 feet.
Shared by two countries, eight states, and one province; the Great Lakes' centralized location, favorable geography, climate, and water rich environment culminate into a natural hub for manufacturing, business, agriculture and tourism, and home to over 40 million people who depend on the lakes for their domestic and industrial water supply.
In addition to their freshwater needs, many of these same economies are equally dependent on petroleum products, which travel to and through the region via a mix of transportation modes. While all environments are sensitive to oil spills, the Great Lakes are especially sensitive due to a number of unique risk factors.
Unique Risk Factors
Freshwater is the most obvious unique risk factor for the Great Lakes and for good reason. Approximately 44 billion gallons of water is withdrawn each day for industrial and domestic use. The first question for every spill in the Great Lakes is location of the closest freshwater intake. Shutting down freshwater intakes can cause widespread economic and political impacts, not normally associated with a spill in the marine environment.
Take for example the 2014 harmful algal bloom event that shut down Toledo, Ohio water intakes for 500,000 residents. That emergency shut down local businesses and universities at a cost of millions for the city and state. This is a very real and unique concern for spills in the Great Lakes and other freshwater environments.
The density of freshwater can make spills in the Great Lakes more challenging as well. Oil usually floats because it is less dense than the water it is floating on. Density is the mass, or weight, of a substance divided by its volume. The density of freshwater is usually about 1 gram per cubic centimeter (g/cc). Ocean saltwater is denser (usually around 1.02 to 1.03 g/cc) because it contains more salt. The higher the salinity of water, the denser it is. Densities of oils generally range from 0.85 g/cc for a very light oil, like gasoline, to 1.04 g/cc for a very, very heavy oil. Most types of oils have densities between about 0.90 and 0.98 g/cc. These oils will float in either fresh or salt water. However, heavy oils, which have a density of 1.01 g/cc, would float in salt water, but sink in the freshwater of the Great Lakes.
Water in the Great Lakes originates from thousands of streams and rivers covering a drainage basin of approximately 201,000 square miles. This water exits the Great Lakes so slowly through the St. Lawrence River that it essentially makes the Great Lakes a closed system. The retention time — the amount of time it takes for lakes to discharge water and pollutants — ranges from 2.6 years for Lake Erie to 191 years for Lake Superior. With no more than one percent of the water in the Great Lakes exiting the system each year, any residual oil spill contaminants have the potential to reside within the lakes for a substantial time.
LT Greg Schweitzer is a NOAA Scientific Support Coordinator in the Great Lakes and Midwest Region with OR&R.