Over the next two weeks, we're sharing some of the ways NOAA monitors and predicts, responds to, and prepares for the impacts of climate change. In this guest blog from Restore America's Estuaries President and CEO Daniel Hayden, learn more about how living shorelines can be used to help protect against the impacts of sea level rise and coastal erosion. 
The U.S. is losing upwards of 50,000 wetland acres per year, according to the U.S. Fish & Wildlife Service. This is occurring at a time when we need our wetlands more than ever to buffer storms and absorb floodwaters. NOAA reports "2020 set a new record for events, with $22 billion weather and climate disasters—shattering the previous annual record of 16 events in 2011 and 2017. 2020 was the sixth consecutive year in which 10 or more billion-dollar disaster events occurred in the U.S." 
Much of this destruction of property, habitat, and lives lost could be reduced, though. According to the Natural Hazard Mitigation Saves: 2017 Interim Report, every dollar invested in mitigation saves $6 in recovery, while avoiding human suffering and improving habitat. Proactive restoration means we can save money, improve open spaces, and protect communities.
An important part of the work at NOAA's Office of Response and Restoration is ensuring our coastal habitats remain healthy and able to deliver their full range of ecological services and benefits in order to protect coastal communities and the associated infrastructure.
An increasingly popular and cost-effective means of restoring coastal ecosystem health and resiliency is the use of living shorelines. 
According to NOAA's Guidance for Considering the Use of Living Shorelines: 
"Living shoreline is a broad term that encompasses a range of shoreline stabilization techniques made up mostly of native material. It incorporates vegetation or other living, natural 'soft' elements alone or in combination with some type of harder shoreline structure (e.g., oyster reefs or rock sills) for added stability. Living shorelines maintain continuity of the natural land-water interface and reduce erosion while providing habitat value and enhancing coastal resilience."
As our coasts and coastal communities continue to face a number of stressors, living shorelines offer an opportunity to address them by working with nature.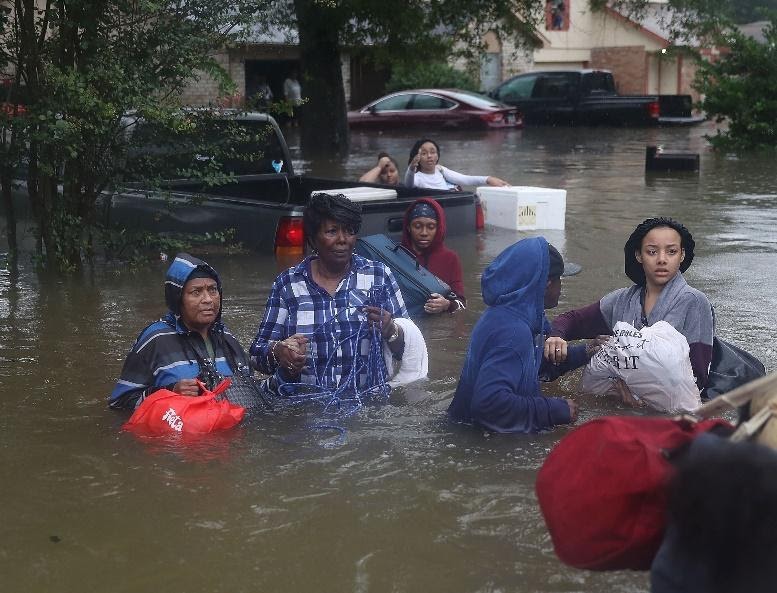 For instance, look at Hurricane Harvey in 2017 and the devastation it caused along the Texas coast due to extreme winds and 52 inches of rain Roughly 134,000 residences were destroyed, 17% of the community reported bodily harm to themselves or family, and $180 billion in damages were incurred (UH Hobby School of Public Affairs Harvey Survey). Following the hurricane, oil refineries and chemical plants across the Gulf Coast of Texas reported damage, leaks, and emissions. The floodwaters eventually ended up in Galveston Bay and other nearshore waters—carrying the accumulated toxins with them.
While we can't stop hurricanes, living shorelines could have played a role in protecting the region. 
For example, marsh grasses and other natural vegetation like mangroves can help dampen wave energy and offer protection to coastal communities from the force of storms. They also help the marsh accrete, or grow and rise, by trapping sediment, thereby helping our coasts adapt to sea level rise by using natural processes. Additionally, this vegetation helps hold the soil and peat in place, effectively slowing coastal erosion rates so communities are set back from the direct force of storms.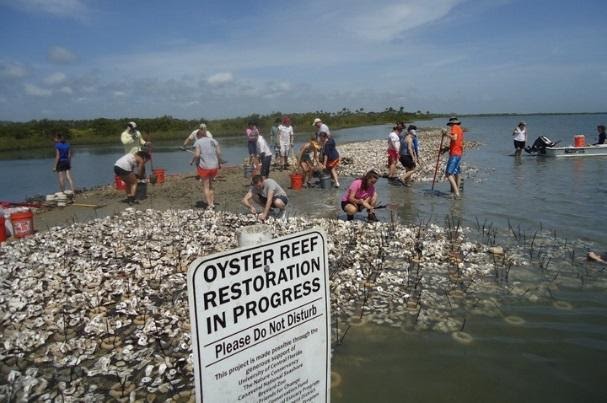 Oyster shells and oyster reefs are another component of living shorelines often employed as a "hard" element to help stabilize the new shoreline. When recycled oyster shells are used in a living shoreline, they serve as an ideal substrate for larval oysters, also known as spat, to settle and grow. As oysters begin to repopulate an area, they can rapidly help improve immediate water quality–augmenting traditional water purification systems. Additionally, as the oyster reef continues to grow, it will form a physical barrier that helps attenuate wave energy and minimize coastal erosion without any further investments.
When we think about living shorelines as natural infrastructure, we often overlook the additional benefits. According to NOAA, 68% of commercial fish and 80-90% of recreational fish species depend upon estuaries for their primary habitat, spawning grounds, and nursery areas. They also provide scenic areas for other types of recreation such as kayaking and bird watching.  
Living shorelines check a lot of boxes when it comes to improving coastal resiliency. They can protect shorelines from erosion, improve water quality and store nutrients, and increase shoreline stability over time. Living shorelines also provide habitat for fish and other living resources, as well as attract other wildlife. And most importantly, they can outperform hardened shorelines during extreme weather events like Hurricane Harvey.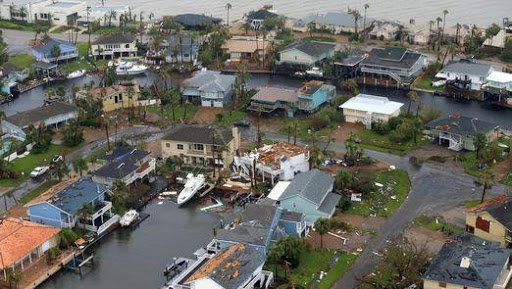 While living shorelines likely wouldn't have prevented all the catastrophic impacts of Hurricane Harvey, they helped to mitigate some of the effects and are helping Galveston Bay and other estuary habitats bounce back and be better prepared for the next major storm. 
While we still need policies to drive a net zero greenhouse gases (and eventually reductions) to reduce the rising frequency of storms due to climate change and forward looking local zoning to move people out of the storm's pathways, living shorelines are a proven part of the solution today and in the future.
As the U.S. looks to invest in an overhaul to its infrastructure, we can't forget that natural solutions are often the soundest solutions. Living shorelines are a common-sense, cost-effective option to protect coastal communities, clean water, sequester carbon, and create great places for people and nature to thrive.
Restore America's Estuaries is proud to work with NOAA's Office of Response and Restoration to make that happen.
Daniel Hayden is president and CEO of Restore America's Estuaries. Restore America's Estuaries is a national alliance of 10 coastal conservation groups dedicated to restoring and preserving America's estuaries and coasts in 11 estuaries and 16 states nationwide stretching from Maine to California.