This feature is part of a monthly series profiling scientists and technicians who provide exemplary contributions to the mission of NOAA's Office of Response and Restoration (OR&R). This month's featured scientist is Sherry Lippiatt, the California regional coordinator for OR&R's Marine Debris Program.
Sherry Lippiatt works for OR&R's Marine Debris Program as the regional coordinator for California, though her love for science and the environment first began on the East Coast. The daughter of a federal economist and a small business owner, Sherry was raised in Maryland not far from Silver Spring where NOAA is headquartered.
Sherry said that annual family trips to the coast every summer were some of her favorite memories growing up, but that she remembers the amount of trash in some areas, particularly the marinas, was staggering at times.
"I was always really curious about the environment in general. We [my family] did a lot of camping and skiing, and my parents always had a boat on the Potomac River," Sherry said. "In hindsight, the river was probably pretty polluted, and I was just old enough to notice it. So that likely had an influence on me wanting to go into environmental science and helping to conserve our natural resources."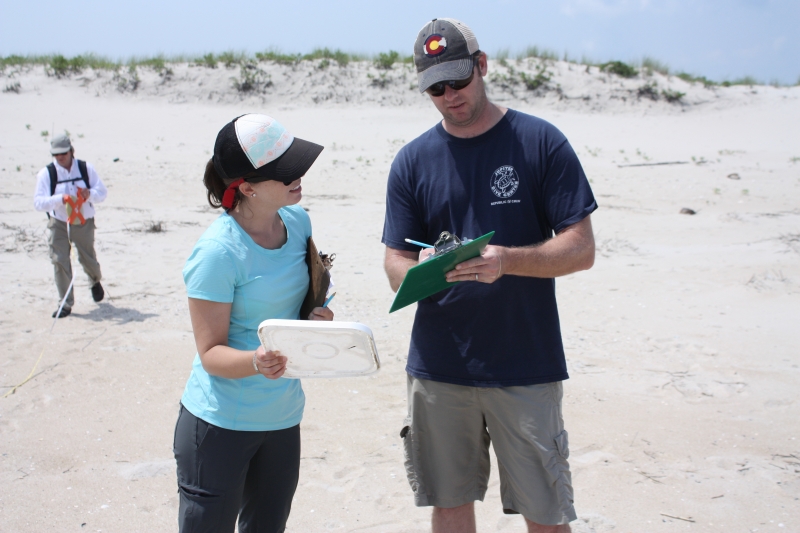 In high school, Sherry showed an aptitude for math and science and in her junior year received the Rensselaer Medal — an award that comes with a substantial scholarship to the Rensselaer Polytechnic Institute in Troy, New York. While working toward her undergraduate degree in environmental science, she landed a summer research internship at the University of Hawaii, helping a master's student with a marine geology project. The internship was her first exposure to oceanography.
"The vastness of the ocean and how, even relative to outer space, it's not that well understood, it really piqued my interest," Sherry said.
After graduating, Sherry wanted to escape the cold of New York and continue pursuing her interest in the ocean. She searched up and down the West Coast for a graduate program, and made the move to California where she received a doctorate in ocean science from the University of California, Santa Cruz.
Throughout her studies in California, Sherry had the opportunity to go on a number of different research cruises, spending up to six weeks at a time at sea. Though the work was hard, Sherry said it was also rewarding. She enjoyed the research and the experience, but after graduating decided to look outside the world of academia for the right career fit.
"[After graduating] I really was looking for something more applied where I could see the direct relevance. While working on my dissertation, I was looking at the bioavailability of iron to phytoplankton in the Gulf of Alaska. In the end it came down to one number that went into someone else's climate model," Sherry said.
In 2010, Sherry discovered that OR&R's Marine Debris Program was looking for a Sea Grant Knauss fellow. With her background in ocean science and marine chemistry, she was the perfect fit.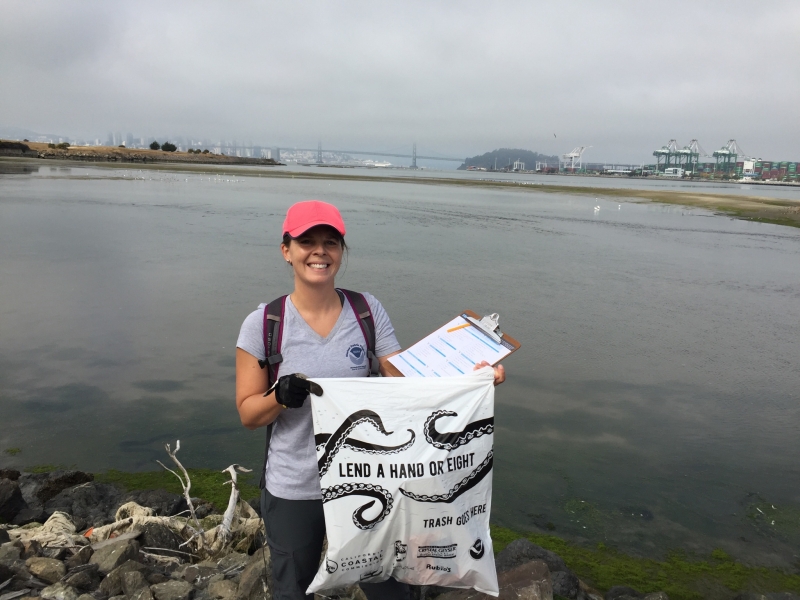 After her fellowship had ended, the timing was right for Sherry to stay on with the Marine Debris Program as a contractor through I.M. Systems Group in Silver Spring to provide scientific support. In 2011, the West Coast region was overseen by Nir Barnea, based in Seattle. When the Tohoku earthquake and tsunami hit Japan that year — sending debris across the Pacific Ocean to the U.S. and other parts of North America — the region had more work than one person alone could manage. A separate region for California was created and Sherry became the first regional coordinator for California in 2012.
What Sherry enjoys most about working in California is the variety that it offers. She works with the program's removal and prevention grantees, and also works closely with a diversity of partners on the California Ocean Litter Prevention Strategy.
Sherry feels fortunate to live and work in a state that has so much policy attention to the issue of marine debris.
"We now have a statewide bag ban, straws are available only on request at restaurants, and we have a statewide trash policy for stormwater systems. There's a lot of legislation focused on reducing and addressing marine debris, which has created a lot of action in research and removal," Sherry said. "I really appreciate being able to work in a region where there's so much public interest and willingness to tackle the issue."
She also leads the Marine Debris Monitoring and Assessment Project, a science initiative that engages NOAA partners and volunteers across the nation to survey and record the amount and types of marine debris on shorelines. Launched in 2012, the project participants have contributed data from 4,827 surveys across 375 shoreline sites in 20 U.S. states and nine different countries, as of March 2019.
"In the shoreline monitoring component, I really have grown and developed a huge appreciation for the value of citizen science and involving the community in data collection that helps participants feel more connected to the issue and their local environment. There's a lot of conservation impact in having volunteers out on the shoreline, and they take it back to their daily lives in knowing how to reduce their own waste," she said.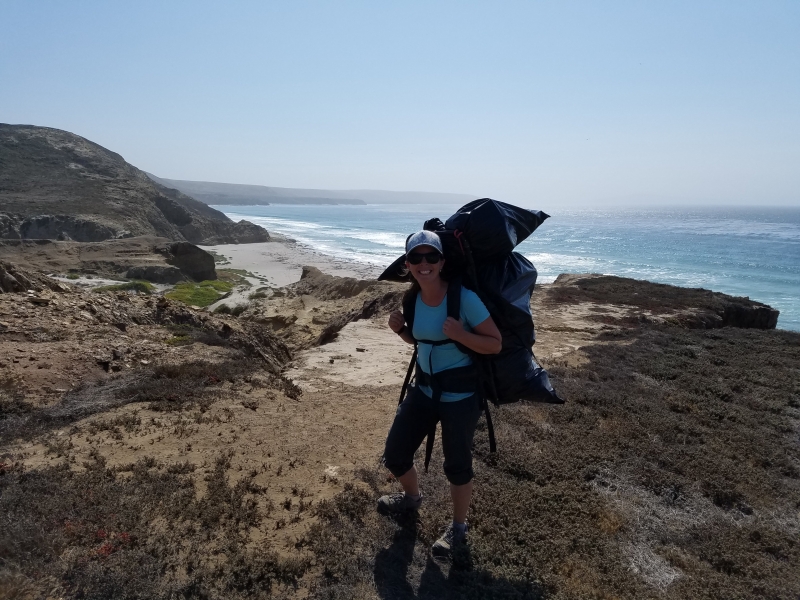 Sherry's favorite part about her job is the variety of projects and partners she gets to work with, particularly the citizen scientists, restaurants, business owners, and just everyday people from a variety of backgrounds who are helping to make a difference.
"Doing site visits with the grantees and being able to see the work is also an amazing part about this role. Last summer in August I got to go out to a site visit in the Channel Islands for a couple days, staying on the islands and getting to hike out to these areas where they are actively doing marine debris removal was an amazing experience."
The most challenging part of her job, Sherry says, is having to say no sometimes.
"We get a lot of requests, so it's just a capacity thing. You want to do all these projects, go to all these meetings, help as much as you can, and having to say no is really hard," she said.
Sherry said that looking to the future of marine debris, she thinks the focus will continue to be on "turning off the tap and focusing on addressing the issue at the source."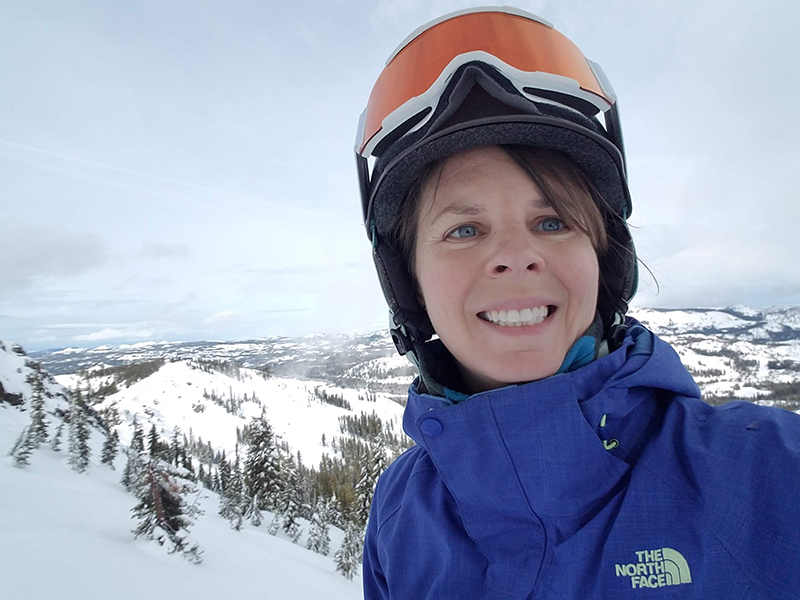 "I think as our understanding of the issue and the impacts that debris is having grows, as the research moves forward, it will lend itself toward more targeted prevention efforts," she said.
In her free time, Sherry enjoys skiing, going to Lake Tahoe in the winter, surfing in the cold Pacific waters, yoga, and tennis. She enjoys taking advantage of the natural recreation California has to offer, as well as visiting her immediate family who have joined her in relocating from Maryland to California.