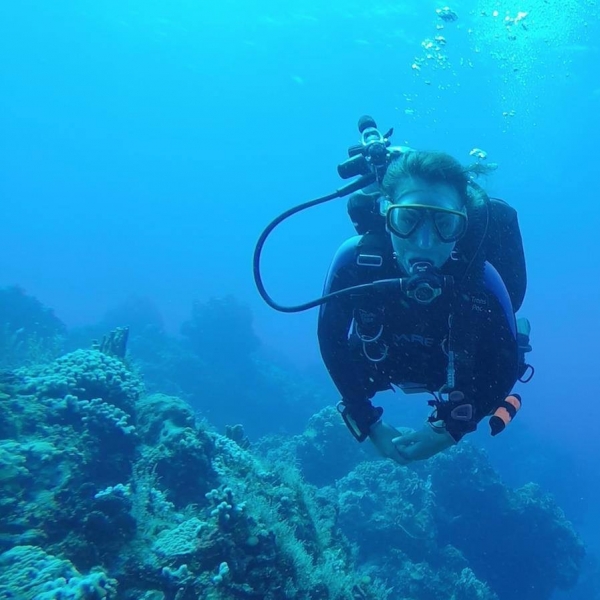 This is the third in a 12-part monthly series profiling scientists and technicians who provide exemplary contributions to the mission of NOAA's Office of Response and Restoration (OR&R). This month's profile is on 2017 Sea Grant Knauss Fellow Amanda Laverty.
Coming to the Marine Debris Program (MDP) from Old Dominion University, Amanda Laverty joined NOAA's Office of Response and Restoration (OR&R) in February as a 2017 Sea Grant Knauss Fellow.
Amanda's deep love and desire to be near the ocean led her to earn a Bachelor of Science degree with a concentration in biological oceanography. The relationships she forged as an undergraduate led her to pursue a Master of Science under the supervision of Dr. Fred Dobbs at Old Dominion University in Norfolk, Virginia. Interested in both marine microbial ecology and marine pollution, she focused her thesis research on the potential for marine plastic pollution to carry and transmit bacteria and human pathogens.
As a graduate student, Amanda has presented her research at various scientific conferences. Through meaningful conversations with colleagues at these venues, she realized her interest in science management. While finishing her graduate degree, she learned about the John A. Knauss Marine Policy Fellowship Program. This fellowship presented the perfect chance to learn about management and dive into the point where science and policy meet in our nation's capital. With no direct policy experience, she hoped this fellowship would enrich her understanding of policy and contribute to her growth as a successful marine scientist.
During her fellowship, Amanda has had the unique opportunity to assist MDP on a wide variety of projects — ranging from the development of communications and outreach resources, to leading a Zero Waste Initiative for the upcoming Sixth International Marine Debris Conference. Through this initiative, co-hosts at NOAA and U.N. Environment aim to reduce the overall footprint of the conference by limiting single-use items and preventing marine debris.
Another major project Amanda has worked on has been to compile literature on the benefits of marine debris removal to marine and coastal ecosystems. With the assistance of Adam Domanski, formerly in OR&R's Assessment and Restoration Division, this literature review will apply the most up-to-date science to habitat evaluations following an event that damages a habitat, such as a hazardous waste release, oil spill, or vessel grounding. Through Amanda's work, marine debris removal can be scaled for restoration efforts, ultimately serving OR&R and external resource managers in decision-making.
During her fellowship year, one of Amanda's most fulfilling experiences has been attending marine debris action-planning workshops. At these workshops, Amanda has served in a much-needed supporting role for the MDP. By interacting with leading experts in the field, she learned first hand how marine debris challenges are perceived, and ultimately managed, at a regional level.
Amanda has also had the chance to attend congressional hearings on Capitol Hill in Washington D.C., including a Senate Commerce, Science, and Transportation Committee hearing on marine debris efforts in the oceans and Great Lakes. These experiences allowed her to observe how NOAA interacts with Congress and how this information is used in decision-making. Through these and many other avenues, Amanda has gleaned a better understanding of policy, and the many ways in which science can contribute to management.
"The Sea Grant Knauss Fellowship has provided me with the opportunity to build and diversify my professional skill set with flexibility and greater autonomy than a conventional job can typically offer," Amanda said. "My fellowship year with the Marine Debris Program has been a unique and incredibly rewarding experience."
Through her fellowship, Amanda has discovered her interest in the science-policy interface, and she hopes to continue working in that realm after her fellowship. She is currently applying to jobs in D.C., though she says she's not opposed to moving if the opportunity presents itself.
Amanda's love for the ocean goes beyond her work in the form of scuba diving. Though her interests also extend above ground to include staying active in her gym community, getting outdoors and hiking, traveling, and exploring the District of Columbia.
UPDATE: Having finished her fellowship, Amanda Laverty has now joined the Marine Debris Program team as a communications specialist.