This feature is part of a monthly series profiling scientists and technicians who provide exemplary contributions to the mission of NOAA's Office of Response and Restoration (OR&R). In this month's feature meet Gulf of Mexico Disaster Response Center Deputy Director Jessica White.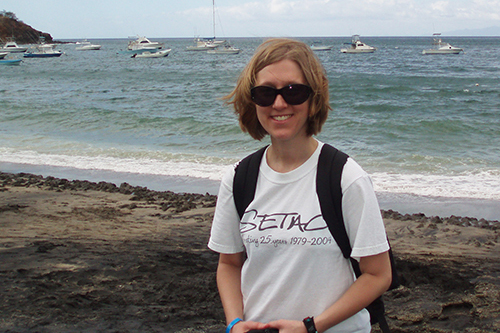 Having worked at NOAA's Office of Response and Restoration for more than 10 years, Jessica White has seen, firsthand, how the office's many roles in coastal disaster response continue to grow. When she first began her career here at NOAA, Jessica worked in the Coastal Protection and Restoration Division—what would later become the Assessment and Restoration Division. 
A native Texan, Jessica received her bachelor's degree from Texas Tech University. It was during her undergraduate studies as a biology major that she took her first toxicology class. 
"I was hooked," she said. "That combination between biology and chemistry I thought was really fascinating, so I decided that's the science that I wanted to pursue in a master's program." 
Jessica continued her studies at the University of North Texas, and after completing her master's degree in 2003 began looking for a job. It was through the Oak Ridge Institute for Science and Education that she found a job posting at NOAA for a coastal regional coordinator position based out of Dallas. 
In her role, Jessica spent the bulk of her time working on Natural Resource Damage Assessment (NRDA) issues for coastal hazardous waste sites in Texas and Louisiana—though she also had the opportunity to work on other projects, including cleanup of post-hurricane HAZMAT debris and coordination of field operations. 
"I had a great time working in ARD [the Assessment and Restoration Division] for many, many years on the Gulf Coast and worked on everything from hurricane debris cleanup to traditional hazardous waste site NRDA work. For me, and many other people, the big turning point was the Deepwater Horizon oil spill. Initially I started out supporting ARD, and moved to supporting ERD [the Emergency Response Division], and then back again. After a few years of working on that case, I realized the NRDA world was very different. I decided it was time for a change," Jessica said.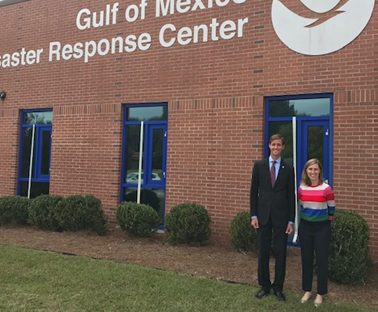 Jessica had moved from Dallas to Baton Rouge, Louisiana to be closer to the Deepwater Horizon response. NOAA's Gulf of Mexico Disaster Response Center had just opened up in Mobile, Alabama around that time, and was working to recruit people within OR&R. It was the perfect opportunity for Jessica to try something new. Within a year, the deputy director for the facility retired, and Jessica applied. It was the welcome change she was looking for and she's been there ever since. 
In her current role as the deputy director at the Disaster Response Center, she helps maintain the facility and coordinate various projects with partners. 
"It has been quite a deviation from my previous work experience, but I enjoy developing both new relationships with key stakeholders and new skills, such as contracting," she said. 
Jessica said the most challenging part of the job is running a government-owned facility. 
"Everything is on us, so when the fire alarm sends out a trouble signal at 2 o'clock in the morning, I get a call," she said. "Because it's a government facility, we have a huge responsibility for maintaining it. It's meant to be a location for NOAA to always be able to provide our services. It's open before, during, and after a storm. We have large generators that can power the facility for about two weeks if we lose municipal power, the facility is built to withstand a storm, and a larger internet connection that is more resilient to storm outages. My role really revolves around the continuity of operations and maintaining our ability to provide services during critical times, and also looking for ways to improve the facility."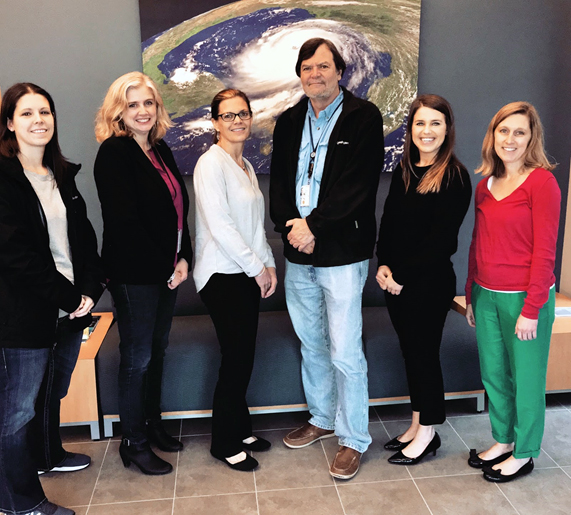 As the deputy director of the facility, Jessica has also seen the idea and concept that went into the making of the Disaster Response Center bloom into an entire program that now sits within the Office of Response and Restoration. The Disaster Preparedness Program was created in 2017 to strengthen existing operational capabilities to ensure the National Ocean Service and its partners have the tools necessary to plan for and respond to disasters so commerce, communities, and natural resources can recover as quickly as possible—a mission not dissimilar from the Mobile facility. 
Jessica's favorite part about her job—and working for NOAA in general—is the opportunity to develop her experience and skills in a totally different area. Jessica is currently working a temporary detail assignment with the Emergency Response Division, splitting her time between her responsibilities at the DRC, and acting as the Gulf and Atlantic regional operations branch manager. 
"I believe there's a tremendous value in stepping into a different position from time to time because it gives you the opportunity to learn a different program, a different line office, different skills," Jessica said. "It's an opportunity for all kinds of growth, and healthy mentally because that change in experience is just refreshing. It can be a jolt to an otherwise stagnant or static work experience. The bigger reason is the need for better coordination between our divisions. The better we can understand each other and what we're doing will benefit OR&R and the NOAA as a whole." 
For Jessica, this isn't the first opportunity of its kind that she's gone after. In 2017, she joined NOAA's Leadership Competency Development Program—a year and a half program where participants split their time between formal classroom training and professional development opportunities. Through this program, Jessica did three details. She worked three months with the Fisheries Office of Management and Budget, six months in the Deputy Undersecretary of Operation's Office working as an advisor, and another three months as the acting supervisor for the Gray's Reef National Marine Sanctuary. 
"I love being able to try different things, and learn how different program offices work," Jessica said. "I'm very grateful that OR&R gave me that opportunity and allowed me to take the time to do that. I think the government has a number of professional development opportunities like that available to people and they're a great way to expand your network and skill sets. I would absolutely encourage people to take advantage of those really rewarding, enriching opportunities." 
When she's not at the DRC or trying out new opportunities, Jessica enjoys spending time at her home in Mobile with her three cats, Chloe, Emmett, and Elijiah.