This feature is part of a monthly series profiling scientists and technicians who provide exemplary contributions to the mission of NOAA's Office of Response and Restoration (OR&R). In this month's feature, meet Amanda Dwyer — Knauss Sea Grant Fellow with the OR&R Marine Debris Program.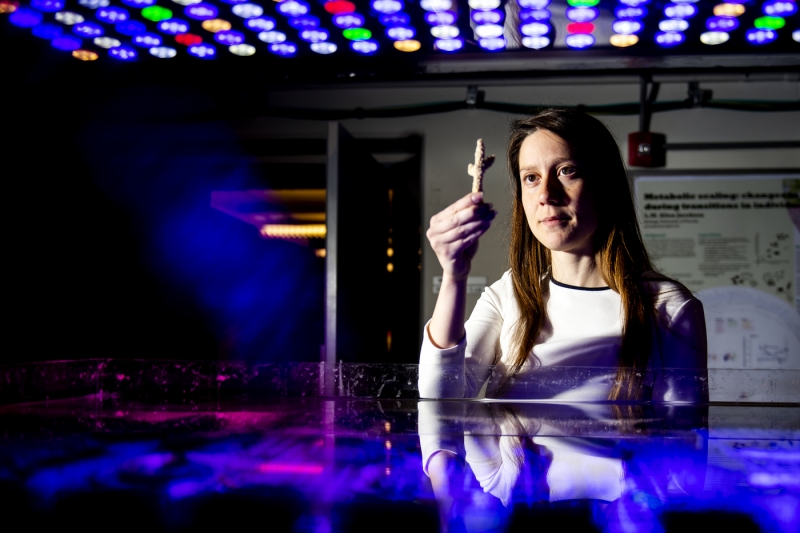 How many of us can say we've known our life long passions since the age of 6? Most of us probably don't remember much from that age and usually find our callings a little later in life. But for Amanda Dwyer, a lesson on coral reefs in the first grade was all she needed. 
Growing up in Ralston, Nebraska, nowhere near an ocean, let alone a coral reef, Amanda's fascination with the marine environment began when her first grade teacher decided to have her class create an arts and crafts reef.
"Being in the middle of the country and walking into a 'coral reef' that I helped create left a large impression on me of how delicate and important our marine ecosystems are," Amanda said.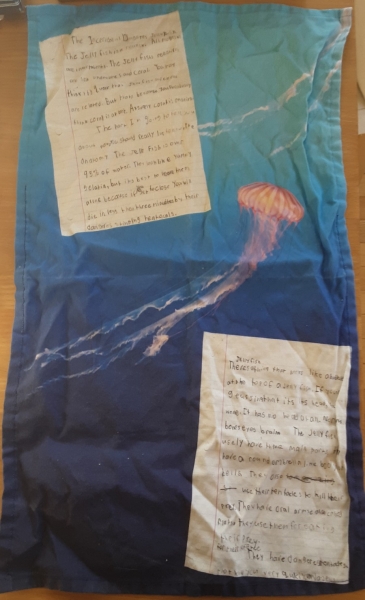 This brief introduction began Amanda's life long journey into the world of marine conservation and eventually led to her position today as the Knauss Sea Grant Fellow with the Office of Response and Restoration's Marine Debris Program. 
Amanda attended Lawrence University in Wisconsin and received a bachelor's degree in biology and environmental Studies. She then received her doctorate in ecology, evolution, and marine biology at Northeastern University in Massachusetts. Her graduate research took place in Bocas del Toro, Panama at the Smithsonian Tropical Research Institute (STRI) where her dreams as a 6-year-old finally came full circle. Her research focused on zooplankton communities on coral reefs, and their impact on coral recovery from bleaching. 
Over the years, Amanda remained in touch with her first grade teacher, who evoked her passion for coral reefs. She was invited to Amanda's wedding and as a gift, made a custom tea towel with Amanda's first grade report on jellyfish printed on it. Amanda read this report as part of her doctoral thesis celebration! 
After completing her field work in Panama, Amanda became more interested in science communication and outreach. She began to work with the Beach Sisters, a collaborative program between Northeastern University's Marine Science Center and Girls Inc. of Lynn. The program involves middle and high school girls working on service projects to benefit their community and environment. This experience helped define Amanda's interest in marine debris. She assisted the Beach Sisters with projects to decrease litter in their city that could easily become marine debris. They distributed reusable bags to lower income communities and painted storm drain art to bring awareness to how easily trash can get washed down the drain and into the ocean.
"This opportunity gave me first hand experience of learning the importance of incorporating different perspectives within a community when implementing new initiatives to prevent or decrease marine debris," Amanda said. 
Today, as a NOAA Sea Grant Knauss Fellow with the Marine Debris Program, Amanda primarily focuses on a new initiative to reduce waste for NOAA's National Ocean Service (NOS) offices located in Silver Spring, Maryland. She is a part of the newly founded NOS Zero Waste Team. With the understanding that achieving zero waste is extremely difficult, the team focuses on internal waste reduction within NOS offices and events to limit the impacts of marine debris on our ocean environments. The most rewarding part of this job for Amanda is seeing the zero waste ideas come together and witnessing the level of participation and excitement from NOS staff.
The greatest obstacle to achieving zero waste is that there are many unknowns, Amanda said, "It can be difficult navigating the most effective ways to limit waste and still meet the needs of the NOS mission."
In addition to the NOS Zero Waste Team, Amanda also supports the Marine Debris Program communications team by writing blog posts, answering questions from people interested in marine debris, and reviewing products produced by the team. Moreso, throughout this fellowship, Amanda has learned a lot about the marine debris issue and the Marine Debris Program.
"When I started this fellowship, I was really curious about how the federal government could address the massive problem of marine debris, that consists of many localized impacts that vary regionally. I have enjoyed working with our regional coordinators to learn how these more localized concerns are incorporated at the national level," Amanda said.
Outside of work, Amanda spends time with her Great Pyrenees/Golden Retriever mix named Marshmallow and husband Francis. New to the Maryland area, you can find them exploring the nearby state parks. Her favorite so far is the Great Seneca State Park's Mink Hollow Trail. She also enjoys indoor activities such as puzzles and board games. 
As Amanda's fellowship will be coming to an end in January 2021, she has been thinking about her next steps. Amanda says she would like to stay in the marine debris field to learn more about this issue but is also open to other opportunities-perhaps getting back to those coral reefs! She says she could see herself continuing with NOAA or possibly working with a local nongovernmental organization. Ideally, it will be something involving community engagement, decision making, and science application. Wherever her next chapter is, she knows this fellowship has prepared her with the experiences, knowledge, and skillset to protect the marine environment she loves, and that her 6-year-old self would be very proud!