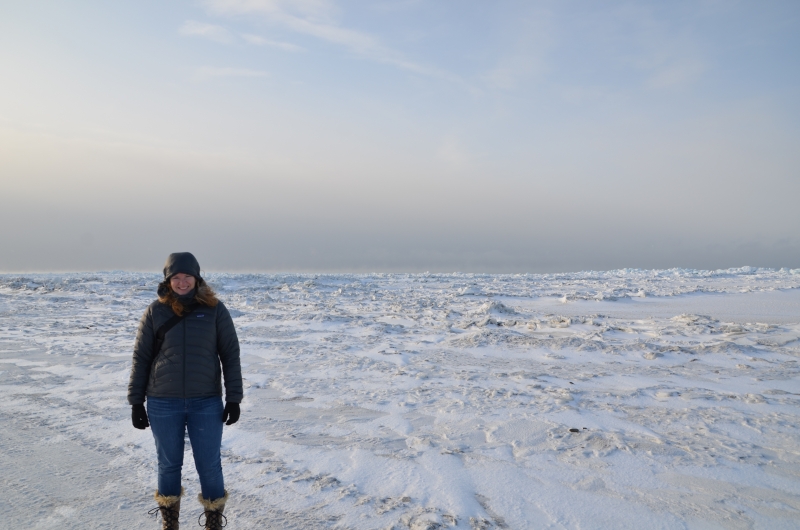 This feature is part of a monthly series profiling scientists and technicians who provide exemplary contributions to the mission of NOAA's Office of Response and Restoration (OR&R). This month's scientist is Amy MacFadyen, an oceanographer in OR&R's oil spill response program. She responds to oil and chemical spills across the country, and leads the development of the GNOME™ suite for oil spill modeling.
Oceanographer Amy MacFadyen had been in her position less than a year when she found herself supporting the emergency response to the largest marine oil spill ever to occur in U.S. waters — the Deepwater Horizon oil spill in 2010. She will never forget hearing the first reports from overflight observers flying over the spill source describing the magnitude of this incident, and realizing that she'd be providing critical information to support the massive emergency response.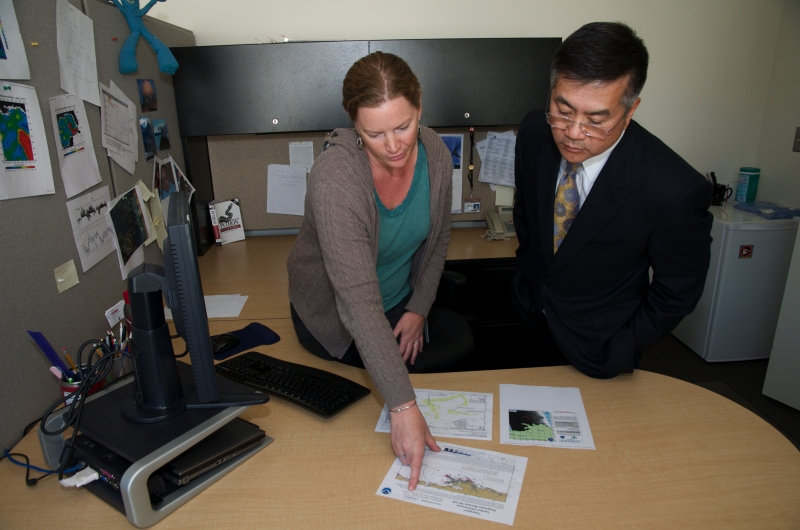 Amy first came to OR&R in 2009, joining the small team of scientists who provide emergency support to the U.S. Coast Guard for oil spill response in coastal waters and the Great Lakes. The majority of the spills that OR&R provides support for are relatively small — for example, frequent small diesel spills from recreational or fishing vessels. Fortunately, larger spills like the Deepwater Horizon are relatively rare. But for spills big or small, an essential piece of information for emergency response is an estimate of where the spilled oil will end up — an oil spill trajectory forecast. This information is used to determine what habitats and resources are at risk — such as threatened or endangered species, sensitive habitats, shorelines important for human use — and to direct response activities.
To produce oil spill trajectory forecasts, OR&R oceanographers have developed modeling tools (GNOME: the General NOAA Operational Modeling Environment) for predicting the fate and transport of pollutants (such as oil) spilled in water. These modeling tools are used for NOAA's spill response support and are also publicly available for use by the broader academic, response, and oil spill planning communities. In recent years, Amy has been part of the development team, updating GNOME's algorithms and user interface (WebGNOME: a new, web-based, modern interface for running and interacting with the model).
Amy didn't grow up wanting to be an oil spill modeler. She actually grew up in a rural lumber town in the southern interior of British Columbia, Canada. Over the years, her home town of Nelson has transformed into a thriving arts and mountain sports mecca, but as a young adult, she couldn't wait to head for the metropolis of Vancouver, where she became enthralled with all things marine. She became an avid scuba diver in the chilly waters surrounding Vancouver and the islands of the Salish Sea. She began taking marine science courses at a local college and dreamed of becoming a marine biologist. With a strong aptitude for math and physics, she went on to complete a physical oceanography degree from the University of Victoria, and ultimately, a doctorate from the University of Washington.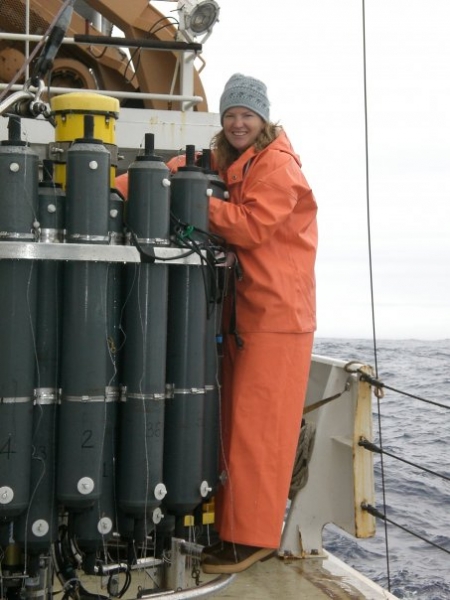 Spending as much time as possible in, on, and around the ocean, it's no surprise that Amy's graduate studies focused on the coastal physical oceanography of the Pacific Northwest. She had the opportunity to be a true seafaring oceanographer, participating in numerous research cruises off the Washington and B.C. coasts and also venturing further afield to the equatorial Pacific and even the Southern Ocean. Many of her research partners throughout her graduate studies were from different NOAA offices and she aspired to one day work for NOAA. In 2009, she was excited to hear about a position with the Office of Response and Restoration in Seattle.
Since joining OR&R, she has thoroughly enjoyed becoming more familiar with many other U.S. coastal regions — in particular, the Gulf Coast and the North Slope of Alaska — two regions she has since visited and learned a great deal about. Because she can be asked to work on spills anywhere in the U.S. or even internationally, establishing relationships with other NOAA offices and with regional experts is critical for success and she finds this part of the job very rewarding. Although it can be stressful having to provide information quickly for a spill potentially occurring anywhere in U.S. waters, she is excited to be putting her education and skills to use in such an important and much applied field.
Outside of work, Amy loves spending time outdoors, particularly backpacking and climbing with her husband in the Cascade Mountains. Recently, she and her husband have expanded their family through foster parenting and proudly saw their 5-year-old son off to kindergarten this fall.