Remembering Rachel Carson and the books that ignited the environmental movement for Women's History Month.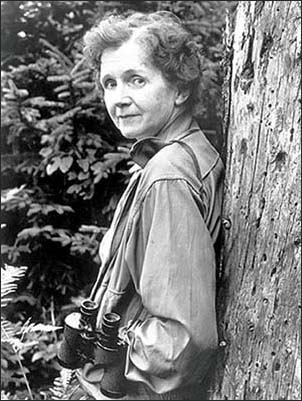 March is Women's History Month, a federal celebration honoring the achievements of women's contributions to American history. Recognizing the achievements of women creates role models for the next generation and inspires women and girls to reach their full potentials. This is particularly important in the sciences.
This month we're going to remember Rachel Carson, a nature writer and marine biologist credited with igniting the environmental movement and the creation of the U.S. Environmental Protection Agency. Her writings on the ocean inspired a generation to value and protect nature.
Rachel Carson faced many obstacles as a scientist in the 1950s. Her critics dismissed her controversial theories as the ravings of a "hysterical" woman. She prevailed through meticulous research and passionate writing, and is regarded as one of the most influential conservationists of all time.
Born May 2, 1907 in rural Pennsylvania, Rachel Carson grew up surrounded by nature. She attended Pennsylvania College for Women, and then at the Woods Hole Oceanographic Institute, before earning a Masters in Zoology from Johns Hopkins University.
After graduation she became the second woman to be hired by the U.S. Fish and Wildlife Service in 1936, where she worked for 15 years. There she used her scientific expertise and love of writing to develop brochures and radio programs to educate and inform the public. She eventually became editor-in-chief of all U.S. Fish and Wildlife Service publications.
In her free time Rachel Carson combined the work she did within the government with her passion for creative writing. She published several creative nonfiction books.
Under the Sea Wind was published in 1941, followed by The Sea Around Us in 1951, and The Edge of the Sea in 1955. The Sea Around Us rose instantly to popular and critical acclaim. It remained on the New York Times Bestseller List for 86 weeks, and received the National Book Award for Non-Fiction in 1952.
In all her writings was the idea that humans are connected to nature. She encouraged readers to explore and learn about the natural world. These ideas, and her lyrical prose, struck a powerful cord with a wide audience. Her literary success enabled her to retire from government service in 1952 and focus on her writing.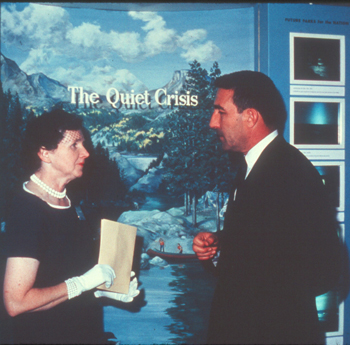 Rachel Carson's greatest achievement came in 1962, with the publication of Silent Spring. The book was a cry to ban dichloro-diphenyl-trichloroethane, more commonly known as DDT, and end the misuse of chemical pesticides that she claimed were degrading the environment on an unprecedented scale. She linked the pesticide, commonly used by industry and the government, to damage to wildlife (especially birds), and human health.
It immediately became a bestseller and sparked national controversy. Industry leaders attacked Silent Spring, as well as Carson personally. Some used sexist language, calling her "hysterical" and questioning if a woman was fit to write on complex scientific issues.
However, both Carson and Silent Spring withstood the backlash. Carson's book was meticulously researched. She asked hard questions, backed by sound science. A Presidential Commission of Inquiry would later validate her findings on DDT, which was subsequently banned in the United States.
Rachel Carson's book was successful because it explained, in common language, the relationship between biological systems and pollution. She struck a powerful cord with her readers, rallying them to advocate for environmental conservation.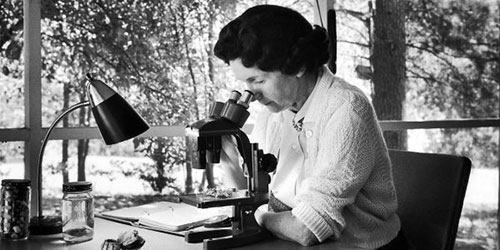 Silent Spring is credited with launching the environmental movement of the 1960s and 1970s. From that movement came many important pieces of environmental legislation, including the Clean Air Act (1963), Wilderness Act (1964), Endangered Species Act (1972), Clean Water Act (1972), and the establishment of the Environmental Protection Agency in 1970.
Unfortunately, Rachel Carson did not live to see the accomplishments of the environmental movement she helped to begin. While she was defending Silent Spring and advocating for the ban of DDT, Carson was suffering from breast cancer. She passed away on April 14, 1964 in Silver Spring, Maryland at the age of 56.
We at NOAA's Office of Response and Restoration (OR&R) are remembering Rachel Carson for Women's History month because she blazed a trail for the work we do in many ways.
Rachel Carson encouraged Americans to love and explore our marine environments on every scale. From the vastness of the Atlantic and Pacific Oceans to your local beach, America's marine resources are public resources. They belong to us all.
OR&R works to clean up and restore marine environments impacted by pollution. In 2018 we gathered $34.3 million from pollution settlements to go toward restoration projects across America.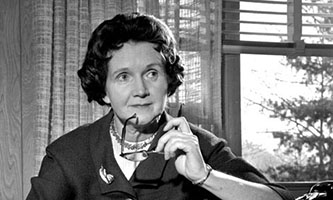 This work is done by dedicated women and men who care deeply about the sea around us, just like Rachel Carson. This Women's History Month, we're proud to celebrate her legacy.
"The more clearly we can focus our attention on the wonders and realities of the universe about us, the less taste we shall have for destruction." ― Rachel Carson
This blog was originally published on March 9, 2019.