This feature is part of a monthly series profiling scientists and technicians who provide exemplary contributions to the mission of NOAA's Office of Response and Restoration (OR&R). This month's featured is Christy Kehoe, OR&R Marine Debris Program Mid-Atlantic regional coordinator.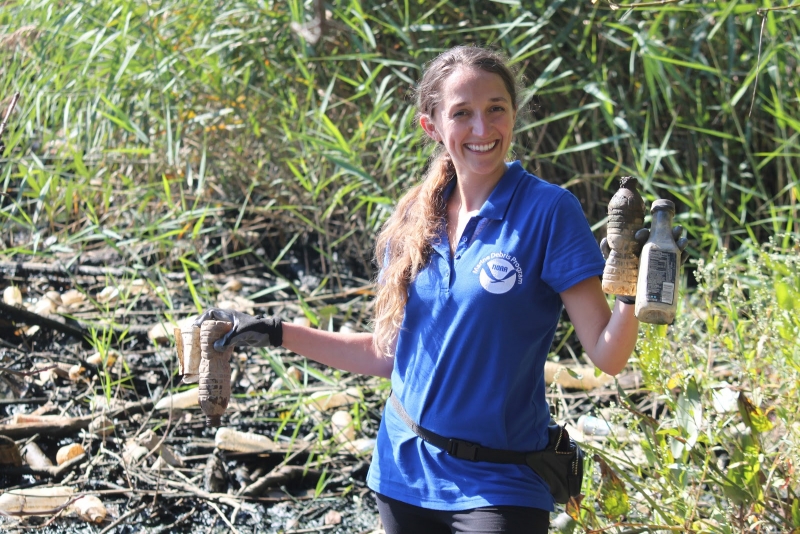 Born and raised in the coastal town of Jupiter, Florida, Christy grew up with a love of the ocean and its many species. Fortunate to call South Florida beaches her home, Jupiter holds a special place in her heart, with its aqua blue waters, year-round sunny weather, snorkeling, loggerhead sea turtle nesting, and wetland and intracoastal waterways, as well as its famous lighthouse built in 1853.

Christy's mother immigrated from Cuba to Miami and met her father whose family has lived in Miami for generations. They both loved to spend as much time outside and on the water as possible, and passed down their love of nature and water to Christy and her two younger sisters. She has fond memories of playing in the sand with her sisters, kayaking the Loxahatchee River and inlet, and snorkeling local reefs.

"I was always on or near the water either biking to the lighthouse, snorkeling at Blowing Rocks Preserve, boating to the Juptier sandbar, watching the kite surfers near Juno Pier, or looking for loggerhead tracks in the sand. I loved having the ocean in my backyard, it gave me a deep sense of love for nature and the outdoors"

Growing up, Christy witnessed hurricanes, the increased development of natural areas in Jupiter, coastal erosion, and pollution impact the area she knows and loves. As an undergraduate at the University of Florida (Go Gators!), studying marketing and sustainability, her first internship focused on increasing awareness of issues affecting sea turtles in the Caribbean Sea and Atlantic Ocean and was her first step into the marine field. After spending a year teaching in Madrid, Spain, Christy moved back to Jupiter to work in environmental education at a local nature center. It was during this experience that she learned first-hand how global issues, like pollution and marine debris, have a local impact on the ocean and coasts.
This perspective led Christy to enroll in a dual master's program at the American University in Washington D.C. where she earned her master's in international affairs and studied transboundary freshwater governance. As part of that program, she completed a second master's degree in natural resources and sustainable development at the United Nations-mandated University for Peace in Costa Rica. During this experience, she studied a variety of environmental issues impacting Central American ecosystems including; illegal fishing and dumping in Costa Rica, regional efforts to promote sustainable eco-tourism, and ocean management.
Christy's graduate research practicum focused on environmental cooperation over water resources in the Middle East. While pursuing this effort, Christy participated in community-based peacebuilding discussions over water resources and site-visits in Israel and the Palestinian West Bank and later presented the findings at a peace conference in Turkey. Upon completing both her graduate degrees, she supported federal efforts as a contractor for the National Science Foundation and United States Agency for International Development in Washington D.C.

"I feel incredibly lucky to have had these professional learning opportunities to travel to different countries and communities. These experiences have provided a unique lens to better understand how environment, social, economic, and cultural resilience are interwoven."

Christy's academic and professional journey landed her in the Marine Debris Program — a program within NOAA's Office of Response and Restoration in 2016 where she now works to tackle the global issue of marine debris. Christy first joined the program to lead the planning and implementation of the Sixth International Marine Debris Conference. The conference brought together 725 attendees from over 50 countries to discuss solutions to combat the global marine debris issue. The conference highlighted innovative marine debris solutions, research, and technological advances to solving the issue of marine debris. The conference was a huge success and Christy was recognized as a NOAA National Ocean Service Employee of the Year for the event's zero waste efforts that diverted 80,572 items and over 7,000 pounds from the landfill.

"I am so proud to be involved with the [conference]. The event's success was certainty tied to the amazing OR&R and Marine Debris Program team, who were crucial every step of the way including leading sessions, providing their marine debris expertise and overall logistical support to make the conference run smoothly."
Christy transitioned to the Mid-Atlantic regional coordinator role for the program in 2019 where she oversees marine debris projects and outreach in Delaware, Maryland, New York, New Jersey, Virginia, and Washington D.C. The region is home to 400 miles of coastline and over 10,000 miles of tidal shoreline, including the Chesapeake Bay, the largest estuary in the United States. Her work includes coordinating prevention grants targeting consumer debris items, education and outreach, removal projects reducing derelict fishing gear, emergency response for severe weather events, and monitoring. Marine debris found along the Mid-Atlantic can also vary across size and types from microplastics to single-use consumer items to derelict pots to abandoned and derelict vessels, all of which have their own set of challenges and solutions. It is through her regional coordinator role that she is implementing local solutions to global issues, which could not be done without the wonderful partnerships region-wide.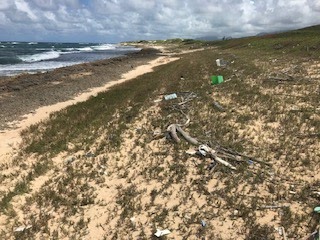 Additionally, Christy supports the Marine Debris Program in a variety of other areas including as a program officer in managing federal funded grants, coordinating National Marine Sanctuary Foundation partnership projects, strategic planning, and environmental compliance. She also helped to kick-start planning efforts for the National Ocean Service Zero Waste Initiative and continues to participate on the Zero Waste Team.
Over the years, Christy had the opportunity to learn first-hand from the marine debris community's priorities and needs by facilitating and supporting nine regional marine debris action planning workshops in California, Hawaii, Oregon, Washington, Gulf of Mexico, Florida, Gulf of Maine, and Southeast. These opportunities helped Christy become familiar with different regional and state priorities as well as the commonalities across the country. This also was an opportunity to become close with her fellow Marine Debris Program regional coordinators and other regional staff within the Office of Response and Restoration. She is currently working on supporting action planning in the Mid-Atlantic in her new position.

"The most rewarding aspect about my job is the people who care about finding solutions to the sometimes daunting global marine debris issue. I thoroughly enjoy working with the amazing Mid-Atlantic marine debris community who are genuinely passionate and dedicated to solving the pollution issue in our ocean. I have only words of gratitude and appreciation for my wonderful NOAA colleagues and work family who have mentored, helped, and provided professional opportunities to grow my skill-set to help do my part to solve the marine debris issue."