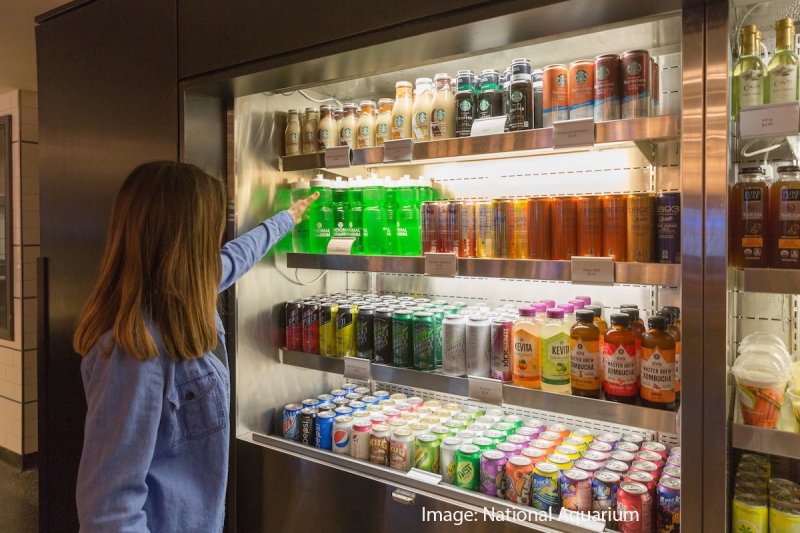 Experts estimate there are more than 5 trillion pieces of plastic floating in our ocean, with millions of tons entering the ocean from land each year. It's estimated that Americans use (and throw away) about 500 million plastic straws each day, and 100 billion plastic bags each year. Disposable plastic items easily wash or blow into the ocean, where they can have devastating effects on marine animals and ecosystems.
Plastic pollution also affects human health—humans are ingesting the plastic that has found its way into our food web, and the production of plastic releases toxins into our atmosphere that have negative impacts on our health.
We also have a financial interest in reducing plastic pollution, since the cost of waste management and litter cleanup largely comes from our tax dollars. Recycling helps, but reducing the use of plastic is a critical first step in keeping it out of the ocean.
The National Aquarium is proud to contribute to the global reduction of plastics, not only through advocacy and education, but also through our own operations. This year, we eliminated all single-use plastic foodware in our building.
This change involved many of our partners, including Sodexo, the Classic Catering People and Pepsi, and a shift in the products we offer in our on-site cafes. For example, disposable plastic lids, straws, stirrers and utensils have been replaced with compostable options. Juices and soft drinks are available, but no longer sold in single-use bottles, eliminating the average 85,000 single-use soda and juice bottles previously sold within our building each year.
Prior to this year, we also removed plastic bags in our gift shops, eliminated single-use water bottles and installed water bottle filling stations throughout our building. As a result of these changes, we estimate that at least 300,000 water and soft drink bottles have been removed from the waste stream each year.
Our most recent effort to eliminate single-use plastics is also part of our leadership role in the Aquarium Conservation Partnership, or ACP, a first-of-its-kind collaboration of 19 U.S. aquariums that have joined together to take collective action to address plastic pollution.
Alongside Monterey Bay Aquarium and Shedd Aquarium, we've led the charge to produce In Our Hands, the ACP's first consumer campaign. In Our Hands seeks to bring awareness and action to plastic pollution, and empower the participating aquariums' 20 million visitors—and millions more in their communities—to shift away from single-use plastics and adopt innovative alternatives.
The participating aquariums have also pledged to significantly reduce or eliminate plastic beverage bottles by December 2020 and showcase innovative alternatives to single-use plastics in their facilities.
Whether through consumer education or operations within our own walls, the National Aquarium is proud to work with other organizations and our on-site partners to lead the fight against plastic pollution. Reducing plastic at or near the source of production is crucial to keeping it from becoming marine debris that harms wildlife and people, and educating consumers about these harmful effects is key to inspiring change.
Maggie Ostdahl is the conservation operations manager at the National Aquarium who never leaves the house without her reusables. The National Aquarium is a nonprofit organization with a mission to inspire conservation of the world's aquatic treasures. Consistently ranked as one of the nation's top three aquariums, we host more than 1.3 million guests and educate more than 100,000 students each year. The Aquarium's conservation work focuses on  urban conservation and diversity, climate change and resiliency, and ocean and human health.