This week, during National Preparedness Month, OR&R is taking a closer look at some of the disaster response roles our office and its partners serve in being prepared for both natural and human-caused disasters. In today's blog, learn more about an important partner in preparedness within NOAA — the National Geodetic Survey.
NOAA's National Geodetic Survey (NGS) manages a national coordinate system — providing the framework for all positioning activities in the U.S. The foundational elements of latitude, longitude, elevation, and shoreline information impact a wide range of important activities — particularly when it comes to disaster preparedness and response.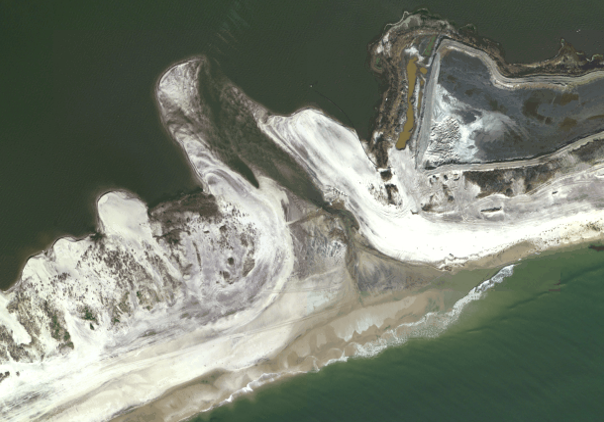 NGS also acquires and rapidly disseminates a variety of spatially-referenced remote-sensing datasets to support homeland security and emergency response requirements. The agency uses high-resolution digital cameras, LiDAR, thermal, and hyperspectral imagers to obtain data — such as the aircraft-based Trimble DSS580 (with RGB and near-infrared sensors) Dual Camera and a DSS500 Oblique Camera that NGS currently uses for these response efforts. The DSS580 looks directly below the aircraft and the DSS500 Oblique Camera looks port and starboard of the aircraft at an angle of 40 degrees. Imagery is typically collected from an altitude of 3,200 meters, or 10,500 feet, above the ground, which produces a swath width of approximately 8 kilometers at a resolution of 35 centimeters. 
Emergency response images have assisted with response and recovery efforts along coastlines impacted by numerous major hurricanes such as Hurricane Isabel in 2003, Hurricane Katrina in 2005, and Hurricanes Isaac and Sandy in 2012. In its largest response effort following Hurricane Sandy, NOAA collected more than 12,000 aerial images of the hardest hit areas in New Jersey and New York. 
In addition to responding to natural disasters, NOAA has provided response support in the wake of human-induced disasters, such as the Deepwater Horizon oil spill in 2010. Recently, several commercial sources have incorporated NGS aerial imagery into internet-based map servers, in order to provide search capabilities based on street addresses, city names, and points of interest.
Preparedness and Coordination
Coordination is a critical element of NGS' emergency response efforts since it provides an opportunity to gather requirements across federal, state, and local government. NGS communicates and coordinates its acquisition plans through daily interagency-geospatial coordination calls prior to and during an event.  
Information received through these efforts can play a role in acquisition strategies as was the case following Hurricane Matthew. NGS traditionally acquires imagery over the coastal zone but the need for imagery over flooded inland areas was identified by partners. Imagery was acquired over these areas soon after the requirements were received and made available to first responders and the general public.
NGS responds to disasters that are of national significance or support NOAA's mission. They follow a number of pre-event planning steps and a typical response effort might follow a schedule — with different planning and coordination tasks happening at strategic points during and after the initial event: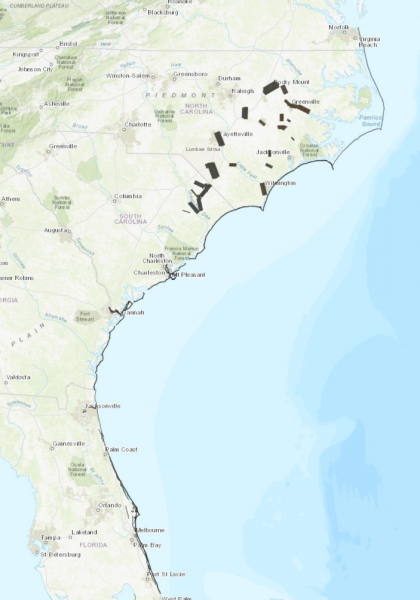 Day 1. Data is posted to the emergency response website and daily updates are sent to the Federal Emergency Agency (FEMA) and other partners. Requirements continue to be refined and updated throughout the response.
Day 2. Refine requirements.
Day 3. Preposition aircraft, sensors, and personnel to a safe area outside the anticipated impact area.
Day 3. Flight lines are disseminated to the FEMA remote sensing coordinator and other partners (state agencies, the U.S. Geodetic Survey, U.S. Army Corps of Engineers, U.S. Coast Guard) for coordination and the opportunity to provide additional requirements.
Day 4. Update pre-planned flight lines.
Days 5-8. Event of "national significance" or NOAA interest is identified.
Hurricane Michael Response (2016)
In October 2016, NGS emergency response personnel collected post-Hurricane Matthew aerial oblique imagery along the Atlantic coast using NOAA's Beechcraft King Air 350CER aircraft. Over 5,200 images, covering more than 1,200 square miles, were collected from Key Largo, Florida to Cape Henry, Virginia, and are available in the NGS Emergency Response viewer. Imagery was collected in close coordination with FEMA and used to assess infrastructure and property damage, assess hazards to navigation, and monitor environment impacts following the storm. Hurricane Michael caused extensive damage to homes and businesses estimated at a cost of $10 billion. 
The 2017 Hurricane Season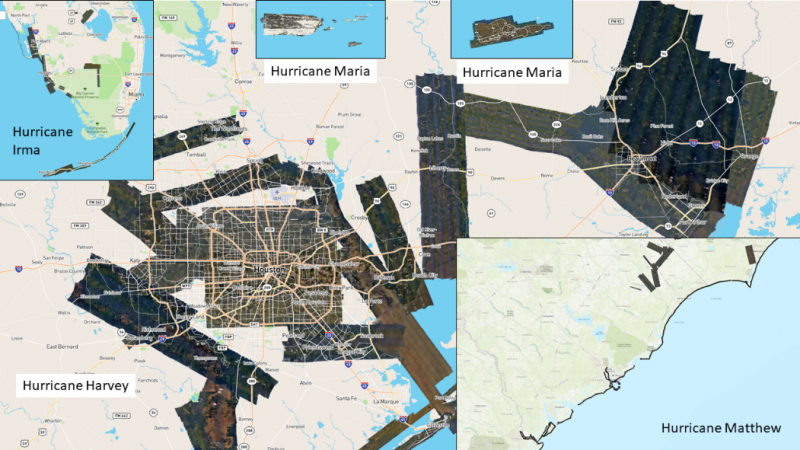 In 2017, NGS acquired and rapidly disseminated emergency response imagery related to hurricanes Harvey, Irma, and Maria. The remotely sensed data were acquired to support NOAA's homeland security and emergency response requirements as part of the National Response Plan. By comparing pre-event and post-event imagery, response agencies such as FEMA, the U.S. Coast Guard, and state and local governments assessed damage to ports and waterways, coastlines, and critical infrastructure. This helped maintain or restore safe navigation and prioritize areas in need of assistance.
By the end of 2017, NGS had collected over 57,000 emergency response images covering over 21,000 square kilometers. The NGS emergency response website received over 2.28 billion requests for imagery related to hurricanes Harvey, Irma, and Maria.
Hurricane Michael (2018)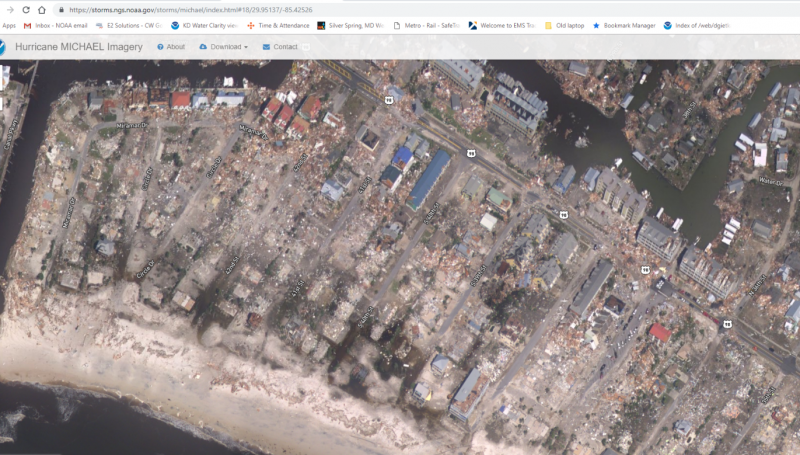 On Oct. 11, 2018, NGS began collecting response imagery for Hurricane Michael after the Category 5 storm made landfall. Utilizing NOAA's Beechcraft King Air 350CER aircraft, NGS acquired 9,580 images covering 10,756 square kilometers over the most heavily impacted areas. Imagery was processed and posted online within as little as four hours of collection. 
The imagery was used for a number of response applications, including assessment of impacts to navigation and identification of helicopter landing sites to deliver supplies in areas cut off by the storm. The U.S. Coast Guard incident command post also used the imagery to coordinate response efforts. 
The remotely sensed data is public domain and disseminated to federal, state, and local government agencies as well as the general public. NGS recognizes the importance of emergency response data and works hard to utilize user feedback and new tools or technology to reduce processing time. 
Additional Resources: 
This guest blog was written by Lieutenant Commander David Gothan. Gothan is the NGS Remote Sensing Division Requirements Branch chief.