MAY 2, 2019 — On this day, one year ago, the National Oceanic and Atmospheric Administration and its counterpart in the north, Environment and Climate Change Canada, worked together to create the North American Satellite Tracking of Pollution (NASTOP) Program to bolster our shared capacity to respond to marine pollution events.
Much like NOAA, Environment and Climate Change Canada (ECCC) works to preserve and enhance the natural environment — including water. Canada and the U.S. share two major coastlines and the Great Lakes. During a spill response, it's important to have an understanding of the needs and priorities on both sides of the border. By working together, we can also benefit from the expertise of our partners.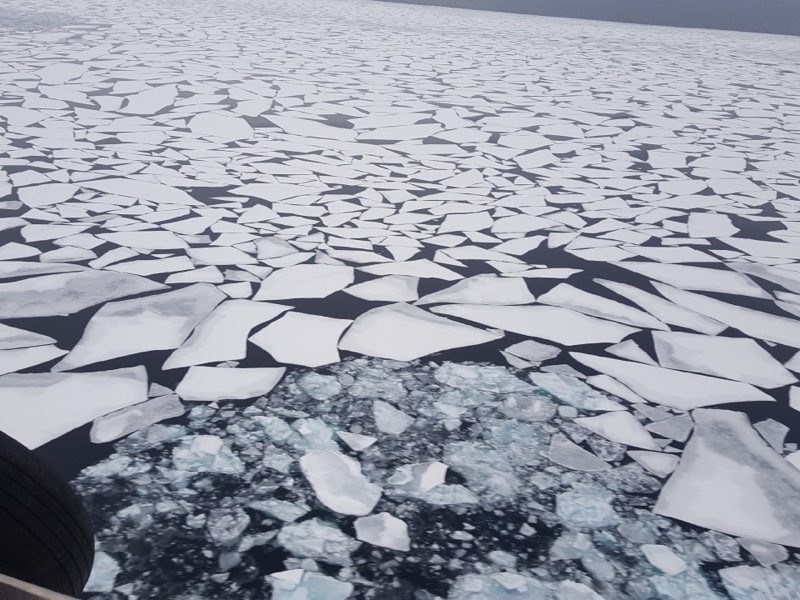 As Arctic waters border Canada's northernmost territories, the country experiences more extreme winter and ice conditions than the U.S. Canadian responders have had to adapt to these extreme climates and the challenges they present. The Canadian Ice Service (CIS), a division of the Meteorological Service of Canada, is the leading authority for ice and iceberg information in Canada's navigable waters. As well as being responsible for ECCC's satellite surveillance of marine pollution, the CIS has expertise in the interpretation of Synthetic Aperture Radar (SAR) data that supports flight planning for aerial surveillance pollution patrols.
The CIS has important relationships with the Canadian Coast Guard and Transport Canada, and works closely with both during an incident response. In 2006, the CIS created a near real-time oil surveillance program known as the Integrated Satellite Tracking of Oil Pollution Program (ISTOP), which collects and analyzes SAR imagery along Canada's three coasts. ECCC analysts use this imagery to detect possible discharges of oil from marine transportation and offshore oil production in ice-free waters as well as their potential source. ECCC then issues a number of charts, imagery and reports to inform and support Transport Canada's National Aerial Surveillance Program (NASP) and the Canadian Coast Guard.
SAR imagery along with NASP aerial oil spill sensor imagery can be useful to help substantiate ECCC's oil spill fate and behavior trajectory models. These model outputs support emergency responders and decision-makers in providing effective directions during cleanup operations, thereby reducing the environmental risks and limiting the environmental impacts associated with spill incidents.
Similar to the program in Canada, the NOAA Satellite and Information Service provides support to the U.S. Coast Guard and other federal and state agencies for oil spill emergencies and intentional oil discharges. With this mutual need to conduct near real-time surveillance and monitoring of marine oil spills along shared borders, ECCC makes its oil spill analysis and information tools available to its U.S. partners, including the Office of Response and Restoration Emergency Response Division (ERD), the Bureau of Safety and Environmental Enforcement, the U.S. Coast Guard, and state officials.

The integration of U.S. and Canadian expertise and capabilities offers improvements and efficiencies in providing marine oil spill detection and monitoring capabilities. For example, an advantage of NOAA is the ability to leverage multispectral datasets and with those scenes is sometimes able to conduct relative oil thickness assessments. An advantage of the Canadian Ice Service is the much more open access to Radarsat-2 imagery.
The recently signed collaborative arrangement of an integrated North American Satellite Tracking of Pollution Program sets a framework to improve information exchange and enhance coordination between CIS' Integrated Satellite Tracking of Pollution program and NOAA's Satellite Analysis Branch. The concept of this new agreement is the creation of a satellite-based detection and monitoring regime for marine oil spills in U.S. and Canadian waters and approaches for planning and response. This is intended to encourage compliance with the International Convention for the Prevention of Pollution from Ships (MARPOL) and applicable Canadian and U.S. laws.
The integrated program combines the expertise and experience of ECCC and NOAA. It results in leveraging of resources, whereby both parties benefit from extended spatial and temporal coverage, mutual backup capabilities, and other benefits in areas such as data exchange, system development and procurement, training and development of expertise such as oil spill responses in ice-infested waters.
NOAA and Environment and Climate Change Canada both contributed to this blog. For more information on our partners to the north, visit the ECCC website.