This week, during National Preparedness Month, OR&R is taking a closer look at some of the disaster response roles our office and its partners serve in being prepared for both natural and human-caused disasters. In today's blog, learn more about how OR&R's Marine Debris Program helps to prevent and remove debris after major storms, such as hurricanes, and find out what you can do to help prevent debris before the storm hits.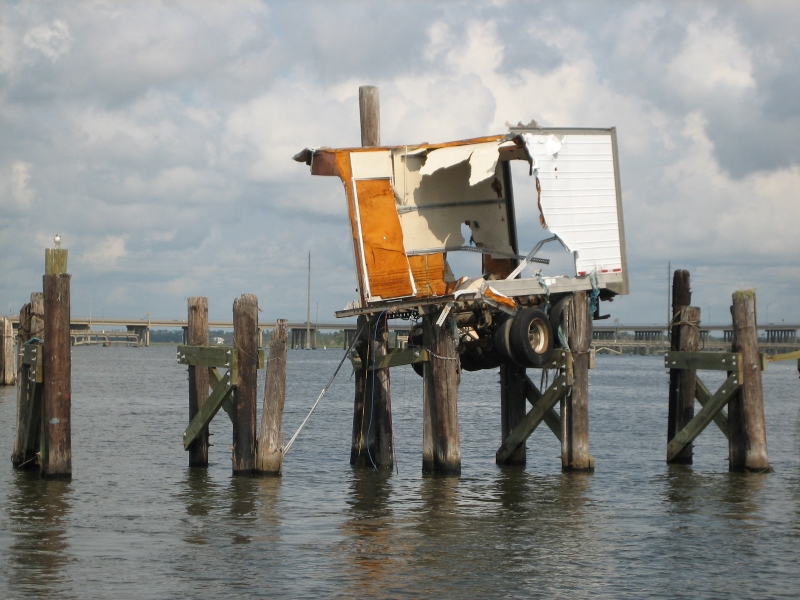 When you think of marine debris, carelessly discarded plastic bottles, cigarettes, and fishing gear might come to mind. However, marine debris can also come from severe weather, producing large amounts of both natural and man-made debris. Yard furniture, cars, boats, parts of homes, fencing, and docks can be damaged and swept into waterways and the ocean by strong winds, rain, and storm surge. While debris is often an unfortunate and unavoidable side effect of severe weather, there are steps we can take to reduce the amount of new debris generated from a storm, such as securing belongings before the storm hits to prevent personal property from becoming marine debris.
What does the Marine Debris Program do when the storm hits?
Though tropical storms and hurricanes typically create large amounts of marine debris, the safety of people and their property remains the top priority when a hurricane passes. While search and rescue and humanitarian responses are ongoing, the Office of Response and Restoration's Marine Debris Program and other organizations gather critical information, maps, and reports to help communities recover by addressing marine debris after a storm.
The Marine Debris Program believes that preparedness is key to ensuring a coordinated and efficient response to marine debris after a disaster. This is why the program helps facilitate and develop Marine Debris Emergency Response Guides. These guides are available for all coastal states — from the Gulf of Mexico all the way to parts of the Mid-Atlantic — and they provide a reference for local, state, and federal responders to manage storm debris in a more organized and effective way.
How has the Marine Debris Program responded to recent hurricanes?
The 2017 hurricane season was one of the most active and impactful on record, leaving swaths of destruction across large areas of the Caribbean, Southeast, Florida, and Texas. With financial support from the Marine Debris Program, Florida, Texas, South Carolina, Georgia, Puerto Rico, and the U.S. Virgin Islands received $17.2 million in disaster relief funding to assess, remove, and dispose of marine debris from hurricanes Harvey, Irma, and Maria.
The Marine Debris Program also provided technical assistance to local, state, and federal partners during the 2017 and 2018 hurricane seasons. The program's regional coordinator for the Gulf of Mexico was deployed following Hurricane Harvey to the Joint Field Office to support the Federal Emergency Management Agency (FEMA)-led debris task force. The regional coordinators for Florida and the Southeast also served on multiple rotations as the statewide natural resource advisor coordinator in response to Hurricane Irma. In addition, the regional coordinator for Florida served as a biological monitor for Hurricane Michael. In cooperation with FEMA, the U.S. Coast Guard, the Environmental Protection Agency, and other NOAA and state offices, staff from the Marine Debris Program supported activities to reduce pollution threats from oil and hazardous materials coming from vessels displaced during these storms.
What can I do to prepare for a storm?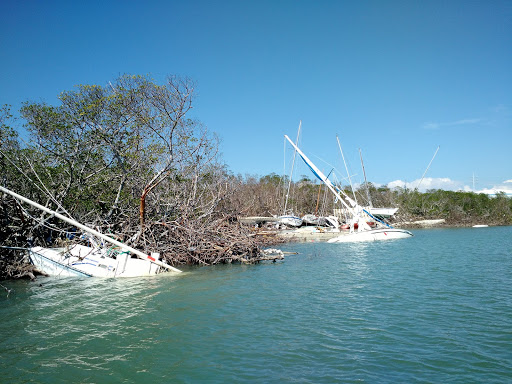 If you live in an area potentially impacted by hurricanes, make sure to check out the National Hurricane Center for information on hurricane preparedness and how to keep you, your family, and your home safe. As you're prepping for an incoming storm, take some simple steps to secure your property, and reduce the creation of storm-related debris:
Move any loose outdoor items indoors, including furniture, birdfeeders, decorations, and trash bins. These items may have the potential to blow away and become debris.

For any items that can't be stored indoors, be sure they are tightly secured.

Tie down trash and recycling bin lids so they can't blow open during a storm.

Pick up debris and litter in the neighborhood prior to a storm.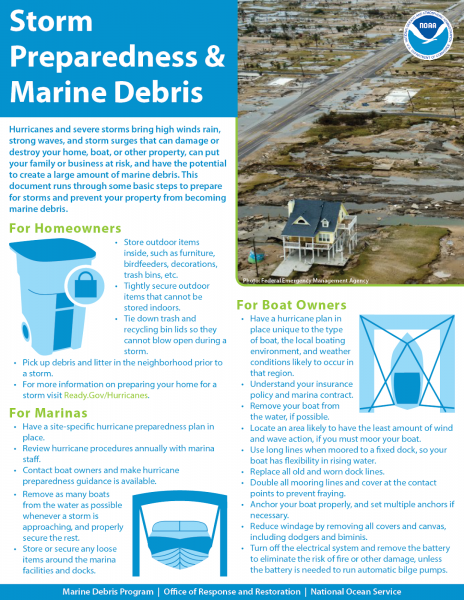 Want more tips on how to prepare for a storm? Check out our storm preparedness and marine debris fact sheet for tips on how to prevent storm debris at your home, marina, boat, aquaculture farm, and more!