Over the past year, NOAA's Office of Response and Restoration provided scientific support for six international spill responses. In collaboration with internal NOAA partners, OR&R provided response products and guidance for the following events: 
Sri Lanka, following the fire and sinking of the container ship X-Press Pearl; 
Trinidad and Tobago, following an oil spill from the tankship Nabarima and a later spill from a shoreside facility; 
Israel, following a mystery dump of oil offshore; 
Haiti, following a devastating earthquake; 
the United Nations, regarding a derelict tanker in the Middle East; 
and Cyprus, after a spill of crude oil off the coast of Syria.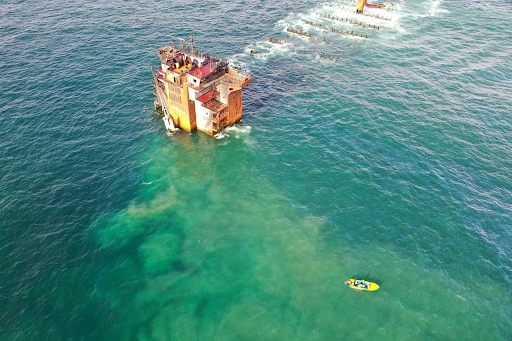 Due to the COVID-19 pandemic, NOAA scientists were not able to go on scene; however, our improved capabilities to provide support ensured that our remote service continued to be effective. Among the products OR&R provided were oil fate and trajectory analyses, oil and debris cleanup recommendations, advice on marine mammal and sea turtle impacts, and satellite imagery.
Amidst a busy year of oil spills, OR&R continued its long tradition of international engagement and support for oil spill incidents. Over the years, we've provided assistance to hundreds of incidents around the world. Many of these were for our near neighbors including Canada, Mexico, Russia, and Caribbean nations.
In addition to direct support, we also make many of our spill response tools and guidance documents freely available to other nations. For example, our suite of chemical spill response tools known as CAMEO®, has been translated into multiple languages and is used in over 50 countries. Based on feedback from all around the world, we know that NOAA's suite of oil spill modeling tools, GNOME, is also widely used. 
International support is often provided remotely, but occasionally we have an opportunity to travel to the spill site and provide in-person support. As major spills are thankfully rare, these opportunities are an important way to gain experience and improve preparedness here at home. 
The first National Contingency Plan in the U.S. was developed based on lessons that the spill response community learned from the environmental disaster off the coast of England caused by the grounding of the SS Torrey Canyon in 1967. Similarly, many of the response and well-containment strategies used during the 2010 Deepwater Horizon spill were built on lessons learned from the blowout of the exploratory oil well Ixtoc 1 in Mexico in 1979. The Ixtoc 1 blowout resulted in one of the largest oil spills to have ever occurred. 
The 1978 Amoco Cadiz tanker accident in France improved our understanding of marsh cleanup strategies, and the scientific studies conducted after the 1986 oil spill into Bahía las Minas in Panama improved our ability to respond to coral and mangrove habitats in U.S. waters. The spill from the tanker San Jorge in Uruguay in 1997 affected a fur seal colony, and response techniques used there have been incorporated into spill response plans in Alaska and the fur seal colonies in the Pribilof Islands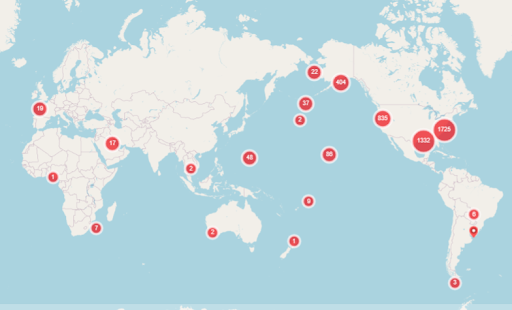 A quick review of the 4,560 incidents we have supported between 1985 and 2021 shows more than 130 international responses in more than 60 countries, touching all continents including 10 in Africa, three in Antarctica, 23 in Asia, 12 in South America, 47 in Central America and the Caribbean, 14 in Oceania and Australia, and 18 in Europe. These numbers don't include dozens of border spills with Mexico and Canada or a number of incidents in international waters outside of any country's exclusive economic zone. 
If you're interested in learning more, check out NOAA's IncidentNews website for news, photos, and other information about incidents in which NOAA OR&R has provided scientific support. Many of the pictures of these older spills can be found in an OR&R photo archive.