With the 2020 Atlantic hurricane season less than a month away, the time to start preparing is now. The Atlantic hurricane season starts on June 1 and runs through Nov. 30 each year. As the nation's premier science agency for oceans and coasts, we at NOAA understand that preparedness is not a one-time effort. When a disaster threatens, the National Ocean Service (NOS) must be prepared to provide a broad range of scientific, technical, and policy expertise to support response activities and to inform recovery. 
The Disaster Preparedness Program is helping to ensure that NOS is prepared for this unique hurricane season. Some of these efforts include providing incident coordination for the NOS Incident Management Team, facilitating internal preparedness discussions, hosting virtual workshops, and providing guidance on emergency plan development. As NOAA's internal response to COVID-19 continues, so will our efforts to ensure NOS is prepared for hurricane season and can continue to execute our missions. 
Make an Emergency Plan
In order to make an effective emergency plan, it is important to understand the specific hurricane risks to you and your family. The primary hazards from hurricanes include storm surge flooding, inland flooding from heavy rains, destructive winds, tornadoes, high surf, and rip currents. Knowing what actions to take before the hurricane season begins, when a hurricane is approaching, and when a hurricane makes landfall, increases your chance of making it through the storm safely. When developing your emergency plan consider these key points:
Determine the hurricane risks in your area.
Find out if you live in a hurricane evacuation zone.
Learn your evacuation routes, and make a plan of action with multiple options.
Make a list and gather supplies you will need during a hurricane. Have enough supplies for family members and pets for at least three days.
Strengthen your home. Declutter drains and gutters, bring in outside furniture and any items that can become projectiles, put up hurricane shutters. 
Have access to personal financial, insurance, and medical records that are crucial for starting the recovery process. 
This hurricane season, your hurricane plans and preparedness actions may need to be adjusted. Be sure to review the latest health and safety guidelines from the CDC and heed the guidance of your local officials.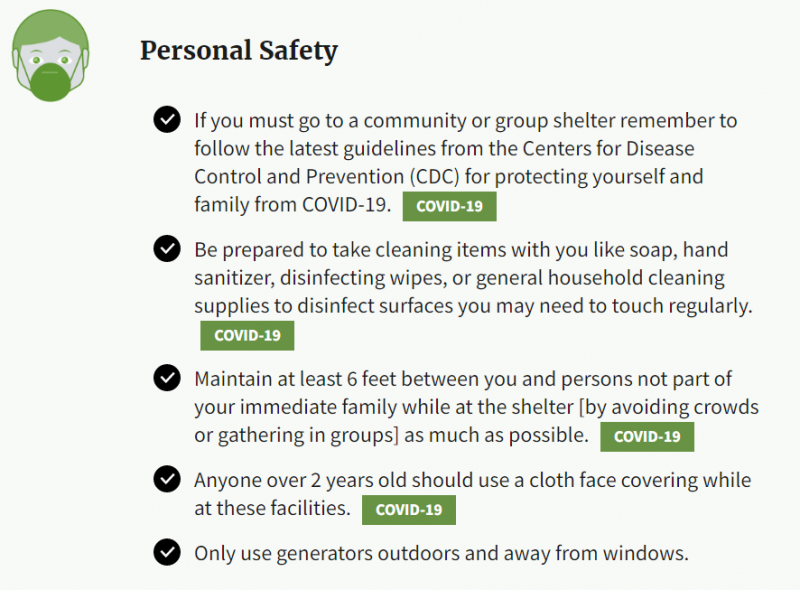 Preparing NOS for This Year's Hurricane Season 
The National Ocean Service brings a wide range of information and capabilities to help communities prepare for, respond to, and recover from hurricanes. For example, NOS maintains the nation's network of coastal tide and water level sensors to provide real-time data that supports accurate coastal storm and flood predictions. Immediately following a hurricane, NOS provides emergency hydrographic services for affected port areas to check for submerged obstructions that might pose navigation hazards to vessels; conducts aerial survey missions to assess damages to affected areas and provide emergency response imagery; and provides scientific support to pollution and hazardous materials response efforts in coastal areas. Even after a hurricane has passed, NOS continues to provide assistance in long-term recovery planning in areas impacted by the hurricane.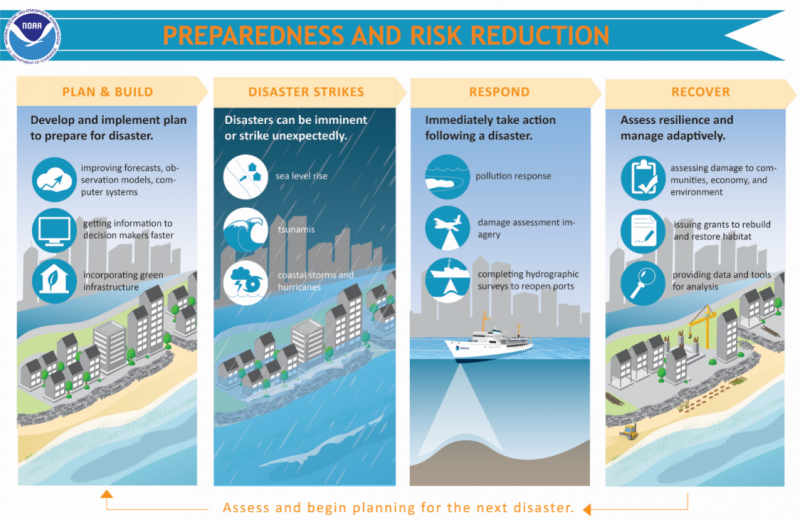 It's critical that NOS continues to meet their hurricane preparedness, response, and recovery missions. The Disaster Preparedness Program is supporting that effort by ensuring each NOS office is developing plans in preparation for this year's hurricane season. This includes implementing lessons learned from last year's hurricane season; addressing how personnel can respond to a hurricane while maintaining safe distancing; and identifying what actions are needed to protect NOS personnel and facilities in hurricane-prone locations. The program continues to support NOS, ensuring the best possible posture to respond to hurricanes quickly, safely, and effectively.