Originally published on Sept. 15, 2015.
After every major oil spill, one question comes up again and again: Who is going to pay for this mess? While the American public and the environment pay the ultimate price (metaphorically speaking), the polluter most often foots the bill for cleanup, response, and restoration after oil spills. In sum: You break it, you buy it. But our unspoiled coasts are priceless, and we would rather protect—or at least minimize impacts to—them as much as possible. Which means federal dollars are invested in ensuring top-notch experts are ready to act when oil spills do strike. (Stay tuned for more on that.)
So, Who Pays to Clean up an Oil Spill?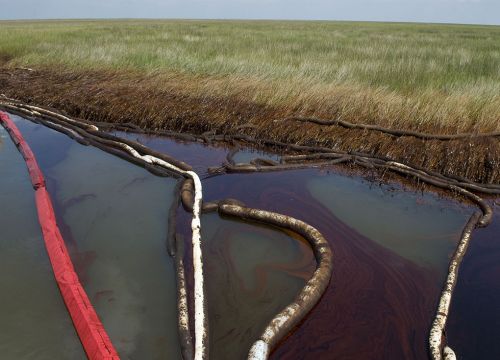 When an oil spill occurs, there are very clear rules about who pays for the direct response activities, the cost of assessing environmental damages, and implementing the necessary restoration. The Oil Pollution Act of 1990, one legacy of the 1989 Exxon Valdez spill, spells out that those responsible for the pollution pay for all costs associated with the cleanup operations. However, similar to a car accident, insurance companies aren't going to start writing checks without first looking at the circumstances. But time is of the essence when oil hits the water. While insurance companies work out the details of legal (and hence, monetary) responsibility, the U.S. Coast Guard is able to set up an immediate source of funding for federal and state agencies and tribes who support the oil spill cleanup, which pays for their contributions to the response. If the polluter is ultimately deemed liable for the spill, then they reimburse all expenses to the U.S. Coast Guard. Meaning the polluter pays for the cost of the oil spilled.
What About Restoration After Oil Spills?
Well, what about the environmental impacts left behind after the cleanup ends and everyone goes home? Does the American public pay to restore the animals and plants harmed by the spill? Nope. Again, the Oil Pollution Act states that parties that release hazardous materials and oil into the environment are responsible not only for the cost of cleaning up the release, but also for restoring any "injuries" (harm) to natural resources that result. As the primary federal steward ("trustee") for coastal animals and habitat, NOAA is responsible for ensuring the restoration of coastal resources in at least two specific cases. First, for coastal resources harmed by releases of hazardous materials (e.g., oil and chemicals) and second, for national marine sanctuary resources harmed by physical impacts (e.g., when a ship grounds on coral reefs in a marine sanctuary).
But What if Polluters Don't Have to Pay for Everything?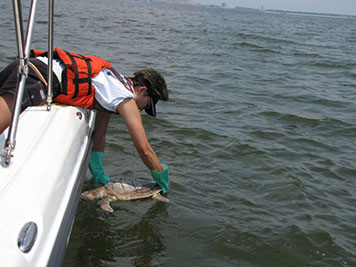 It is possible that a polluter can be found not to be liable (e.g., the pollution was an unforeseen accident) or the polluter can reach its limit of liability under the law. So, does the money for cleanup and restoration then come from American taxpayers? Nope. In these cases, the costs are then covered by the Oil Spill Liability Trust Fund. This fund accrues from taxes on most domestically produced and imported oil. The oil companies, often those responsible for spills, are paying into this fund. When a spill occurs, those involved in the response, cleanup, and damage assessment can access these funds if the polluter is unknown, unwilling, unable, or not liable for paying the spill's full costs.
For response activities, the fund will cover costs associated with preventing (in the case of a grounded ship that hasn't released oil yet), minimizing, mitigating, or cleaning up an oil spill. For natural resource damage assessment, the fund will cover costs associated with assessing an area's natural resource damages, restoring the natural resources, and compensating the public for the lost use of the affected resources. Of course, polluters aren't always eager to accept liability, and accurately assessing environmental damages can take time. In fact, it takes an average of four years to reach a settlement for these damages and then begin restoration after an oil spill. As a result, our job is not only to enforce pollution regulations but to ensure the right type and amount of restoration is achieved. That means, once again, dollars from polluters are essentially paying for oil spills.
So, the Public Doesn't Pay for Anything?
Well, okay. The same as with your local fire department, public tax dollars are spent developing a highly trained group of professional emergency response and restoration experts. The more prepared we are to respond when an oil spill happens, the sooner a community can recover, environmentally and economically, from these unfortunate events. When we aren't providing direct support to an oil spill (or other marine pollution event), NOAA's Office of Response and Restoration is hard at work training ourselves (and others) and developing tools and best practices for emergency response and assessment of impacts to natural resources.
Better Safe (and Prepared) Than Sorry
Oil spills can happen at any time of day and any time of year (including holidays). We have to be ready at any time to bring our scientific understanding of how oil behaves in the environment, where it might go, what it might impact, what can be done to address it, and what restoration may be needed. And we think being prepared before a spill happens is a worthy investment.