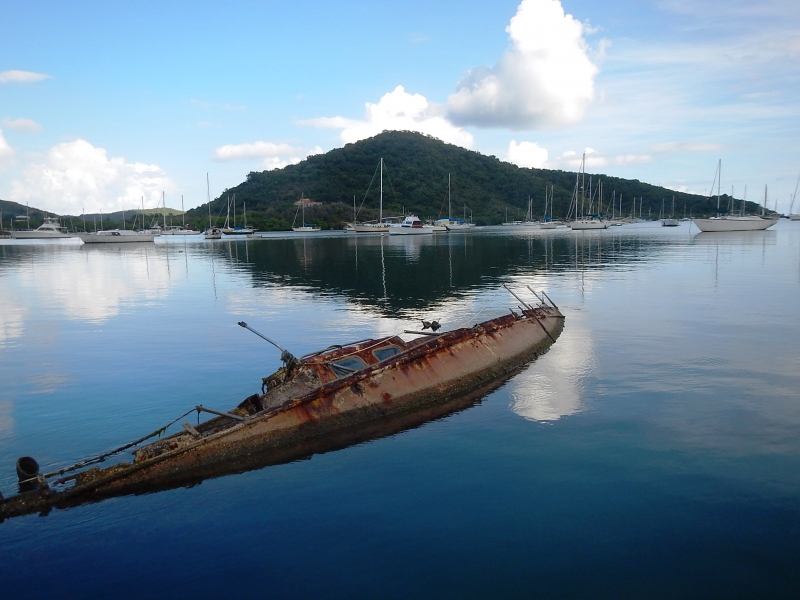 When thinking about marine debris, you may picture trash in the ocean — plastic bottles, food wrappers, bags, and other everyday and single-use items that we come into contact with in our everyday life. However, the marine debris problem is much bigger than just our trash, especially when it comes to abandoned and derelict vessels (ADVs).
Ranging from small dingeys to large fishing vessels with steel hulls, ADVs are a common problem throughout the country, and around the world. Once lost or abandoned, ADVs can be a dangerous and damaging problem, destroying habitat, leaking pollutants into the surrounding environment, and can even be dangerous to other boaters if a vessel is difficult to see below the water, or is in a navigation channel. Vessels can become derelict in a variety of ways, such as being abandoned by their owner, or transported and damaged during a severe storm. Unfortunately, this type of debris can be extremely difficult and costly to remove, which means ADVs often sit for long periods of time and can be hard to address.
The Office of Response and Restoration's Marine Debris Program (MDP) funds multiple projects that help take on the challenge of removing and preventing ADVs in the United States and Pacific Islands. In Alabama, ADVs are not only ugly, but they can crush native marsh grasses and disrupt important aquatic habitats. That's why the Weeks Bay Foundation and Weeks Bay National Estuarine Research Reserve (NERR), with support from the MDP, are working to remove several abandoned boats and pieces of large marine debris from Weeks Bay and its main tributaries. The project will also include a "Derelict is Dangerous" campaign to educate the local community and help Gulf Coast residents better understand their responsibilities as boat owners, the maritime laws surrounding abandoned boats, how to prepare for storm events, and how to report derelict vessels.
In the Commonwealth of the Northern Mariana Islands, Pacific Coastal Research and Planning is teaming up with the MDP to remove the derelict F/V Lady Carolina from the waters of the Saipan Lagoon. This large 83-foot, 54-ton, steel-hulled fishing vessel broke free from its mooring during the devastating passing of Category 4 Typhoon Soudelor in August 2015, and has been grounded in Saipan's ship channel. Removing the vessel will not only rid this popular recreational area of an eyesore, but will prevent further environmental impacts to coral reefs and endangered species, and give the surrounding community closure from the typhoon.
During the 2017 hurricane season, the Caribbean, southeast, and Texas experienced severe damage to communities and the environment. The destruction from hurricanes Harvey, Irma, and Maria brought large amounts of debris from homes, fishing gear, and vessels. Emergency response colleagues in NOAA supported interagency response teams to resolve many displaced vessels that threatened to cause environmental harm and become derelicts as described in this article about 2017 Caribbean emergency response efforts.  However, substantial amounts of marine debris remained. With financial support from the MDP, coastal states and territories impacted by these hurricanes received $17.2M in disaster relief funding to assess, remove, and dispose of hurricane-related marine debris. In South Carolina, Georgia, Florida, Texas, Puerto Rico, and the U.S. Virgin Islands, this funding will go toward the removal of hundreds of ADVs that were displaced during the hurricanes, as well as derelict fishing gear, damaged piers, cars, parts of homes, and more.
Unfortunately, there are only so many ADVs the MDP and our partners can take on. Additionally, understanding the laws and policies surrounding ADVs can be difficult when rules change from state to state. That's why the MDP created the ADV InfoHub, which provides a central source of information on legislation, funding, contact information and ADV programs, as well as publications, case studies, and legal reviews. The MDP also helps states prepare for storms so they can better prevent and respond to ADVs through the creation of Marine Debris Emergency Response Guides. These documents outline the existing response structures at the local, state, and federal level to facilitate a coordinated, well-managed, and immediate response to storm debris, including vessels.
Do you own a boat? If so, you can help keep your vessel from becoming derelict! Boat owners should keep their registration current, purchase insurance, perform regular maintenance, and create an end-of-life plan for vessels. This plan may include:
Proper disposal of hazardous materials
Recycling valuable parts and metals
Bringing the vessel to a salvage shop or landfill for recycling and disposal
Researching whether your state has a voluntary vessel turn-in / disposal program
Using these tips, we can all work together to not only address ADVs, but prevent these dangerous and costly problems.