Every month, OR&R's Emergency Response Division provides scientific expertise and services to the U.S. Coast Guard, ranging from running oil spill trajectories to estimate where a spill may spread; to identifying possible effects on wildlife and fisheries; to estimating how long oil may stay in the environment. We also get requests to track and model other floating objects, such as log booms or shipping containers that have broken free, whale carcasses, fish die-offs, and algal blooms.
So far this year, OR&R has provided support for 111 incidents. During August 2023, OR&R provided response support for 21 incidents, including 16 new incidents in nine different states and one U.S. Territory (a vessel grounded in Puerto Rico).
The 16 new incidents included 11 oil spills, one hurricane (Idalia in Florida, with associated spills), one wildfire (Lahaina, Hawaii, with associated releases), one glacial flooding event (in Juneau, Alaska, with associated spills), and two chemical incidents. The chemical incidents involved the release of butane from a drug lab, and mixed wastes, oil, and an ammonia leak from a fish processing vessel.
OR&R staff prepared 197 new incident reports and documents, including eight fate and trajectory analyses. Cumulatively, these incidents posed an approximate risk of more than 40,000 gallons of oil⁠ and an unknown amount of chemicals.
(Note: All spill volumes are approximate and based on initial information that may be updated after further investigation.)

Here are some of August's notable incidents: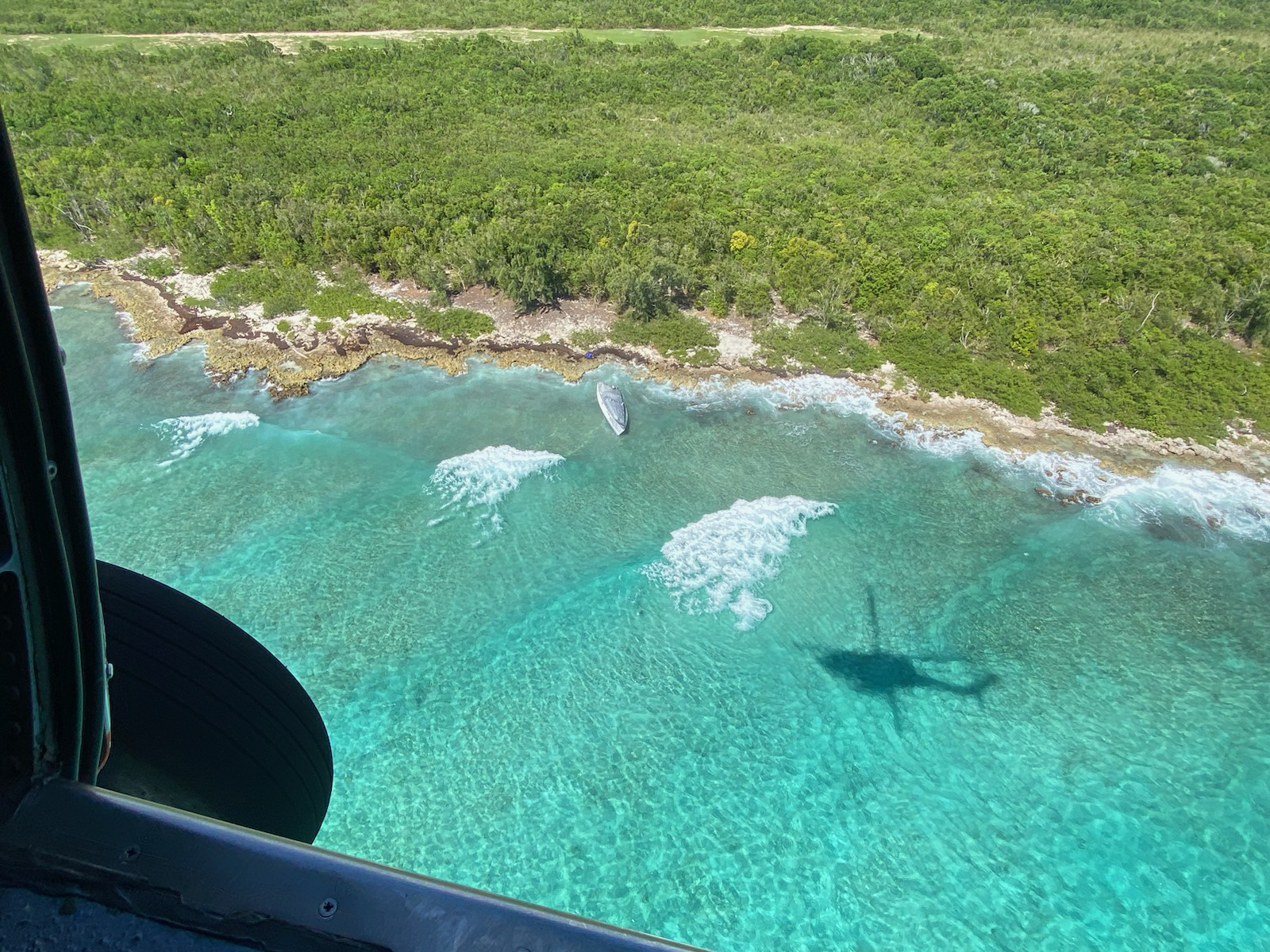 NOAA OR&R was advised that a semi-submersible submarine had grounded on the southwest coast of Mona Island, Puerto Rico on or about August 31, 2023.
Mona Island, a Natural Reserve and considered the "the Galapagos of the Caribbean," is designated critical habitat for the Hawksbill sea turtle, elkhorn coral, staghorn coral, and migratory birds. Because of its remote location, it has a high rate of unique and endemic species, and houses some of Puerto Rico's healthiest and most diverse reefs. Puerto Rico Department of Natural and Environmental Resources (PRDNER) reported fuel pooled on the rocks and a strong odor of diesel.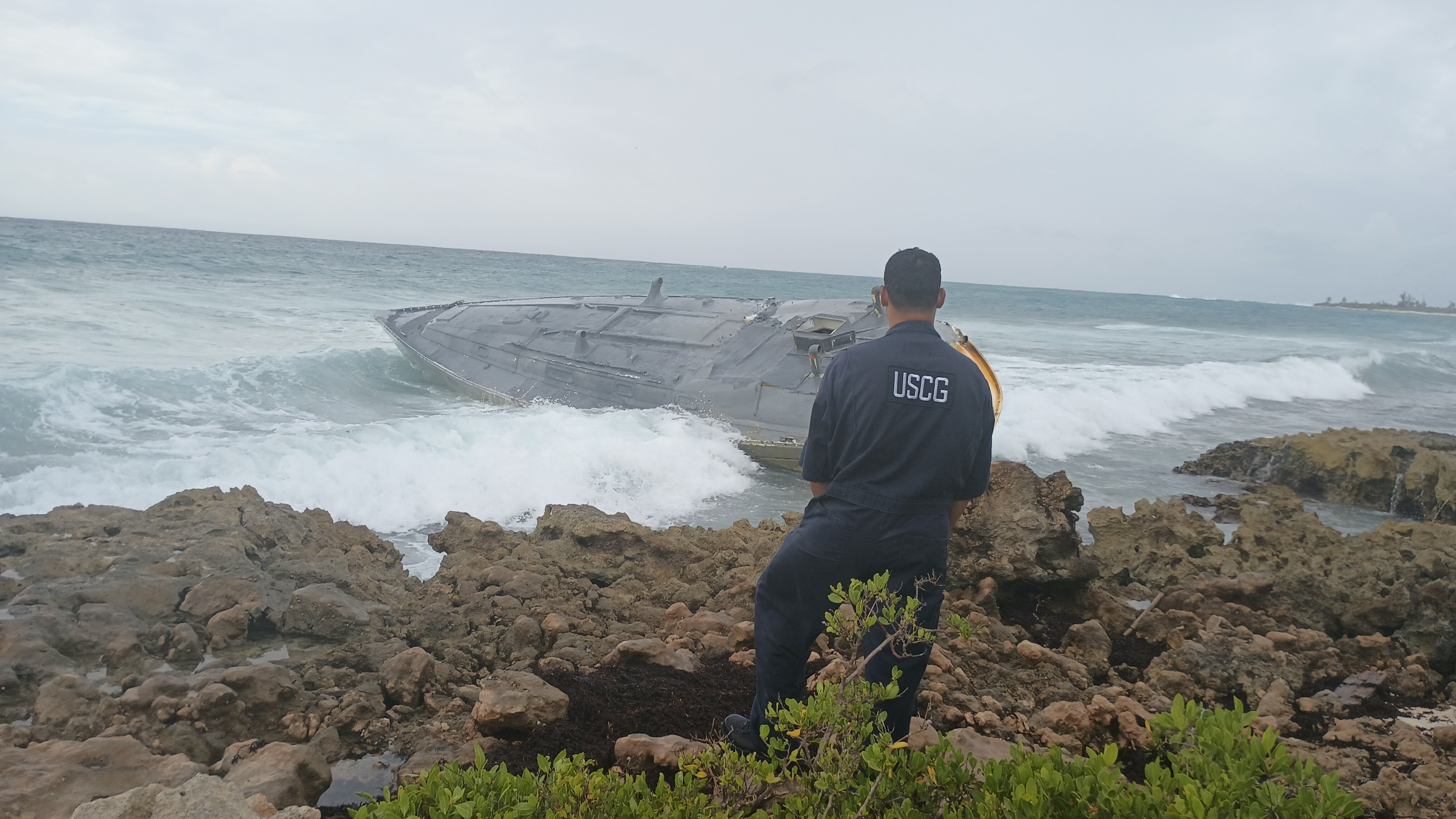 NOAA's scientific support coordinator for the Caribbean discussed the issue with NOAA's Office of Protected Resources and provided the concerns for this protected resource to the U.S. Coast Guard (USCG). USCG Sector San Juan plans to have the vessel removed, but details of that extraction are not known at this time.
Diesel (PDF), on the lighter side of fuel oils, is not a highly persistent oil. One characteristic of diesel fuel is its high propensity to naturally disperse, especially with any mixing energy, so the concerns for diesel would likely be local, short-lived, and non-persistent, but of concern to nearby water column resources that could be exposed as the diesel disperses.
USCG conducted a helicopter overflight over Mona Island on September 2. No reports of observed sheen or oil in the water was reported; however it is likely that with given surf conditions in the area, small amounts of sheen would not be observable. The following Tuesday, USCG pollution responders and contracted cleanup crews completed the removal of diesel and oiled debris. Due to the potential impact to the waterway, the USCG activated the Oil Spill Liability Trust Fund to cover response costs.
A number of options were discussed for disposal of the vessel, including scuttling it in deeper water, or towing it to another location for disposal. There is urgency in moving the vessel as soon as possible, as a tropical system could affect the area in the interim.
USCG pollution responders are coordinating with PRDNER, NOAA, and U.S. Fish and Wildlife Service personnel to identify any further impacts to the environment and wildlife. The Coast Guard is investigating the origin and the circumstances that led to this derelict vessel washing ashore on Mona Island. At this time, the wreckage of the vessel remains on the island.
On August 28, 2023, the National Ocean Service (NOS) Incident Management Team (IMT) activated ahead of Hurricane Idalia, a strong Category 3 storm. The NOS IMT, led by OR&R's Disaster Preparedness Program, with representatives from across NOS program and staff offices, coordinated response efforts and collected situational awareness.
On the morning of August 30, at approximately 7:45 a.m. EDT, Hurricane Idalia made landfall near Keaton Beach, Florida. Idalia produced maximum sustained winds of 125 mph, and by 11:00 a.m. local time, the center of the storm began crossing into southern Georgia.
A NOAA scientific support coordinator (SSC) joined the USCG Area Command in Miami, Florida, to identify natural resources that would be sensitive to debris and pollution in preparation for the storm landfall and post-storm assessments. Part of OR&R's mission is to discover and determine the location of oil and hazmat release(s) or debris posing threats to life safety, the environment, and/or maritime transportation systems and to provide, update, and maintain data.
The support for Hurricane Idalia included coordination under a FEMA-issued mission assignment to set up data management capability in anticipation of supporting aerial imagery reviews and potential pollution target identification. Although NOAA imagery analysis was not requested, USCG compiled a list of available imagery from all identified sources, including NOAA, to help direct responders to the various sources.
The SSC continued to support the Area Command with ERMA® displays, and assessing risks relative to potential pollution sources and sensitive areas. Coordination with the State and federal partners continued, as well as with other NOAA activities involved, including the Gulf of Mexico Disaster Response Center, National Geodetic Survey photogrammetry, and the Coast Survey Navigation Response Team.
As the storm moved northeast and then out to sea, NOAA assisted in identifying flooding potential from the excess rainfall, tides, and storm surge that were of concern and impact areas as the storm passed.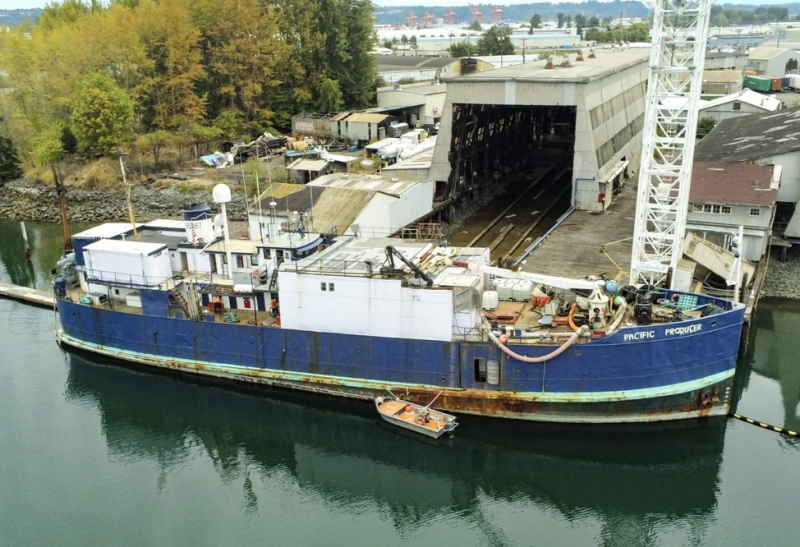 On August 17, 2023, U.S. Coast Guard (USCG) Sector Puget Sound contacted NOAA OR&R to notify them of a leak of anhydrous ammonia aboard the 169-foot F/V Pacific Producer, docked along the Foss Waterway in Tacoma, Washington. (Anhydrous ammonia is a form of ammonia commonly used on fish processing vessels, both as refrigerant and in the processing plant.)
The F/V Pacific Producer was a seafood processing vessel that typically sailed to Alaska during the season. The 77-year-old vessel has had a long history of environmental and safety concerns and fines, including probationary periods. Its operation ended when OSHA completed its most recent inspection at the end of the 2022 fishing season and the vessel was largely abandoned on the Tacoma waterfront.
The USCG reported that the anhydrous ammonia concentration was below toxic levels outside the vessel, as community air monitoring measured levels during the case; however, inside the vessel, the levels were very toxic and required response efforts to safely vent the ammonia for responders to enter. The SSC provided phone support to discuss the chemical properties of ammonia and considerations for how to safely vent the spaces to remove the ammonia.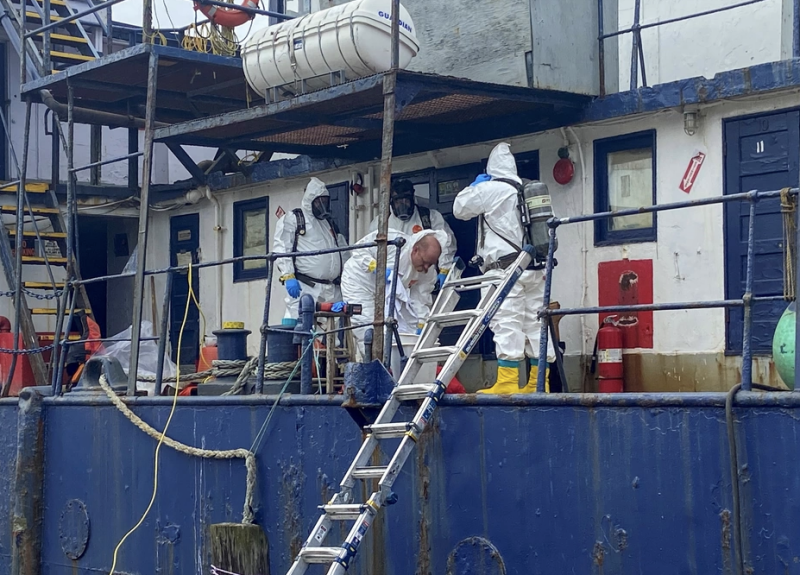 In addition to the leak, the vessel was slowly taking on water, but not at a rate of concern. There remained diesel and miscellaneous oily water and waste products aboard the vessel.
The USCG ordered the ship sealed and hired an independent contractor who, over the course of about two weeks, injected CO2 into the vessel to displace the ammonia and reduce toxic levels inside the vessel. While these operations (known as sparging) continued, a contract company performed ongoing community air monitoring.
To be aware of any weather that might concern the stability of the vessel and safety of responders, the USCG requested daily site-specific (SPOT) forecasts from the National Weather Service.
Plans were implemented for a lightering operation to remove fuel and oily-water from the vessel. On August 29, the NOAA SSC consulted with the USCG on an oil spill trajectory and biological and other resources that could be at risk in the event of a release. There was no release or sheen on the water at that time; the information sought was to prepare in the event of a worst-case discharge (approximately 7,700 gallons diesel, 10,500 gallons oily-water, and approximately 750 gallons of miscellaneous oil products stored on board the vessel).
OR&R provided an impact analysis and a response time analysis, using estimations from the Trajectory Analysis Planner (TAP), a software tool that OR&R uses to estimate the probability that an oil spill from a likely source will reach a specific segment of shoreline. The SSC reminded the team that, in the event of an actual release, they should immediately contact OR&R for a real-time trajectory analysis.
Over the course of this response, the USCG reported that specialized crews removed and properly disposed of 3,500 pounds of ammonia from the vessel; miscellaneous hazmat materials, including paint, flammable liquids, corrosives, and pressurized gas cylinders; 20,000 gallons of oily bilge water, and 5,000 gallons of diesel fuel.
Numerous agencies played important roles in this complex operation, which required a swift and coordinated response: Washington Department of Ecology, Washington Department of Natural Resources, Tacoma Fire Department (Harbormaster), the U.S. Environmental Protection Agency, and private contractors and technical specialists.
On August 8, 2023, wildfires on the Island of Maui, under extremely high wind conditions, burned the city of Lahaina. The fires resulted in extensive damage and multiple fatalities as people fled the rapidly advancing flames. Several people who took shelter in the ocean were rescued as the fire decimated the community.
U.S. Coast Guard (USCG) Sector Honolulu conducted search and rescue operations and then responded to sunken vessels and Lahaina Harbor damage, in cooperation with several other federal, state and local response agencies. On August 14, the NOAA SSC for the Pacific Islands visited the Emergency Operations Center and accompanied staff from the USCG on a brief visit to Lahaina Harbor. Several vessels had sunk in the harbor; a few were afloat, but damaged; and a few vessels were intact with no apparent impacts of the fires. Some minor sheens were observed in the harbor, but no major oil releases.
The SSC continues to assist the USCG with response planning activities and scientific issues at the USCG Incident Command Post, recently relocated from Sector Honolulu to the NOAA Hawaii Humpback Whale National Marine Sanctuary in Kihei, Maui.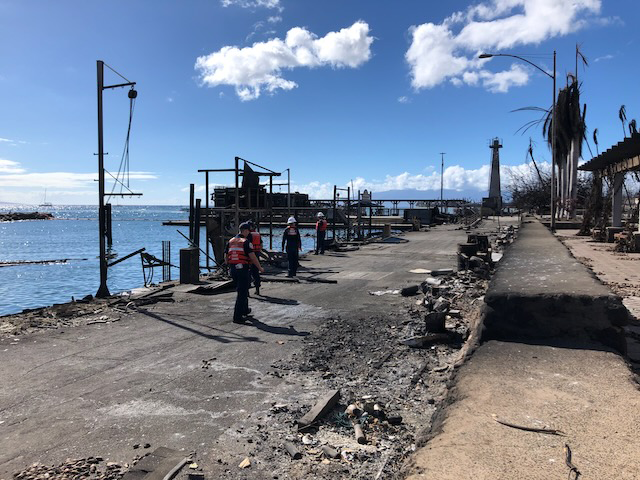 Here is the complete list of August's incidents. Click on the links to find out more: