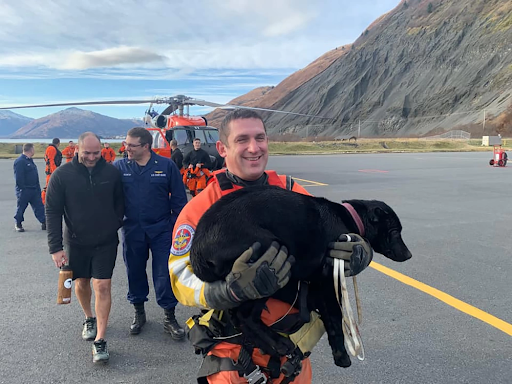 It's almost the end of the year and time to reflect on events. What a year, from the pandemic and teleworking, to wildfires and a record hurricane season. The "normal" emergency response activities that NOAA's Office of Response and Restoration deals with on a regular basis still took place, but under the unrelenting pressure of a challenging year for all. 
We wrote that paragraph last year to recap 2020, but it clearly still remains true for 2021. What a strange few years it has been. 
Despite the feelings of deja vu, emergencies continued to happen this year. Here is an updated summary of OR&R's Emergency Response Division responses for 2021 when, just as in previous years, the division provided scientific support to the U.S. Coast Guard in a wide range of scenarios—remotely when possible, and on-scene when needed.
Our first call of the year was on Jan. 13. The MV Kempton, a 328-foot liquified gas tanker, was leaking propane while unloading at a terminal in St Croix, in the U.S. Virgin Islands. We provided a hazard analysis, including evaluating the flammability hazard and safety distances. The year is not quite over, and the most recent incident was a Dec. 22 mystery spill off of Bolsa Chica State Beach in Southern California. The source of that spill was later determined to be a DCOR LLC pipeline associated with the offshore oil platform Eva. 
So far this year, we've provided scientific support for 179 new incidents, and we are still helping with a couple of events that happened in previous years, such as the car carrier Golden Ray that sank in Georgia on Sept. 8, 2019. While the record-breaking salvage and wreck removal was largely completed when the final section of the ship was lifted out of Saint Simons Sound on Oct. 25, 2021, some cleanup actions will continue into 2022. 
We also continued support for the longest running oil spill in U.S. history—the Taylor Energy Platform oil spill, which began in 2004, when a production platform located in the Gulf of Mexico about 10 miles off the coast of Louisiana collapsed during Hurricane Ivan, resulting in an ongoing oil discharge that continues to today. A $16.5 million settlement was proposed on Dec. 22, and is currently open for public comment.
While 2021 was not quite a record for us, it was certainly a busy year, especially with the additional restrictions of COVID-19. Most of our responses are in the U.S., but we also provided support for a number of international incidents, including Canada, Haiti, Trinidad and Tobago, Sri Lanka, Israel, and Syria.
At the end of the year tally, we break down our responses by the type of event, whether oil spills, chemical spills, or "other," but here is a more detailed breakdown.
In 2021, we responded in 28 states and one territory. These included:
28 fishing vessels,
22 mystery spills (some were later identified),
14 facility incidents,
14 yachts and other pleasure craft,
13 production platforms and wellhead leaks,
Nine derelict vessels,
Nine pipeline spills,
Eight tank farm accidents,
Seven lost/leaking container incidents (some involving hundreds of containers),
Seven freighter spills and groundings,
Seven International incidents,
Seven whales stranded or drifting,
Five tugboat/barge accidents,
Four tank truck accidents,
Three hurricanes and tropical storms (each with multiple spills),
Three marina fires,
Three Navy spills,
Two search and rescues,
Two tanker accidents,
Two historic vessels,
Two offshore supply vessels,
and one each of an earthquake, tornado, flood response, marine debris event, and plane crash.
Even though this year and this holiday season wasn't typical for any of us, we still have much to appreciate. We're grateful for all of the emergency responders for the great work that they do. Let's ring in 2022 with great celebration and hope for a brighter future.
Check out the slideshow below to look back on some of this year's incidents. (Click on the photo to enlarge).